Safari Voyager

Ship Facts
Ship's Registry: Saint Kitts
Passenger Capacity: 66
Cabins: 34
Crew: 31
Length: 174 feet
Beam (width): 36 feet
Cruising speed: 9 knots

Whales & Sea of Cortez
All-Lesbian Mexico Adventure Cruise
January 28 – February 04, 2023
Un-Cruise Adventures Safari Voyager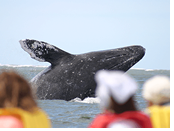 Often referred to as Mexico's Galápagos, Baja California Sur in Mexico has one of the richest populations of sea life in the world. In true expedition style, experience the luxury of a flexible itinerary on a very beautiful ship, complete with a hot tub, sauna and a masseuse! Not only is this the best time to view a variety of sea life in the Sea of Cortez, it is the BEST time to view gray whales and their babies; the whales have so much human curiosity and can come right up to the boats to be touched.
With onboard naturalists to help us further learn about the wildlife, we will whale-watch, hike, swim, kayak, paddle board, snorkel with sea lions, and bird-watch.
On past Olivia trips, we have seen over 50 whales—including blue, the largest mammal in the world; humpback; pilot; sperm; and others—and several schools of dolphins numbering from 500–2,000 in each pod!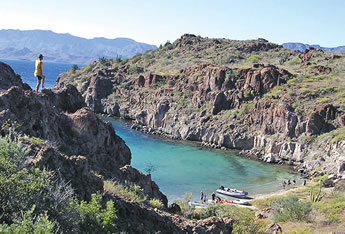 Stocked with supplies and a bountiful sense of adventure, follow Steinbeck's path into the protected waters of Cousteau's "world's aquarium." Active exploration and a menagerie of wildlife await you!
Included Adventure Cruise Highlights
• Watch for whales, mobula rays, dolphins, and birds
• Hike, kayak, paddle board, and explore by skiff
• Mule ride into arroyos with local rancheros
• Watch for gray whales at Bahía Magdalena
• Snorkel with sea lion pups and colorful reef fish
• Convenience of flying in /out of Los Cabos International Airport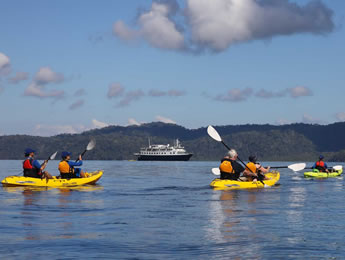 Your Ship - Un-Cruise Adventures Safari Voyager
Aboard this spacious expedition vessel, three decks offer ample outside vantage points for taking in daytime sights and the sparkling night sky with new friends. Interior spaces including the intimate lounge, cask wine bar, and cozy library provide comfortable and relaxing spaces to sit back with a book and glass of wine, gather for presentations, or to share experiences from the day. The fully-stocked, marble-topped bar in the lounge is a magnet for activity and mingling.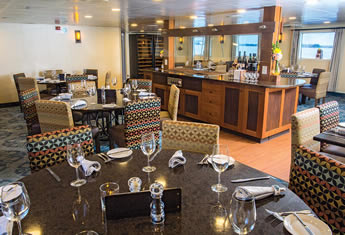 The Safari Voyager is fully loaded with adventure equipment: kayaks, paddle boards, inflatable skiffs, hiking poles, yoga mats, and snorkel gear and wetsuits, plus a hydrophone for listening to below-surface sounds and a bow-mounted underwater camera. Casual in nature, the Safari Voyager is a bit of a show-off, too—take in 270-degrees of view from the top deck or window-to-window in the air-conditioned lounge.
All cabins include: Flat-screen TV/DVD; iPod docking station; air conditioning; desk and chair; private bath with shower; generous storage and closet space.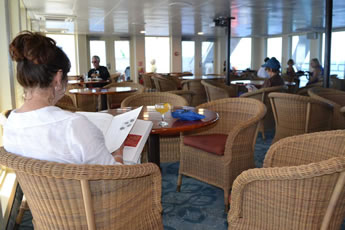 What's Included?
• Accommodations for 8 days/7 nights on Un-Cruise Adventures' ms Safari Voyager
• All onboard meals
• Premium spirits, wine, beer, coffee, tea, and juices and other non-alcoholic beverages
• Airport transfers from Los Cabos International Airport to ship and from the ship to the Los Cabos International Airport on arrival and departure day
• Entry fees to national parks/preserves
• All from-the-ship activities and equipment
• Zodiac rides and use of snorkeling equipment, wet suits, kayaks, and paddleboards
• Port taxes and fees (covered by NDAs)
• Olivia staff assistance throughout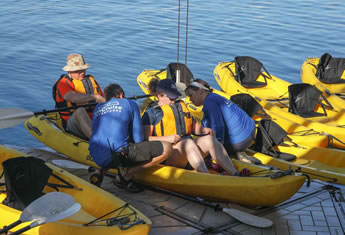 Whales & Sea of Cortez Mexico Adventure Cruise Itinerary


Date

Port

Meals

28 Jan

San Jose del Cabo / La Paz, Mexico
D
29 Jan
Isla San Francisco, Mexico

B, L, D

30 Jan

Bahia Agua Verde, Mexico
B, L, D

31 Jan

Bahia Magdalena, Mexico
B, L, D
01 Feb
Captain's Choice
B, L, D

02 Feb

Los Islotes / Isla Partida
B, L, D

03 Feb

Isla Espiritu Santo, Mexico
B, L, D
04 Feb
San Jose del Cabo / La Paz, Mexico
B

Itinerary is guideline; variations in itinerary and the order days may occur to maximize your experience.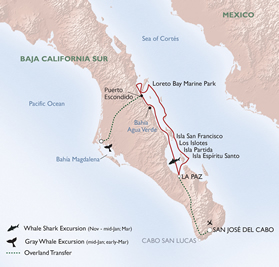 San Jose del Cabo / La Paz, Mexico
Saturday, January 28, 2023

Bienvenidos! You will be met at the Los Cabos International Airport and transferred to our San José del Cabo hospitality area. Joined by your expedition team, an overland orientation transfer to La Paz acquaints you with the dramatic Baja landscape and the week that lies ahead. The captain and crew welcome you aboard just in time for a cocktail and dinner with your new Olivia mates.
Isla San Francisco, Mexico
Sunday, January 29, 2023

In a playground of steep red bluffs and sweeping desert beach, kick off your weeklong adventure with a day of play. Don some flippers for a snorkel among colorful sea life, put on your walking shoes for an exploratory hike, grab a paddle, or relax on the beach with the sand between your toes. The rugged beauty of the island makes it an ideal spot for escapades.
Bahia Agua Verde, Mexico
Monday, January 30, 2023

At Bahía Agua Verde, clear waters are bordered by sparse craggy mountains hemmed in green. Explore the coast by small skiff, visit with a local ranchero and his family, and take to the canyons and mountains on a burro ride and experience the "real Baja." Scenic vistas, outstanding exploration, excellent birding, and unmatched camaraderie with fellow Olivia travelers—the day is done.
Marine Life Search at Bahia Magdalena
Tuesday, January 31, 2023

Mother Nature is your guide today. The gray whales arrive each year on Baja's west coast—migrating more than 12,000 miles—to calve in Bahía Magdalena. Dock in Puerto Escondido, then drive across the peninsula to ride in a panga and observe these mammals and their babies in the lagoon.
Captain's Choice
Wednesday, February 01, 2023

While it's unlikely you'll find any black pearls, today you'll sail amongst islands once explored by early conquistadors. Your expedition team will be at-the-ready with more adventurous options to choose from—always on the look-out for whales and schools of dolphins, kayaking, hiking, paddle boarding, or beachcombing. Discover nature's diversity and learn about the geologic forces that formed these islands.
Los Islotes / Isla Partida
Thursday, February 02, 2023

At Los Islotes—a steep craggy seamount leaping straight from the sea—observe a sea lion colony from the boat and skiff, or slip into a wetsuit for an early morning snorkel with curious, agile young sea lion pups. Afterwards, heave anchor and set sail for Isla Partida, for an afternoon of water play or island hikes along desert beaches or into rocky arroyos.
Isla Espiritu Santo, Mexico
Friday, February 03, 2023

Tuck into a secluded cove surrounded by long fingers of red rock and a golden beach. Spend your last full day enjoying the feel of warm sand under your feet on a beach walk, investigate nooks and crannies in the rocks by kayak, or explore a little further afield on a guided hike. Celebrate your week at tonight's special Farewell Dinner with an entertaining slideshow by your expedition team.
San Jose del Cabo / La Paz, Mexico
Saturday, February 04, 2023
After breakfast, it's "adios" La Paz, as you transfer back to San José del Cabo airport.