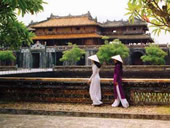 Our The Best of Vietnam & Cambodia luxury small gay group trip is distinguished by the top hotels selected in both countries and ample time to leisurely visit each city. Dine at the best restaurants and learn the troubled history of these countries. Enjoy Hanoi, Ha Long Bay (overnight luxury cruise), Danang, Hue, Saigon & Angkor Wat. Few countries in the world offer as much intrigue and surprise as Vietnam and Cambodia. While touring these destinations, one learns to expect the unexpected, and to simply be impressed at every turn.
We begin our journey with two elegant nights in Hanoi, where everything from the architecture to the cuisine is classic Vietnamese, but with a French accent. Leaving the sophisticated capital, we cruise among the 3000 islands rising from the clear, emerald waters of the Gulf of Tonkin at HaLong Bay. We luxuriate at the The Nam Hai Hoi An Resort, spilling down a hillside to the bay and offering multi-level swimming pools, tennis courts, a world-glass spa and extraordinary restaurants. We continue to ancient Hue, seat of Vietnam's emperors. We have two full days to explore Ho Chi Minh City, hub of all that is new in Vietnam. Lastly, we fly to Siem Reap, the gateway to the temples of Angkor, where we'll have two days to explore this spectacular site in the midst of the jungles of Cambodia.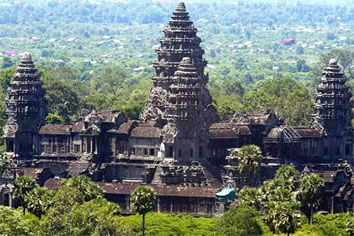 Day 0 - Saturday, March 07, 2020
Depart USA, Canada, Europe for Hanoi, Vietnam
Depart USA, Canada, Europe on any regular scheduled flight to Hanoi, Vietnam. For US passport holders a visa is required for entry into Vietnam, which may be obtained prior to departure from the USA or upon arrival at the airport in Hanoi.
Day 1 - Sunday, March 08, 2020
Arrive Hanoi, Vietnam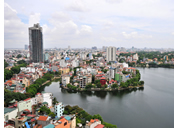 Vietnam's capital is described by almost all who go there as "an old-fashioned city". Old-fashioned in style, it is a city of lakes, parks, trees, villas, mansions and an area called the Old French Quarter where crumbling houses are crammed into narrow alleyways that are still named after the goods that were traded there – Silk Street, Gold Street, even Fried Fish Street! Old-fashioned in atmosphere, Hanoi has sidewalk cafes, pavement barbers, less traffic than Saigon, less frenetic rushing about, less noise, simply less people. Wide tree-lined bicycle-filled boulevards, elegant colonial French mansions, the grandeur and solemnity of Ho Chi Minh's monumental Mausoleum, the incongruous rustic simplicity of the house in which 'Uncle Ho' lived out his final years, the barely concealed misery of the Hoa Lo Prison, the 'Hanoi Hilton' where so many prisoners of war were incarcerated, the religious pride that constructed the beautiful temple of Literature compound – it's all here in Hanoi, a microcosm of the Vietnamese culture.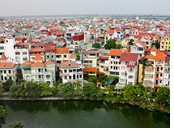 Visa is required to USA citizens for entry into Vietnam. It may be obtained prior to departure from the USA or upon arrival at the airport in Hanoi. If you plan to obtain it at the airport, Coda Tours will assist you in getting the necessary permission. The process upon arrival is simple, but it may takes some time if several flights arrive at the same time.
After immigration and customs formalities, we meet our guide and transfer to the Apricot Hotel Hanoi, where we stay the next two nights. Check-in begins at 2 PM and early check-in is subject to room availability. The rest of the day and evening is at leisure to relax, spend some time familiarizing yourself with your new surroundings, and enjoy the many amenities of the hotel and settle in as our group arrives. Set by the fabled Hoan Kiem Lake, Apricot Hotel is bound to transport you back and forth between Hanoi's glamourous past and its modernity. Inspired by classic French architecture mixed with Vietnamese art, Apricot makes for your exquisite home away from home in the capital city of Vietnam.
Hotel: Apricot Hotel
, Hanoi, 5*
Room: Canvas Room
Day 2 - Monday, March 09, 2020
Discover the Highlights of Hanoi Sightseeing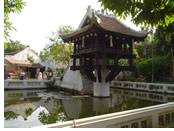 We meet our tour manager, guide and fellow participants in the lobby of the hotel after breakfast for a tour of Hanoi. This morning, we will have a private tour of the Vietnam Museum of Ethnology, following by a visit to Ho Chi Minh's Mausoleum on Ba Dinh Square, Uncle Ho's Stilt House on the grounds of the presidential palace and the iconic One Pillar Pagoda. French architecture is a feature of Hanoi, and the nearby former Governor's Residence is a fine example.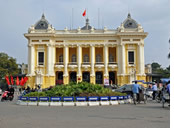 After lunch at Seasons of Hanoi, we tour Hanoi's Old Quarter with a cyclo ride followed by a walking tour. Established 1,000 years ago by King Ly Thai To around his palace, this densely populated corner of the city has long been a center of commerce, where goods were sold under the street name of a particular guild. A shopper's and photographer's haven with a tangle of low buildings, the warren of "36 Old Streets" (today there are more!) include variously Bat Su (China bowls), Cha Ca (roasted fish ), Hang Bac (silver),Hang Dau (shoes and sandals, Hang Gai (silk) and To Tich (mixed fruits). Our Welcome Dinner tonight is at Wild Rice restaurant with traditional Vietnamese menu.
Meals: Breakfast, Lunch, Dinner
Hotel: Apricot Hotel
, Hanoi, 5*
Room: Canvas Room
Day 3 - Tuesday, March 10, 2020
Travel from Hanoi to Halong Bay and board Paradise Cruises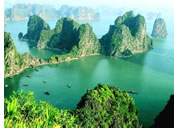 This morning we say goodbye to Hanoi and say hello to Ha Long Bay, and Paradise — that's what our luxurious cruise vessel, built in the style of traditional boats of the bay, is called.
We sail at noon from Tuan Chau Island, cruising along myriad emerald islets, limestone towers, arches and caves, pristine beaches and floating villages of this stunning place. Food, accommodations and services aboard are all five-star.
Designated a UNESCO World Heritage Site, Ha Long Bay in the Gulf of Tonkin is dotted with 1,600 islands and islets, many very steep, forested and almost all uninhabited, forming a romantic seascape of limestone pillars and cliffs. The enormous caves sculpted by the sea are out of this world.
Meals: Breakfast, Lunch, Dinner
Hotel: Paradise Luxury Cruise, 5*
Cabin: Deluxe Balcony Cabin
Day 4 - Wednesday, March 11, 2020
Wake Up in Halong Bay, Disembark & Drive to Hanoi Airport for Flight to Da Nang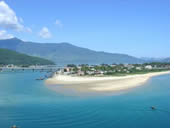 Early birds can attend a Tai Chi demonstration on the sundeck— or simply take in the sunrise over the Bay. After the morning to enjoy this amazing place, we return to Tuan Chau Island for disembarkation.
Today we are on the move — heading from the ship back to Hanoi, with a break for lunch at Hong Ngoc Centre, run by and for handicapped children. Then continue to the Hanoi airport for a flight to Da Nang.
Upon arrival in this ancient capital, we transfer to the Fusion Maia Resort. Offering a stunning beachfront location and a range of elegant private pool villas, plus Fusion's unique "all-spa inclusive" and "breakfast anywhere, anytime" services, Fusion Maia Da Nang is, we think, the sort of place to lose yourself and find yourself, all at the same time.
Meals: Breakfast & Lunch
Hotel: Fusion Maia Resort
, Da Nang, 5*
Room: 1-bedroom Pool Villa
Day 5 - Thursday, March 12, 2020
Danang, My Son and ancient Hoi An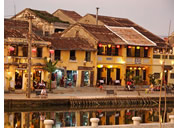 Center of the Cham Dynasty from the 2nd century, Danang's rich cultural history, its proximity to the extraordinary ruins of My Son, its atmospheric riverfront promenade and world-famous Cham Museum all draw visitors. Danang was also the first landing-point for the invading French troops and again decades later for the US Marines. Non Nuoc Beach (also known as China Beach), immortalised for many by the US television show of the same name, is one of the most spectacular beaches in Asia.
Today we visit Hoi An, an exceptionally well-preserved example of a South-East Asian trading port dating from the 15th to the 19th century. The UNESCO-designated town, once one of the most important trading centers in Southeast Asia, stands much as it did during its heyday with 1,107 timber-frame buildings, including the original street grid, narrow lanes, open market and a ferry quay, many pagodas, low-slung merchant houses and family cult houses. We tour the markets and shops, stopping at a silk artisan's workshop to see the techniques of lantern making.
The afternoon is at leisure to enjoy the amenities of the resort, with lunch and dinner on our own today.
Meals: Breakfast
Hotel: Fusion Maia Resort
, Da Nang, 5*
Room: 1-bedroom Pool Villa
Day 6 - Friday, March 13, 2020
Spectacular Drive from Danang to Hue, Vietnam's Ancient Capital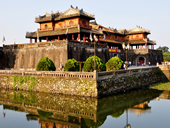 After breakfast this morning we regroup for a spectacular drive to Hue along the coast via Hai Van Pass (Ocean Cloud).
Tonight we are at La Residence, an enchanting Art Deco boutique hotel on the banks of the fabled Perfume River, built in 1930 as the French colonial governor's mansion. At Le Spa, indulge in the large freeform saltwater swimming pool and a traditional Vietnamese luxurious treatment.
In the afternoon visit the Imperial Citadel built in the style of the great French military architect, Vauban.
Afterwards, visit the local market, Dong Ba.
In the evening, a special Imperial Dinner awaits everyone at the hotel. The menu replicates that of the old Imperial Court and Imperial costumes are available for photo ops!
Meals: Breakfast, Dinner
Hotel: La Residence Hotel & Spa
, Hue, 5*
Room: Deluxe River View Room
Day 7 - Saturday, March 14, 2020
Tour the Royal Tombs in Hue. Later Arrive in Bustling Saigon.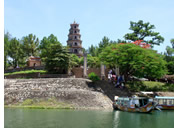 This morning we visit the Thien Mu Pagoda and Minh Mang Tomb, the most majestic of the Royal Tombs. Six royal tombs lie to the south east of the citadel on the other side of the Perfume River and one on the same side. Based in Hue, the imperial Nguyen Dynasty ruled from 1802 to 1945, when the Emperor Bao Dai abdicated in favor of Ho Chi Minh's revolutionary government.
After lunch on our own, we fly to Ho Chi Minh City late this afternoon and check in at the centrally located Park Hyatt Hotel.
Meals: Breakfast
Hotel: Hotel Des Arts Saigon Mgallery Collection
, Ho Chi Minh City, 5*
Room: Sky Executive Deluxe Room
Day 8 - Sunday, March 15, 2020
Ho Chi Minh City (Saigon)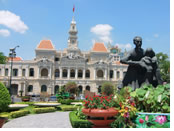 If Hanoi and Hué represent the colonial past of Vietnam, Ho Chi Minh City stands for its future. This bustling city is booming with new economic opportunities, new construction, new technology, and newly arrived Western influences. More and more, cars are replacing bicycles, and cell-phone sales are on the rise. Situated on the northeast edge of the Mekong Delta, Ho Chi Minh City is poised and ready for a new millennium of growth.
On our tour of Ho Chi Minh City, we see the Reunification Palace, The History Museum, Notre Dame Cathedral, and the grounds of the former US Embassy.
The afternoon is on your own to explore, shop or relax at the hotel.
Those who wish may join an optional tour to the famed Cu Chi Tunnels, which served as the Viet Cong's base of operations for the Tet Offensive in 1968.
Meals: Breakfast
Hotel: Hotel Des Arts Saigon Mgallery Collection
, Ho Chi Minh City, 5*
Room: Sky Executive Deluxe Room
Day 9 - Monday, March 16, 2020
Ho Chi Minh City (Saigon) / Siem Reap, Cambodia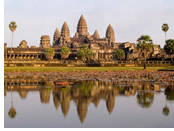 This morning we fly to Siem Reap, gateway to Angkor and the immense collection of Khmer temples and palaces built between the 6th and 13th centuries.
Siem Reap, a resort town in northwestern Cambodia, is the gateway to the ruins of Angkor, the seat of the Khmer kingdom from the 9th–15th centuries. Angkor's vast complex of intricate stone buildings includes preserved Angkor Wat, the main temple, which is pictured on Cambodia's flag. Giant, mysterious faces are carved into the Bayon Temple at Angkor Thom.
Upon arrival, transfer to the hotel for check in. Afternoon is at leisure.
Meals: Breakfast
Hotel: Raffles Grand d'Angkor Hotel
, Siem Reap, 5*
Room: State Garden View Room
Day 10 - Tuesday, March 17, 2020
Spectacular Angkor Wat, Cambodia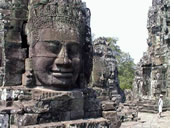 This morning visit to Angkor Wat, the largest temple in the world and a magical place. The temple has a volume of stone equaling that of the Cheops pyramid in Egypt. It is unlike all the other Khmer temples in that it faces west, and is inspired by 12th century Hinduism. Conceived by Suryavarman II, the temple has been occupied continuously since its foundation.
Return to the hotel afternoon at leisure or optional tours.
Meals: Breakfast & Dinner
Hotel: Raffles Grand d'Angkor Hotel
, Siem Reap, 5*
Room: State Garden View Room
Day 11 - Wednesday, March 18, 2020
Depart Siem Reap to Home
Breakfast at hotel. At leisure until check-out time at 12noon. Transfer to the airport for your onward flight.
Meals: Breakfast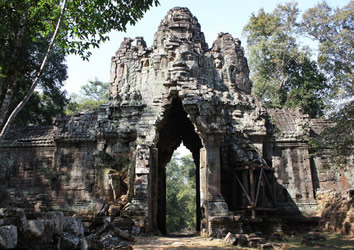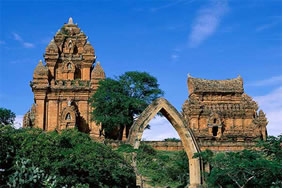 • 10 Nights Luxury accommodations as stated in the itinerary and in the room category indicated. Breakfast is included daily.
- 2 nights at Apricot Hotel
, Hanoi;
- 1 night at Paradise Luxury Cruise, Halong Bay;
- 2 nights at Fusion Maia Resort
, Da Nang;
- 1 night at La Residence Hotel & Spa
, Hue;
- 2 nights at Hotel Des Arts Saigon Mgallery Collection
, Ho Chi Minh City;
- 2 nights at Raffles Grand d'Angkor Hotel
, Siem Reap
• Service charges, room taxes, and baggage handling fees
• Meals as stated in the itinerary;
• Breakfast is included daily;
• One drink is included with each meal (choice of mineral water, beer, or soft drink)
• Sightseeing excursions and entry fees as stated in the itinerary
• English speaking local guides
• Bottled water and cold towels in vehicles during sightseeing
• All land transfers as required by the itinerary; private transfers for arrival & departure if required; private, air-conditioned vehicles
• Coda Tour Manager on minimum participation
• Pre-departure assistance and Information Portfolio from Coda Tours
• International airfare and baggage fees to and from Vietnam and Canbodia;
• Intra-Tour airfare (quoted separately);
• Trip Cancellation & Interruption insurance (highly recommended);
• Visa and Passport fees;
• A visa is required for both Vietnam and Cambodia; more information provided by Coda Tours on what is required and how to obtain visas will be provided in both the confirmation letter and Information Portfolio given to registrants of the tour;
• Personal meals, drinks, telephone, gifts, and expenses not outlined in the itinerary;
• Any optional sightseeing excursions or additional visits not outlined in itinerary;
• Gratuity for local guides, drivers and Coda Tour Manager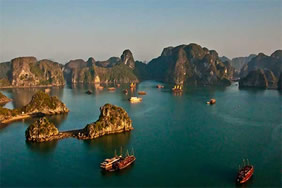 Travel Documents
A valid passport is required for international travel and must be valid for 6 months after the return date of travel.
A single-entry visa is required to enter Vietnam and Cambodia for American and Canadian passport holders. Please note that visas cannot be processed more than 90 days prior to departure and processing may take several weeks to complete. A Cambodian visa can also be purchased online.
Visas may be obtained upon arrival at the airport in Hanoi, Vietnam and Siem Reap, Cambodia. To arrange for this, Coda Tours must submit all personal data in advance to the authorities. Please inform us at the time of booking if you wish to obtain your visa upon arrival.
International Airfare
Cathay Pacific, United Airlines, Thai Airways, Korean Airlines, Japan Airlines, and China Airlines are among airlines that can be used to book airfare for this tour. We recommend booking at least 7 months in advance if you want to use Frequent Flyer Miles or the American Express Platinum card 2-4-1 program.
Health
No immunizations are required for travel on this tour. However, the Center for Disease Control suggests that all travelers make sure they are up-to-date on routine vaccines before every trip. These vaccines include measles-mumps-rubella (MMR) vaccine, diphtheria-tetanus-pertussis vaccine, varicella (chickenpox) vaccine, polio vaccine, and your yearly flu shot.
Minimums
All departures are guaranteed on a minimum of 10 participants. A Coda Tour Manager accompanies the tour on a minimum of 10 participants. This tour can be operated as a Private Tour, can be customized and repriced based on final itinerary. Rates are based on a minimum participation of 10. For fewer than 10 participants, rates may be revised.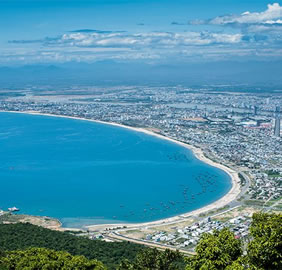 Apricot Hotel
, Hanoi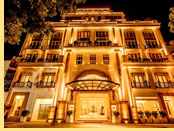 Located at the edge of Hoan Kiem Lake, the neo-classical and luxuriously designed Apricot Hotel
offers modern and luxurious accommodations with free WiFi access throughout the property. It offers sweeping views of the city and lake from its rooftop swimming pool and panoramic fitness center. Free parking space is available on-site.
Featuring a trendy rooftop bar where a fine selection of drinks are offered, the property also offers guests with 2 dining options. Guests can enjoy an appetizing selection of Vietnamese and Western dishes. Special diet meals can also be prepared upon request.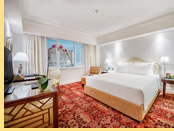 Artistically-designed, air-conditioned rooms and suites come with a wardrobe, in-room safe, a work desk, seating area and a flat-screen TV with cable channels. Electric kettle, mini-bar and ironing facilities are also provided. The private bathroom includes shower facility, bathrobes and hairdryer.
At Apricot Hotel, the friendly 24-hour front desk staff can assist guests with laundry services, currency exchange and meeting/banquet arrangements. Car rentals, ticketing service and tour excursions are also available. Guests who wish for a quiet moment can explore the hotel's library located on the 9th floor.
Paradise Luxury Cruise, Halong Bay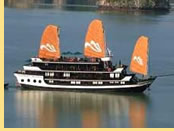 Paradise Luxury ships were built according to the traditional Vietnam cruise design and present a lavish outfit blending in subtle harmony with the natural environment of Halong Bay - Vietnam. The 04 Paradise Luxury cruises offer 68 luxurious cabins and suites as well as an exciting array of Halong activities to be enjoyed while experiencing the spectacular scenery of the "Bay of Descending Dragons" on one of the best Vietnam cruises.
Paradise Luxury ship features a stylish restaurant and bar for an exclusive dining experience on the third deck with impressive 5-star service of Halong luxury cruises. The top deck serves as a perfect place to enjoy lingering in the sunshine and discovering the splendid beauty of Halong bay – the most stunning bay in Vietnam with a 360 view, thus promising unforgettable and thoroughly relaxing moments during your Halong cruise tours.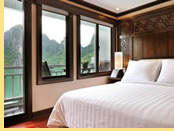 Celebrated for being the only Cruisers in Halong Bay to provide complete spa facilities with dry sauna, Jacuzzi, massages and beauty treatments, Paradise luxury boats dispose of Spa facilities aiming at reviving your senses and nurturing your well-being.
Paradise luxury fleet is committed to grant our guests a genuine yet prestigious experience: a Paradise cruising experience in Halong Bay.
Fusion Maia Resort
, Da Nang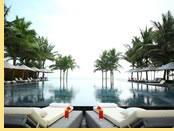 Located on the beautiful My Khe Beach, Fusion Maia Resort
offers complimentary spa service in the most extensive spa facilities in Central Vietnam, equipped with steam baths and sauna facilities. This beachfront resort features 5-star villa accommodations in Da Nang and an outdoor pool with a waterfall. It is easily accessible from nearby attractions like Thu Bon River, Marble Mountain and Japanese Bridge.
All-day breakfast can be served on the beach or at the spa area. Five restaurant offers Pan-Asian dishes while Fresh serves up seafood by the pool side. Light refreshments are available at Tonic lounge.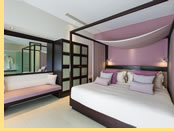 Boasting private courtyards with stunning sunset views, each modern Vietnamese-style villa has spacious layouts and a open-plan living room. Large bathrooms have oversize windows and separate bath and rain shower areas. Guests can enjoy a dip in the villa's private pool.
La Residence Hotel & Spa - MGallery Collection
, Hue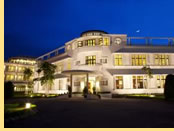 La Residence Hue Hotel and Spa - MGallery Collection
is a classic colonial villa spread over 2 hectares on the banks of the scenic Perfume River. Offering free Wi-Fi, it also has a tennis court, pampering spa treatments and a fitness centre.
The well-appointed rooms are individually designed with beautiful Art deco furniture and spacious terraces. Enjoying views of the city or river, all come with a TV, minibar and private bathrooms.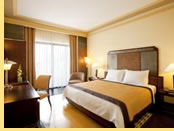 La Residence Hue Hotel and Spa - MGallery Collection is less than 1 km from the Ho Chi Minh Museum, Dong Ba Market and Hue Train Station. Free parking is available.
Guests can enjoy a massage at the spa or spend quiet moments at the hotel's library. Day trips and car rentals can be arranged at the tour desk.
Hotel Des Arts Saigon Mgallery Collection
, Ho Chi Minh City
Featuring a restaurant and an outdoor pool, Hotel Des Arts Saigon Mgallery Collection
offers pet-friendly accommodations in the bustling Ho Chi Minh City.
Every room at this hotel is air conditioned and features a flat-screen TV with cable channels. Certain units include a seating area where you can relax. Every room has a private bathroom equipped with a shower. For your comfort, you will find slippers and free toiletries. Free WiFi is available in all rooms and throughout the whole property.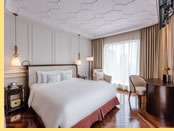 Guests can enjoy a drink at the on-site bar. You enjoy full 24-hour access to front desk services at the property.
Diamond Plaza is 200 m from Hotel Des Arts Saigon Mgallery Coll, while Noter Dame Church is 400 m from the property. District 3 is a great choice for travelers interested in restaurants, local food and friendly locals.
Raffles Grand d'Angkor Hotel
, Siem Reap
Raffles Grand Hotel d'Angkor offers elegant accommodations in the heart of Siem Reap, within a 5-minute drive of the market center. It features a lap pool, fitness center, and spa. WiFi is free throughout the hotel.
Raffles Grand d'Angkor Hotel
is a 10-minute drive from both Angkor Wat and Siem Reap International Airport. It is also close to numerous temples.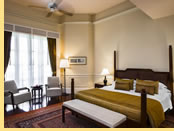 Featuring private terraces, the air-conditioned rooms come with cable TV, tea/coffee making facilities and a safety deposit box. Each room has an attached bathroom with a bathtub and shower.
Activities offered by Raffles Grand Hotel include yoga and Khmer dance. The hotel provides 24-hour room service and 24-hour butler service.
Raffles Grand Hotel d'Angkor has 4 dining options offering French, Cambodian and Asian dishes.