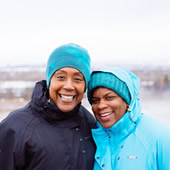 Breathtaking Icelandic landscapes of smouldering volcanoes, geysers, glaciers & bubbling thermal pools of the Blue Lagoon, plus chance to witness the enchanting Aurora Borealis. Embark on an exciting lesbian group journey as we go in search of an amazing display of purple, blue, pink and green lights dancing across the dark Iceland skies. This truly is one of nature's greatest wonders which we hope to capture on our hosted group holiday to Iceland in 2024. Referred to as one of the most LGBTQ friendly countries in the world.
Our adventure takes us to Iceland, the "Land of Fire & Ice" where if atmospheric conditions are right we have the chance to witness the incredible and breathtaking Northern Lights.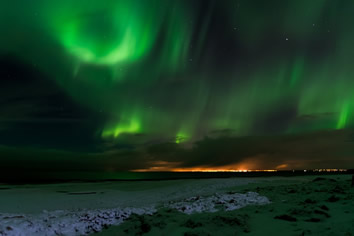 We start are unforgettable experience on a guided tour of Reykjavík, Iceland's capital city. We then take you on some great excursions - all included. There is the MUST visit to the Blue Lagoon where you can take a dip in the mineral-laden waters, then we have a Golden Circle tour after which is the highlight of your stay. As the evening comes we head out of the city in search of the Aurora Borealis. On your final day we take the group on the Southern Shore Adventure - what a fantastic holiday we have in store!!
Join our hosted lesbian group holiday in search of the Northern Lights, something that is high on many people's Bucket List....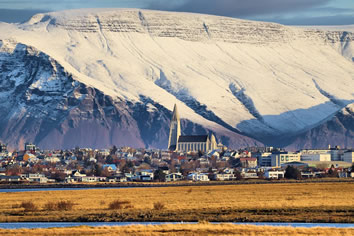 Day 1 - Thursday, March 14, 2024
Fly into Iceland's Keflavik Airport
Your lesbian group host will meet you at the hotel late afternoon/early evening. Your Tour Manager will meet you at Keflavik airport and take you to your coach ready to transfer you to your hotel in Reykjavík. After you've settled in and unpacked there may be time to explore the local area. If your flight arrives later in the afternoon then please join for our welcome group dinner in a local restaurant (payable locally) A great way to meet your fellow travellers.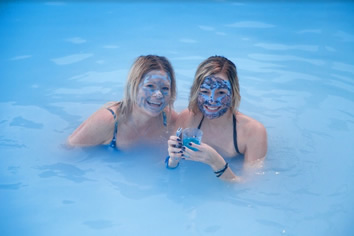 Day 2 - Friday, March 15, 2024
Explore Reykjavik and a visit to the Blue Lagoon
After a group breakfast we go off on our included, guided city tour which introduces us to Reykjavík and its surroundings this morning. See landmarks such as the Presidential Residence and the towering Hallgrim's Church. In the afternoon you'll have the opportunity to take a dip in the mineral-laden waters of the Blue Lagoon. These warm waters have become one of Iceland's most recognizable attractions, but began life as a by-product of the nearby geothermal power plant where superheated water rising from the ground near a lava flow is used to drive turbines that generate electricity for the region, and heat the local water supply. Join us for our evening meal in a local restaurant (payable locally)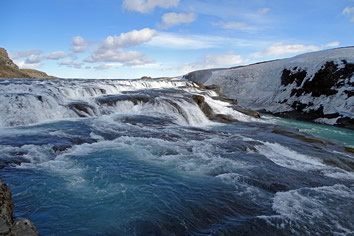 Day 3 - Saturday, March 16, 2024
Head off in search of the Northern Lights & Golden Circle Tour
After our group breakfast we go on this morning's Golden Circle tour to see Ţingvellir - the green expanse where Iceland's ancient parliament used to meet and of course the (near-extinct) original Geysir and time the gap between the eruptions from the nearby, and far more frequent, Strokkur waterspout, before rounding off our day with a visit to the vast cascade of the Gullfoss waterfall.
The highlight of the tour comes this evening, when you'll head out of the city to search for the Aurora Borealis - the enchanting Northern Lights - flickering in the Icelandic night sky. Should you be lucky enough to see it, the phenomenon is a sight to behold. Join us for our evening meal in a local restaurant (payable locally)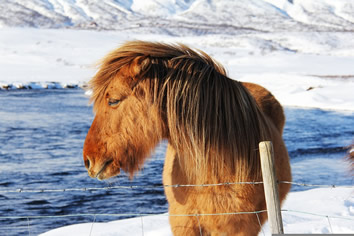 Day 4 - Sunday, March 17, 2024
Southern Shore Adventure Tour
After our group breakfast we adventure off on our Southern Shore excursion. Our journey takes us into wild, rugged Iceland and across the lava plateau, down onto the southern coastal lowlands and across the mighty river Ölfusá. Discover Eyrarbakki, a coastal village with many old wooden houses, and marvel at Eyjafjallajökull - the volcano that famously closed down European airspace in 2010. We'll also visit Skógafoss waterfall, the icy wall of Sólheimajökull and Vík í Mýrdal - the southernmost village in Iceland.
After lunch (payable locally) we stop on the black sandy beach at Reynisfjara - famous for its birdlife. Afterwards, we enjoy our last evening in the Icelandic capital with our farewell group dinner (payable locally)
Day 5 - Monday, March 18, 2024
Reykjavik Departure
Transfer back to Keflavík Airport to board your flight home.