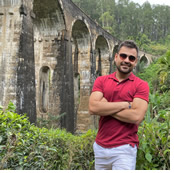 Enjoy Christmas and New Year on this tropical island! A round the island gay trip of the "Pearl of the Ocean", which incorporates many activities such as spice gardens and tea processing. The tour encompasses a bit of everything. You have the historical UNESCO World Heritage Sites of Polonnaruwa, Sigiriya and Kandy; orphaned elephants bathing in a river and also on safaris to see them in their natural habitat; other natural visits of botanic gardens and parks to see herbs and spices; a famous train trip with views of tea plantations; and don't forget partying in party town Negombo. One thing that memorize you is the absolute warmth of the Sri Lankan people. True, they live more for today than tomorrow, but they smile and their smiles warms up anybody's heart. Lap up the luxury, enjoy the adventure and meet new friends.
Located southwest of the Bay of Bengal, Sri Lanka holds a key position in pan Asian, African and Oceanic trade routes and yet remains inexplicably under-travelled. Promising all of the allure of South Asia, with less chaos and fewer crowds than India, Sri Lanka is a dream destination for anyone searching for something different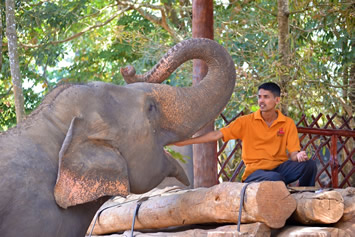 A truly luxurious, cultural tour of one of the most newly popular destinations in the world – Sri Lanka. Experience the incredible power of nature combined with the spirituality and cultural breadth of this beautiful country as you take in national parks, ancient civilisations, elephant sanctuaries, sprawling tea fields, mountainous landscapes, elegant temples and much more.
Its beaches are on par with Thailand's; its prices pleasingly low and its unique flavours deeper and more beguiling with every meditative breath. A paradise of many colours with 2,000 years of history, Sri Lanka can tell stories of colonial rule and ancient Hindu kingdoms, to the backdrop of tropical tea plantations and lofty rainforests which rise to misty unknowable heights.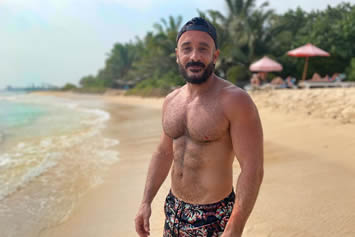 Day 1 - Friday, December 22, 2023
Arrival in Colombo, Sri Lanka
• Warm welcome at Colombo Bandaranaike International Airport (CMB)
• Transfer to your 5 star hotel in Negombo
• "Meet and Greet" session at 8 pm in the hotel reception
• Rest or party (Negombo is known as party town)
Negombo is a popular beach getaway, with water sports, beautiful Buddhist temples to visit and some pretty intense fish markets – a nod to the city's large fishing industry. For avid wildlife lovers, there are also fascinating mangrove forests in the Negombo Lagoon filled with flora and fauna. Negombo has managed to earn itself a name as a sort of pink oasis, with several adult-only hotels openly targeting the LGBTQ travel community and even a few queer-friendly spaces to hang out at, least of all by Negombo beach.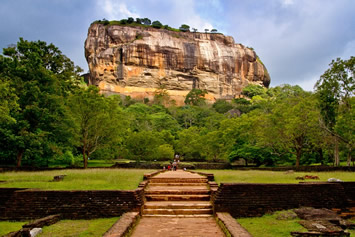 Day 2, and 3 - Saturday - Sunday, December 23 - 24, 2023
Sigirya
• Private travel to Sigiriya for 2 nights stay
• Pineapple plantation
• Dambulla cave temple
A sacred pilgrimage site for 22 centuries, this cave monastery, with its five sanctuaries, is the largest, best-preserved cave-temple complex in Sri Lanka. The Buddhist mural paintings (covering an area of 2,100 m2 ) are of particular importance, as are the 157 statues.
• Village tour
• Dambulla vegetable market
• Polonnaruwa old city
Polonnaruwa was the second capital of Sri Lanka after the destruction of Anuradhapura in 993. It comprises, besides the Brahmanic monuments built by the Cholas, the monumental ruins of the fabulous garden-city created by Parakramabahu I in the 12th century.
• Sigiriya or Pindurangala rock climbing (suitable for the average person in good health)
Sigiriya is an ancient rock fortress. The local people consider it as the "eighth wonder of the world". Sigiriya is visibly breath-taking and can be spotted from miles away, rising majestically between the surrounding landscape. It's immersed in a thick jungle with both Stupa and numerous statues of Buddha, creating one of the most evocative and fascinating landscapes of Sri Lanka. Furthermore, the top of the rock offers fantastic 360-degree views of the beautiful surrounding area. Sigiriya is the most-visited historic site in Sri Lanka and is one of only 7 UNESCO World Heritage Sites in the country
• Minneriya or Kaudulla National Park (3 pm to 5.45 pm)
Set in the heart of the popular cultural triangle of Sri Lanka, Minneriya National Park is mostly known for its incredible elephant migration, which is one of Asia's finest wildlife experiences. During the drier months of June to September, as many as 300 elephants congregate in the Minneriya National Park around the ancient Minneriya water tank (which dates back to 3rd Century AD), taking advantage of the receding waters that provide an important water source.
• Aryuvedic massage (6 pm to 7.30 pm)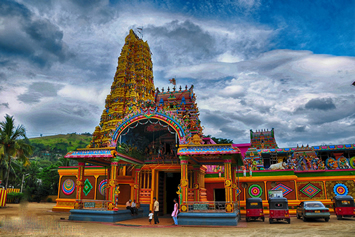 Day 4, and 5 - Monday - Tuesday, December 25 - 26, 2023
Kandy
• Private travel to Kandy for 2 nights stay
• Matale spice and herbal garden
Sri Lanka is popular from the ancient times for its aromatic spices and herbs that are used in the cooking and in body care. Arabs, Chinese and Greek traders were the first people to find out of these valuable aromatic spices from Sri Lanka.
• Matale hindu temple
Near to the main road through Matale, the Muthumariamman Hindu temple is a tall, exuberantly decorated structure that can be easily seen from afar. The prominent towers, called Gopurams, boast hundreds of detailed sculptures, in a rich mosaic of colour. Dedicated to the Hindu goddess of Mariamman, the 'muthu' prefix translates as 'pearl' and indicates the goddess's original association with fertility.
• Pinnawala Elephants bathing in the river
Every day there is reason to celebrate at the Pinnawala elephant orphanage. And it is an unparalleled pleasure and sight to see dozens of elephants with their youngsters descending the city streets. Several times a day these giant animals are brought to the river for swimming and playing with water.
• Kandy cultural dance show (5.30pm to 6.30pm)
• Kandy tooth temple
A visit to the Temple of the Sacred Tooth Relic is a must when you are in Kandy. The most revered site in Sri Lanka, it is locally known as the Sri Dalada Maligawa and is a place of worship established in the 16th century AD. Situated adjacent to the royal palace complex of the former Kingdom of Kandy, the shrine overlooks the vast expanse of the Kandy Lake.
• Kandy lake and city shopping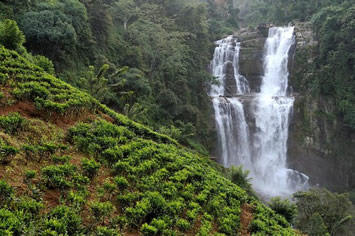 Day 6 - Wednesday, December 27, 2023
Ramboda & Nuwara Eliya
• Private travel to Ramboda for 1 night stay
• Botanical gardens
The most prominent gardens in Sri Lanka, Royal Botanical Gardens are situated 5 km west of Kandy. Colourful orchids, pleasant winds, tall trees. and proximity with the Mahaweli river is a beautiful "flora and aqua" treat for the eyes. The gardens are home to more than 4000 species of plants, including orchids, spices, medicinal plants and palm trees. It is a 147 acre - natural elegance holding landscaped gardens and scenic beauty, making it a photographers dream.
• Ambuluwawa temple by tuktuk
Ambuluwawa Tower is the first Multi Religious Center in Sri Lanka. You can see a Temple, Kovil, Mosque and a Church. It is known that Ambuluwawa Temple is an evocative of a Buddhist 'stupa' with a height of 48 meters. This Multi Religious Center shows the perfect Harmony and Unity among us Sri Lankan's from the beginning.
• Ramboda waterfalls
Deep in Sri Lanka's hill country, the Ramboda Falls is the island's 11th highest waterfall, dropping from a height of 358 feet (109 meters). Formed from the River Panna Oya, a tributary of the River Kothmale Oya, the waterfall is framed by emerald forests—making it an especially beautiful and popular stop for travelers.
• Tea plantation & factory visit
Learn the ins and outs of Sri Lankan tea production during this guided visit to the Tea Factory. Listen to a step-by-step process of tea making as you tour the celebrated Ceylon tea estate. Tours end in a tea tasting session.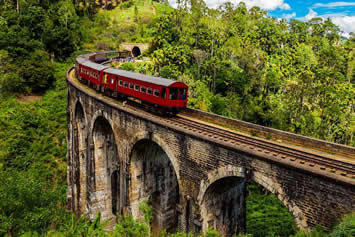 Day 7, and 8 - Thursday - Friday, December 28 - 29, 2023
Nuwara Eliya & Ella
• Nuwara Eliya city walking
Often referred to as 'Little England', this genteel highland community does have a rose-tinted, vaguely British-country-village feel to it, with its colonial-era bungalows, Tudor-style hotels, well-tended hedgerows and pretty gardens. Indeed, Nuwara Eliya was once was the favored cool-climate escape for the hard-working and hard-drinking English and Scottish pioneers of Sri Lanka's tea industry.
• Victoria Park
• Gregory Lake View
• Train trip at 12.45 pm from Nanu Oya (Nuwara Eliya) to Ella, arriving 3.30 pm
• Little Adam's Peak hiking
Ella is a hiking hotspot in the mountain country of Sri Lanka. Some of the views from hikes in Ella are phenomenal with the region well known for its tea plantations and spectacular mountain ranges. If you want to enjoy some of the best views without needing to hike for hours, Little Adam's Peak Hike is the perfect trek, especially for an unforgettable sunset.
• Lipton seat walking tea estate
Lipton's Seat is the name given to a huge area covered in tea plantations near Ella. Lipton's Seat is actually a viewpoint on top of a mountain dominating the tea plantations with 360° panorama. This was Sir Lipton's favorite view, the very one who developed the culture of tea in the region as well as the democratization of tea throughout the world.
• Nine arch bridge views train crossings
The Nine Arch Bridge, also known as the 'Bridge in the Sky' was constructed by connecting two bog mountains when constructing the Badulla – Colombo railway. This bridge is 300 feet in length, 25 feet in width and 80-100 feet in height. It is one of the best examples of colonial-era railway construction in the country.
• Staying 2 nights in Ella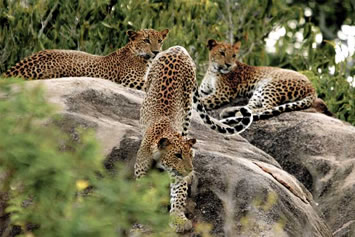 Day 9 - Saturday, December 30, 2023
Yala
• Travel to Yala
• Yala safari at 2 pm until 6 pm
Yala National Park is Sri Lanka's most popular wildlife park due to the presence of many leopards. Sri Lanka is one of the few countries in the world where the population lives side-by-side with free-roaming animals. Herds of elephants, crocodiles, deer, monkeys, buffaloes, birds, sloth bears, leopards, and many more. Sri Lanka has 20+ national parks but the large variety of animals is what draws many visitors to Yala National Park specifically.
• New Yaer's Eve in Yala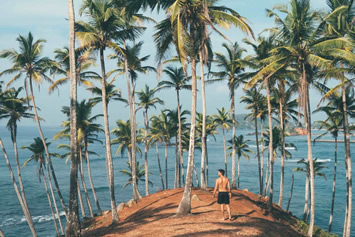 Day 10, and 11 - Suny - Mon, December 31, 2023 - January 1, 2024
Mirissa / Weligama
• Travel to Weligama via Mirissa
• Mirissa palm hill
A dome hill surrounded by scenic palm trees; the Coconut tree hill is a hidden area that has become a popular attraction especially for capturing stunning pictures during the sunset breaking the sky into vibrant colors against the ocean.
• Fishermen on poles
• Staying overnight in Weligama
Weligama (meaning 'Sandy Village') is an interesting blend of lively fishing town and beach resort. The sprawling main settlement and coastal road is somewhat scruffy and not that easy on the eye, but you'll find the sandy beach is attractive once you're away from the main section; there's a couple of cove beaches west of the centre.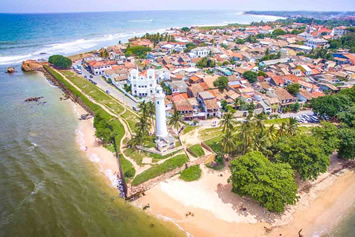 Day 12 - Tuesday, January 2, 2024
Galle / Negombo
• Dalawella beach swing
Sri Lanka is blessed with mile after mile of beautiful golden sand and Dalawella Beach ranks up there as one of the most amazing. From rope swings to turtles, it's got it all.
• Galle Dutch fortress
Galle is a jewel. A Unesco World Heritage Site, this historic city is a delight to explore on foot, an endlessly exotic old trading port blessed with imposing Dutch-colonial buildings, ancient mosques and churches, grand mansions and museums. Built by the Dutch, beginning in 1663, Galle's core is the Fort, a walled enclave surrounded on three sides by the ocean.
• Evening travel to Negombo
Day 13 - Wednesday, January 3, 2024
Negombo Departure
Farewell at your hotel
Colombo Airport (CMB) transfer
Enjoy Christmas and New Year on this tropical island!