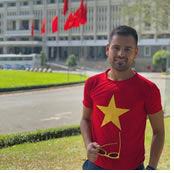 A wonderful way of visiting gay Vietnam and what it has to offer. First four nights in the northern capital of Hanoi, followed by an internal flight to spend four nights in the southern capital Saigon (now Ho Chi Minh City), then a return flight back to your starting point of Hanoi. Two capitals when the country was divided into North Vietnam and South Vietnam. Now combined as one, you get to enjoy the contrasts between the too. Needless to say you are in the safe hands of our Holiday Houseboy, your gay friendly tour guide, who will lead the way and look after your safety and welfare at all times. With some exciting activities planned ahead.
Stretching over 3,200 kilometres in length with countless mountains, rivers, forests and beaches, Vietnam is one of Asia's most diverse and fascinating countries. From the natural splendour and majesty of the north, to the historic charm of the central provinces Vietnam is a beautiful country.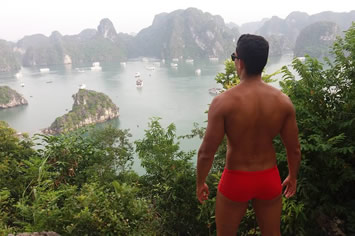 Just as a freshly dripped sua dá coffee offers that sweet caffeine kick to the frontal cortex, a trip to Vietnam will inevitably knock you for six. Embodying the urban jungle; Saigon's sassy natives squat behind fragrant vats of pho bò while epic roads cut through the scene like impassable motorised rivers.
In Vietnam, craziness is interwoven with natural beauty like nowhere else on earth, where the cheerful, forgiving perspectives of its people can cause you to re-evaluate life back home. Walk blindly into moving traffic and experience the biblical happen, or, embrace a different kind of spirituality while exploring Vietnam's most rural shrines and temples.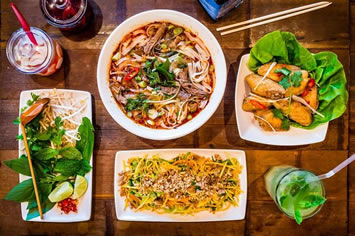 Day 1
Arrival in Hanoi, Vietnam
• Warm welcome at Hanoi Noi Bai International Airport (HAN)
• Transfer to your 4 star hotel in Hanoi
• A visit to the French Quarter
Be charmed by Hanoi's French Quarter on a walking tour of its cultural highlights. Stroll to Hoan Kiem Lake and see the State Bank of Vietnam as well as prominent government buildings. Marvel at the French-colonial grandeur of the Sofitel Metropole Legend Hotel and Hanoi Opera House. View the National Museum of Vietnamese History and Museum of the Vietnamese Revolution, continuing along the shop-lined Trang Tien.
• Food tour
Discover culinary treats and cultural treasures on this food tasting and walking tour of vibrant Hanoi. Stroll the maze-like streets of the old town, stopping to taste juicy tropical fruits, sample local dishes like Banh Cuon and sip delicious egg coffee. Learn about Vietnam's varied cuisine as you watch the street chefs at work and your guide points out regional delicacies and sweet treats to try. It's a great way to explore Hanoi's Old Quarter and all you need to bring is an empty stomach and an open mind!
Meals: a variety of local food in the evening on the food tour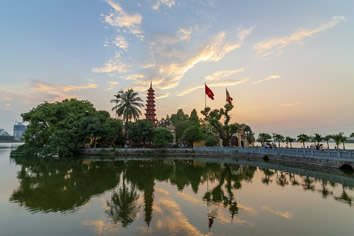 Day 2
Hanoi, Vietnam
• Hanoi City Tour including lunch
– the Ho Chi Minh mausoleum, resting place of the revolutionary leader
– the Flag Tower of Hanoi, one of the symbols of the city
– the Temple of Literature
– Hanoi Old Quarter
– Tran Quoc Pagoda
See major attractions in the capital city of Hanoi. Unlock Vietnam's rich history at its cultural heart, heading to popular sights that include the Ho Chi Minh Mausoleum, One Pillar Pagoda, Temple of Literature and Quan Thanh Temple. Stroll to West Lake with a personal guide at your side and cast your gaze on picturesque Tran Quoc Pagoda before a visit to the Old Quarter.
• Beer tour including dinner
Hang out with local craft beer brewers. You'll visit some of Hanoi's better-known breweries and experience venues that not all visitors manage to find. Meet fellow beer enthusiasts and learn about Hanoi's growing craft beer scene over tasty beers and authentic Vietnamese finger food.
Meals: Breakfast, Lunch, and Dinner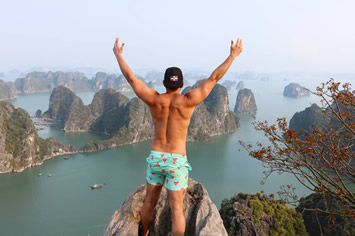 Day 3
Hanoi - Ha Long Bay
• Ha Long Bay Trip – a cruise with lunch included (drinks are extra)
Cruise around the dramatic karst cliffs, lush islands, and natural sea caves of Halong Bay and admire the UNESCO-listed wonders from the water. After your transfer from Hanoi, set sail on board a luxury cruise ship and enjoy at least five and a half hours cruising around the bay. During the tour, visit Sung Sot Cave, go kayaking or take a bamboo boat ride around Luon Cave, and cool off with a swim at Ti Top Island.
• Gay bars in the evening (possibly with a drag show)
GC (Golden Cock) is Hanoi's best-known gay bar and one of Vietnam's longest-running gay venues. GC gets very busy on Friday and Saturday nights, with gay locals, expats and foreigners.
Meals: Breakfast, Lunch, and Dinner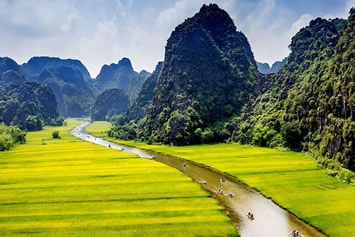 Day 4
Hanoi - Ninh Binh
• All day trip to Ninh Binh, a small village in the Red River Delta
Full day tour from Hanoi with highlight destinations in Ninh Binh. Visit the ancient capital of Vietnam in the 10th and 11th centuries and climb up 500 steps to Lying Dragon mountain to enjoy the breathtaking mountainous view. Enjoy a boat trip on the Ngo Dong river in Tam Coc, through majestic caves. After that, cycle to Bich dong pagoda, spend 20 minutes to discover the ancient Pagoda, was built in 1428. Have a excellent lunch and finish the trip in Tam Coc before returning to Hanoi.
Meals: Breakfast, and Lunch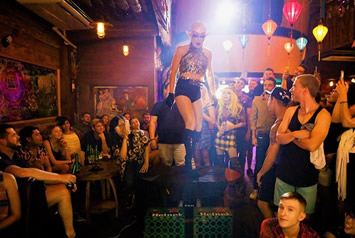 Day 5
Hanoi to Ho Chi Minh City
• Airport transfer and morning flight from Hanoi to Ho Chi Minh City
• Ho Chi Minh City gay bars tour
Formerly known as Saigon, Ho Chi Minh City may not be the capital but it is the bigger, buzzier counterpart to traditional, historic Hanoi. While not exactly a gay destination in itself, the gay bars, clubs, and events in town are more than enough to keep the casual visitor busy. There's a friendly local queer scene that gathers in popular gay and gay-owned bars throughout the week, and which is becoming increasingly international as HCM grows as a gay destination. You'll also find some truly exceptional gay saunas here, offering everything from beautiful traditional Vietnamese gardens to rowdy themed parties.
Meals: Breakfast, and Dinner
Day 6
Ho Chi Minh City (Saigon)
• Ho Chi Minh Square, a popular area with restaurants, coffee shops, shopping
Located right at the heart of bustling, traffic-filled Ho Chi Minh, the historic Ho Chi Minh Square is an oasis of tranquility and elegance of French Colonial architecture, perfectly manicured hedges and fragrant blooms of hibiscus and poinsettia. A snapshot of 19th- and 20th-century South Vietnamese heritage, today it is dominated by the statue of communist revolutionary leader Ho Chi Minh standing in front of the Ho Chi Minh City Hall, built by the French in 1908, and coexisting peacefully with western consumerism of today emerging in the form of high-end boutiques and big brand stores dotting the surrounding streets.
• The Coffee House experience – try coffee the Vietnamese traditional way
Wander through small alleys surrounded by the smell of Vietnamese coffee, a little bitter, a little sweet, just like the relaxed yet dynamic rhythm of life here. Taste coffees ("phin", "cà phê sua dá") and seek to special way to make coffee by net (coffee "vot"). Enjoy the old Saigon life with a cup of coffee!
• Saigon River boat trip
The Saigon River, the fast-flowing main artery of Ho Chi Minh City, is flanked by both modern skyscrapers and rural villages that give insight into old Vietnamese traditions. Used by locals to escape the urban bustle, the riverbanks are dotted with picnic benches and greenery, making for a pleasant refuge from the metropolitan mania of Saigon.
Meals: Breakfast, and Lunch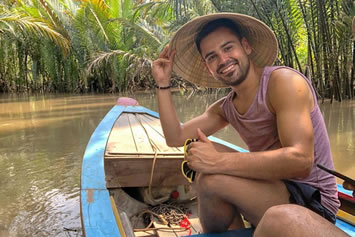 Day 7
Chu Chi Tunnels & Mekong River
• Chu Chi tunnels, see what it was like to be a Vietnamese soldier living underground
Built by the Viet Cong in the 1940s as protection from French air raids during the Indochina conflict, the Cu Chi Tunnels extend underground for more than 155 miles (250 km) in the vicinity of Ho Chi Minh City alone. This network of subterranean passageways later provided vital access to and strategic control over the rural areas surrounding the city during the Vietnam War (also known as the American War), when the tunnels housed living quarters, hospitals, booby traps, and storage facilities for the Viet Cong.
• Mekong River trip, with floating boats approach you to sell their fresh produce
The mighty Mekong River is Southeast Asia's longest river and cruising around the canals, waterways, and floating markets of the Mekong Delta-often called the "rice bowl" of Vietnam—offers a startling contrast to the busy urban center of Ho Chi Minh City.
Meals: Breakfast, and Lunch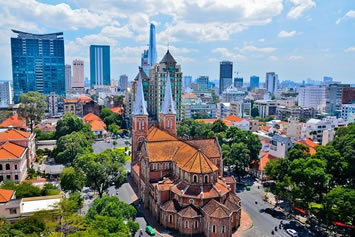 Day 8
Ho Chi Minh City (Saigon)
• Saigon Post Office
Nestled in the heart of Ho Chi Minh City, Saigon Central Post Office is replete in history and culture. A reminder of Vietnam's complex history, and now a tourist magnet, Saigon Central Post Office is a significant fulcrum in Ho Chi Minh's historical, architectural and cultural past.
• Notre Dame Cathedral, a smaller replica of its French counterpart
Notre Dame Cathedral Vietnam is honored as one of the world's 19 most majestic cathedrals, the only representative from Southeast Asia. This long-lasting masterpiece, seen as the architectural symbol of Ho Chi Minh City, hosts a flock of new tourists every day who seek ancient grandeur, holiness, and enchanting photography spots.
• The Opera House
Standing magnificently at the heart of Ho Chi Minh City is the Saigon Opera House, which is also known as the Municipal Theater. The building stands as one of the impressive sight in Saigon – both night and day.
• A local gay bar tour
Meals: Breakfast, Lunch, and Dinner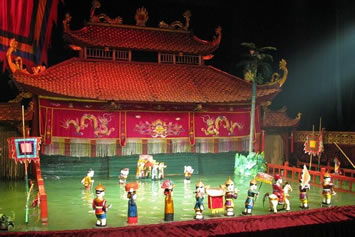 Day 9
From Ho Chi Minh City to Hanoi
• Airport transfer and morning flight from Ho Chi Minh City to Hanoi
• The water puppet show
The art form of water puppetry originated at least 1,000 years ago in the rice fields of north Vietnam. You'd be remiss to leave Hanoi without catching a show at the Thang Long Water Puppet Theatre. A Vietnamese orchestra accompanies the water puppets, with some modern special effects.
Meals: Breakfast
Day 10
Hanoi Departure
Farewell at your hotel
Hanoi Noi Bai International Airport (HAN) transfer
Meals: Breakfast