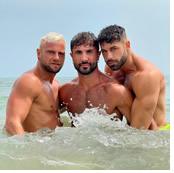 In amazing Andalucia, a region that lies between the Atlantic and the Mediterranean, you will find a bit of everything! Many kilometers of sandy coastline, beautiful parks, unique architecture, a unique cuisine, many Unesco World Heritage sites and a city with a growing gay life: Torremolinos. In these 8 days gay group tour you'll stay in Seville and Torremolinos which will also be the starting point to visit incredible places like Cordoba, Carmona, Malaga, Ronda and Setenil de las Bodegas. And did you know the first gay bar in Spain was founded in Torremolinos in 1962? Join us & others in this amazing gay group tour in Spain!
The city of Seville is the capital of the Spanish region and province of Andalucia and this is where our tour begins. Visiting Seville means discovering a very rich architectural and historical legacy, but also diving in Spanish culture, with tapas, sangria and flamenco. You'll visit famous places like the Real Alcazar, Plaza de Espana, Cathedral and Giralda.
While nearby Torremolinos is traditionally known for being the gay capital of Andalusia, Seville boasts some serious competition.
You'll also visit Cordoba, famous around the world for its Great Mosque. Its historic old town is a World Heritage site, full of little streets to be explored. And also Carmona, one of the oldest towns in mainland Europe.
Then we go to Torremolinos: a pioneer in gay-friendly tourism and these days it continues to be a favorite place among the LGTBI community. You have the city, bars, clubs and gay beach with beach clubs. A unique destination and also a starting point to visit the famous city of Malaga, which offers stunning landscapes, delicious cuisine, gorgeous beaches, and plenty of history, culture, and art.
From Torremolinos you will also visit the famous Ronda, known for its picturesque location on a mountain plateau, its historic old town and impressive bridge over the El Tajo gorg and also Setenil de las Bodegas with its most impressive feature: huge rocks that overhang the pretty white houses.
It's going to be an amazing gay group tour that you won't want to miss because you'll have a little bit of everything! So, book now!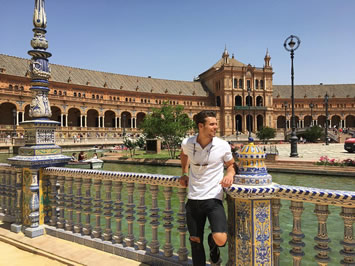 Day 1
Arrival in Seville, Spain
"Hola" and welcome to Spain and the amazing city of Seville.
Upon your arrival at Seville Airport (SVQ), you'll have a transfer waiting for you that will take you directly to the hotel in maximum comfort. Here we will be waiting for you and it will be the meeting point for the group. Depending on your arrival time, you'll still have time to rest until dinner time arrives.
On your first night we will have our first group dinner in a restaurant, to introduce ourselves/get to know and socialize.
Included: • Transfer from Seville airport to hotel • Welcome Gift • Group dinner •Hotel in Seville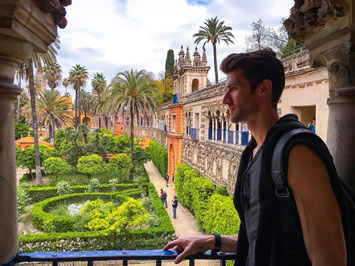 Day 2
Seville, Spain
This morning, after breakfast, we set out to discover this fantastic city that has so much to see. On a guided tour of the Seville centre, you'll discover the most important attractions.
After this introduction, you have the afternoon free to visit whatever you want, eat some 'tapas' and buy those special souvenirs like a fan or castanets!
At night, we can all go for a drink in one of the gay bars in Seville next to the famous Alameda de Hercules.
Included: • Breakfast • Seville city tour • Hotel in Seville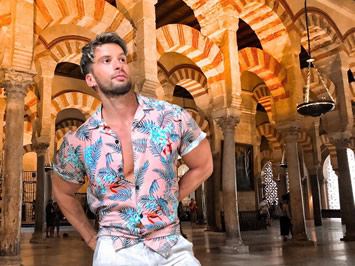 Day 3
Cordoba & Carmona Tour
Today we have another day with unique visits. After having breakfast, around 9am we leave towards Cordoba and Carmona.
On our way to Cordoba, we'll stop in the old town of Carmona to see the two most important and representative buildings in Carmona, the morish fortress "Puerta de Sevilla" and the Parador.
Upon arrival in Cordoba, the Calahorra tower and the roman bridge will wellcome you and you'll walk throght the historical town, declared by Unesco as a World Heritage town. Visit places like Los Patios de San Basilio, the Jewish Quarter (Juderia), Sinagoga de Cordoba and Mezquita Cathedral de Cordoba.
After a day of seeing lots of new and fantastic things, the night is free to enjoy as you wish or rest.
Included: • Breakfast • Cordoba and Carmona day tour • Admission Tickets • 4* Hotel in Seville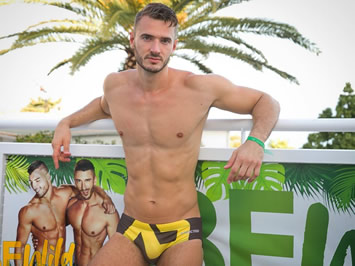 Day 4
From Seville to Torremolinos
Today you have the morning free to sleep a little longer or stroll through the streets of Seville before, around 1pm, we leave for Torremolinos in a private transfer.
After a journey of around 2 hours, we arrive at this popular gay holiday destination.
The rest of the day is free to enjoy the hotel's beach or pool, drink a cocktail on a terrace and watch who passes by.
At night, we have another group dinner and afterwards, whoever wants to, we can go for a drink in one of the many gay bars in the area.
Included: • Breakfast • Transfer from Seville to Torremolinos • Hotel in Torremolinos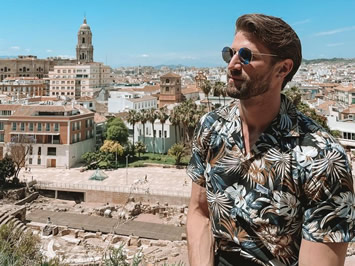 Day 5
Malaga Tour
This morning, after breakfast, we'll take a train trip to Malaga.
It's a quick trip and you'll get to know this unique city, best known for its most famous son–artist and sculpturist Pablo Picasso. A town with ample museums, tapas bars and pedestrian pathways.
A local guide will introduce you to the city and then you can choose to continue exploring Malaga on your own, or take the train back to Torremolinos. You have the rest of the day free and we can help with suggestions.
Included: • Breakfast • Train tickets to Malaga, round trip • Malaga city tour with guide • Hotel in Torremolinos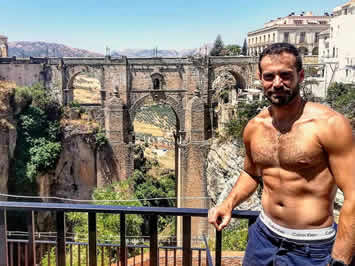 Day 6
Ronda & Setenil de las Bodegas
Today we woke up a little earlier because a unique day awaits you: visiting the famous Ronda and Setenil de las Bodegas.
A transfer will take us to Setenil de las Bodegas, one of the most beautiful and original white villages in the province of Cádiz. Enjoy this peculiar town and visit the houses embedded under the rocks.
In Ronda, enjoy a guided tour of the main sights. A walking tour in the romantic town center with its churches, mini-palaces, and Spain's oldest bullring, offers plenty to uncover. And of course, the incredible views of the Puente Nuevo. You'll also have free time to see everything at your own pace.
On your return to Torremolinos, the rest of the day is free to enjoy as you wish.
Included: • Breakfast • Ronda and Setenil de las Bodegas tour • Transport included • Hotel in Torremolinos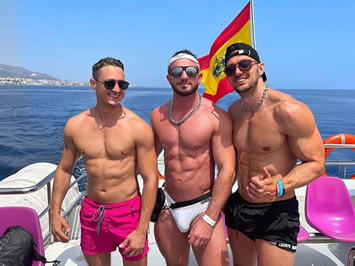 Day 7
Torremolinos, Spain
Today is our last full day in Torremolinos, so you have the day free to fill it however you like. You can spend the day at the pool or at the beach or take some optional tours that we suggest, such as visiting Caminito del Rey, seeing a horse and flamenco show or even visiting Marbella, among others. We help.
With the arrival of night and for us to start saying goodbye, remembering the last days we spent together, laughing and socializing, we will end on a high note with our last group dinner.
After dinner you will have the rest of your free time and join us for a toast and who knows, planning your next adventure!
Included: • Breakfast • Dinner included • Hotel in Torremolinos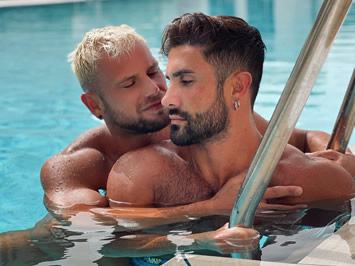 Day 8
Torremolinos Departure
Today is the day to say goodbye. After breakfast, we leave our hotel in Torremolinos and head to our next destination.
If you need any transfer to the Malaga airport (AGP), or another location, let us know that we can help. If you want to stay longer in the city or Spain and need help, let us know.
Included: • Breakfast