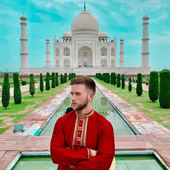 India luxury experience - lunch with a Gay Prince, Celebrate Holi: The Festival of Colours, visit many unique cities and palaces in this amazing gay group tour. Wonderfully different, there is nothing quite like a tour of India. Travel a lot? No matter how much you've done or how many countries you've visited, when you first arrive in India it will hit you like a gale force wind; a hurricane of sounds, smells, and colour where nothing is as it seems. Travelling to India reveals a country that is both mesmerizing, exotic, exciting, and mystical but at times frustrating, confusing, and chaotic. Relax, stay calm, be patient, and smile and India will open up herself to you in all her splendid glory.
Travelling through Rajasthan is like walking through a kaleidoscope. Everywhere you look, colours dance before your eyes — from saris drying on riverbeds to the sunsets of Udaipur, from the spice market in Jodhpur to the white marble of the Taj Mahal. Uncover the secrets of romantic Rajasthan on this 16-days opulence and regality tour of the colourful Indian state. Marvel at the rampart views from Jodphur's Meherangarh Fort, and soak in the relaxed atmosphere of Udaipur. Be prepared to fall in love with India!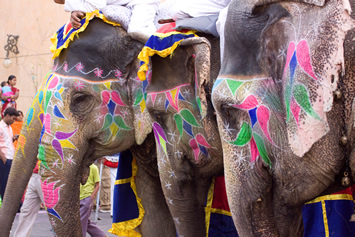 India is a diverse country with people from a diverse culture residing here and celebrating festivals of all kinds. There are numerous festivals that are celebrated by people all over India irrespective of their religion, age and city. While some of the festivals are religious in nature, other festivals are area or city specific. One of the most celebrated and colourful festivals in India are Holi.
Holi is celebrated by people of all castes, creed and religion. This festival of colours brings people together and Holi celebration in Rajasthan is specially renowned. It is celebrated not just in Rajasthan but all across the nation with great pomp. People from all over the world travel to India to be a part of this colourful and enthusiastic festival. The festival is celebrated in different ways in every city. Moreover, every city has its own special way of making this festival auspicious.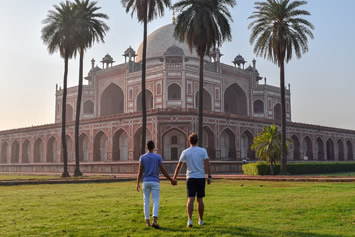 Day 1
Arrival in Delhi, India
Welcome to India!
Upon arrival at Delhi Airport (DEL), you will have a transfer waiting for you that will take you directly to the hotel with maximum comfort. Arrive as early as possible so you can still refresh yourself and enjoy, for example, the hotel's swimming pool. This is where we will be waiting for you and it will be the group's meeting point.
On our first night we will have our first group dinner, to introduce ourselves/get to know and socialize.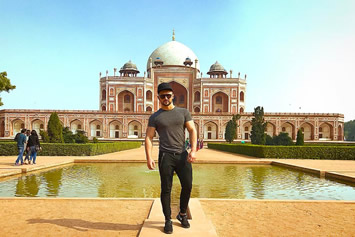 Day 2
Old Delhi
After breakfast at the hotel, we will drive to Old Delhi and enjoy a Heritage walking tour followed by Rickshaw ride.
We will start our walk through Silver street, Decoration market (Kinari Bazaar), Food street (Parathe wali Gali), Spice Market (Khari Baoli). It's Asia's biggest wholesale spice market. You will be mesmerized once you enter the market with the stunning colours and rich aroma of the the various spices and dry fruits. Visit the Sikh temple in Chandni Chowk area.
After we visit Old Delhi, drive to India Gate, a memorial to 70,000 soldiers who died during the first world war. Drive past Parliament house and President house. Later visit of Humayun's Tomb, classified as world heritage sites by UNESCO.
Overnight at hotel in Delhi.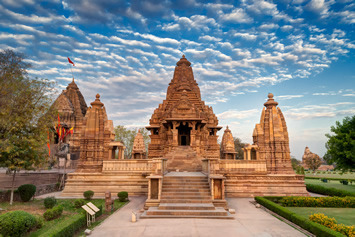 Day 3
From Delhi to Khajuraho
Breakfast at hotel and it's time to check-out. We'll visit Qutab Minar, a world heritage site then transfer to airport to board the flight to Khajuraho.
One of the most popular tourist destinations in India, Khajuraho has the country's largest group of medieval Hindu and Jain temples, famous for their erotic sculptures. The Khajuraho Group of Monuments has been listed as a UNESCO World Heritage Site since 1986 and is considered one of the "seven wonders" of India.
On arrival you'll be transferred to your hotel. Overnight at hotel in Khajuraho.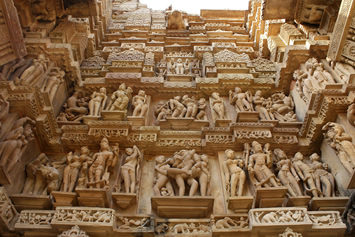 Day 4
Khajuraho, India
After breakfast we will visit the Khajuraho Temple Complex (UNESCO World Heritage). Known for erotic figures, these temples were built by the Chandela rulers between 900 and 1130 AD.
The spectacular carvings and erotic sculptures of Khajuraho have always been a fascinating sight for all visitors. The temples of Khajuraho are adorned with magnificently erotic depictions of the human and god realms. The western group, Kandariya Mahadeo, the largest and most typical temple, is dedicated to Lord Shiva. Chausath Yogini is the only granite temple and the oldest surviving shrine in the group.
In the evening we can attend the Kandariya dance show (Optional). Overnight at hotel in Khajuraho.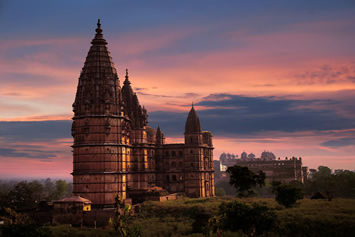 Day 5
Orchha to Agra
After breakfast drive to a small town called Orchha. On arrival visit Orchha Palace, also called Jahangir Palace. After the visit our driver will take us to Jhansi railway station located just 17 km from Orchha (35 minutes).
At Jhansi station we will board a day train for 3 hours to arrive at Agra Cantt railway station, where a transfer awaits us to take us to our hotel. Overnight at hotel in Agra.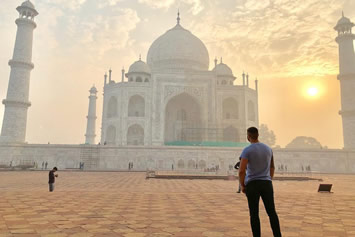 Day 6
Taj Mahal & Agra Fort
Early morning sunrise visit of the Taj Mahal and return to the hotel for breakfast.
Later, a visit the Agra Fort. Construction of the massive red sandstone Agra Fort on the bank of Yamuna River was begun by Emperor Akbar in 1565 and it was to be predominantly a military structure until his grandson, Shah Jahan, added more palatial accommodations. There are a number of exquisite buildings within its portals, such as Musamman Burj, where Shah Jahan was held captive by his son, Diwan-e-Am, Diwan-e-Khas, Jahangir's Palace, Khaas Mahal and Shish Mahal.
Afternoon free time at leisure. Overnight at hotel in Agra.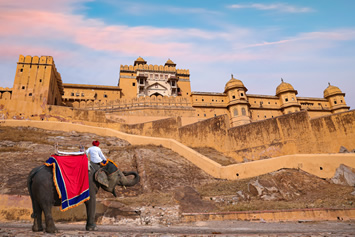 Day 7
From Agra to Jaipur
After breakfast check out and drive to Jaipur. Jaipur is considered as the first planned city of India. It was founded by Maharaja Sawai Jai Singh II in 1727. On the way we visit the Chand Baori step well in Abhaneri Village. This stunning 9th century step well consists of 3500 narrow steps. It has 13 floors and about 64 feet deep.
After the visit continue drive towards Jaipur. After arrival we do a walking tour in the old town. Overnight at hotel in Jaipur.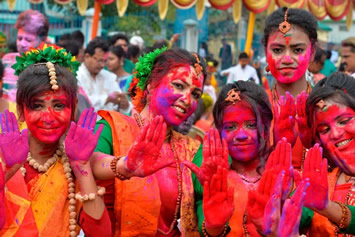 Day 8
Holi Festival of Colours
Today we celebrate the Festival of Colours Holi in the Pink City Jaipur.
It is a popular and significant Hindu festival celebrated as the Festival of Colours, Love and Spring. It celebrates the eternal and divine love of the god Radha and Krishna. Additionally, the day also signifies the triumph of good over evil, as it commemorates the victory of Lord Vishnu as Narasimha over a Demon Hiranyakashipu.
Free time for shopping as Jaipur is known for textile, jewellery and handicraft. Dinner in a local authentic Indian restaurant. Overnight at hotel in Jaipur.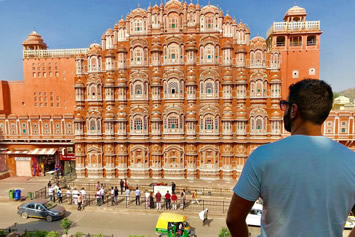 Day 9
Amber Fort, Palace of the Winds & Jodhpur
After breakfast we check out and visit the Amber Fort. On the way we visit the Palace of the Winds, also known as Hawa Mahal, from outside. This artistic building, which is today little more than a facade, is decorated with lattice windows and carved balconies, from which the royal ladies could have a glance at the outside world, without being seen. After visiting Amber Fort drive back and do a photostop at Jal Mahal/Water palace.
Later we drive to Jodhpur, the second largest city of Rajasthan and is known as the "Blue City" because of the indigo blue houses. It still fulfills its historical role as the region's most important trading center for timber, cattle, camels, cotton, salt and grain. The beautiful old town is surrounded by a 9.5 km long wall and has 7 gates.
In the evening take a stroll at the local Clock Tower Market. Overnight at hotel in Jodhpur.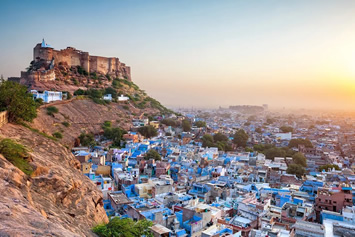 Day 10
Jodhpur
After breakfast we visit one of the largest forts in India, the Mehrangarh Fort, which is located on a steep hill and offers a beautiful view over the city. Then we also visit the Jaswant Thada cenotaph.
In the afternoon we drive to Bishnoi village and meet a weaver family there.
In the evening return back to Jodhpur and dinner in a nice Fort view Restaurant. Overnight at hotel in Jodhpur.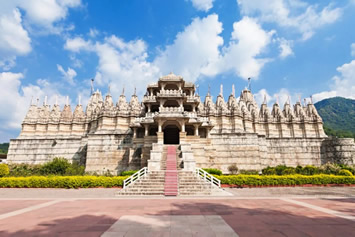 Day 11
Ranakpur & Udaipur
After breakfast we check out and drive to Udaipur.
On the way to Udaipur we visit the beautiful white marble Jain Temple in Ranakpur.
Upon arrival we check in at the hotel. Overnight at hotel in Udaipur.
Day 12
Udaipur
Today we explore the royal city of Udaipur. Because of its lakes, Udaipur is also called the "Venice of the East" and the city of lakes. First we visit the Jagdish Temple. After that we visit the opulently magnificent City Palace, the second largest palace complex in India. The extravagant City Palace stands majestically on the eastern shore of Lake Pichola. Maharana Udai Singh II chose a new capital for his kingdom near Lake Pichola, which protected the area from its enemies and was surrounded by forests, lakes and the imposing hills of the Aravalli Mountains.
Lunch will be in a famous Thali meal local restaurant. Later, enjoy a boat ride on Lake Pichola and then the beautiful Saheliyon Ki Bari garden. In the end we visit a miniature painting school. Overnight at hotel in Udaipur.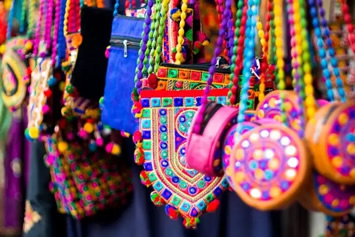 Day 13
From Udaipur to Vadodara
After breakfast drive to Vadodara. A city that exhibits the best of art, culture and heritage, Vadodara is one of the fastest growing cities in Gujarat. Celebrated for its beautiful temples and rich history, it receives quite the tourist footfall every year. But apart from its wonderful palaces and monuments, the city has a few more surprises up its sleeve. And yes, shopping in Vadodara Gujarat is one of them!
After arrival check in the hotel. Evening free time at leisure. Overnight at hotel in Vadodara.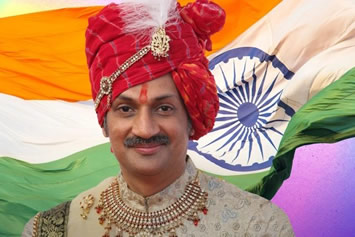 Day 14
Lunch with Gay Prince
After breakfast at the hotel we drive to Rajpipla. This day will be a highlight for us. Today we will meet his royal highness Prince Manvendra Singh Gohil. From a closeted gay royal to now an LGBTQ activist, his journey has been uniquely fascinating. It was not easy for him, but despite many hurdles and embarrassments, he proved himself to be a vocal advocate for his country's LGBTQ rights. He gained worldwide recognition for his struggle. Eventually his lifelong wish was granted and homosexuality was legalized in India.
Attend a royal luncheon in his presents as the conversation flows around the room. Savouring within the regality yet relaxed atmosphere. After lunch with the prince we will visit his city of Rajpipla and after that we drive back to Vadodara. Overnight at hotel in Vadodara.
NOTE: Prince Manvendra Singh Gohil is a very kind person and he would be delighted and honored to host guests for a day and have lunch with them at his Farm House. This trip has the support and collaboration of Prince Manvendra Singh and a portion of the profits will go to an organization called the Lakshya Trust which works to support the LGBTQ community in India. If you wish, you can also donate money to support this organization.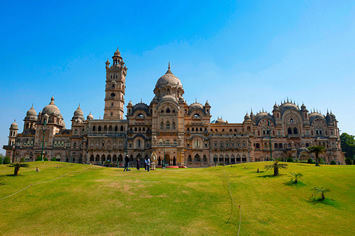 Day 15
From Vadodara to Delhi
After breakfast check out and we visit the Laxmi Vilas Palace which is one of the most eye-catching attractions in Vadodara. It's four times the size of Buckingham Palace in London. The majestic structure is spread in an area of around 700 acres and is still the residing place for Vadodara's royal family, the Gaekwads. Apart from the outstanding architecture, the lush green surroundings further add on to the beauty of the palace. Keeping an eye out you can spot peacocks and monkeys frolicking in the gardens. The palace was constructed back in the year 1890 it took almost 12 years to be completed. The fusion of Indo-Saracenic style of construction, which is a hybrid of Mughal, Hindu as well as Gothic architecture, which features several arches, domes, and minarets. The huge complex of the palace features various other buildings including the Maharaja Fateh Singh Museum Building, the LVP Banquets Conventions, and the Moti Bagh Palace. The museum features an extensive collection of artefacts and paintings by renowned artists.
Later drive to Ahmedabad Airport (120 km) and fly to Delhi. Arrive in Delhi and transfer to hotel in Delhi near the International Airpot.
This being our last group day, we can't say goodbye without our last group dinner. We will remember these last days we spent together and maybe start planning the next ones. You will certainly have new friends and lots of memories.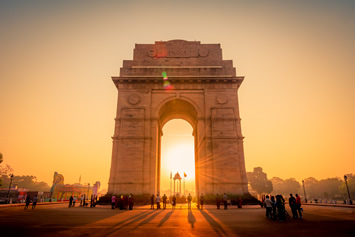 Day 16
Delhi, India Departure
Today is the day to say goodbye. After breakfast we leave our hotel and each one will leave for their next destination or home.
If you need a transfer to the airport, or another location, let us know and if you want we can help. If you want to stay longer in India and need help we can also help.
Included: • Breakfast