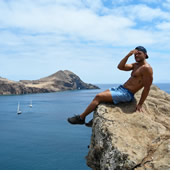 We will take you on a 6-day 'SOFT' gay group tour of the well-known "Pearl of the Atlantic", the Madeira island. If there's an island in the world that has a captive place at the top of most people's travel lists, it's Madeira. Which is no wonder, as Madeira is considered one of the most beautiful islands in the world. Proof of this is the Best Island Destination in the World trophy, awarded for several years.
The island has a subtropical climate, which guarantees mild temperatures throughout the year, in Madeira you will find temperate sea waters, many amazing mountains and lush forests. It's like traveling to mainland Portugal, but tropical.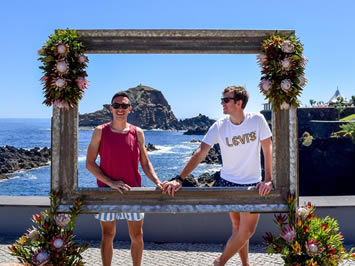 In Madeira you have the vibrant and wonderful city of Funchal to the impressive natural volcanic pools of the North Coast, passing through the imposing Picos (Peaks) Ruivo, Torres and Areeiro, which with their more than 1800 meters in height are among the highest in Portugal.
There is a huge world full of wonders for you to discover. You will also delight in the exotic Madeiran cuisine and be enchanted by the island's age-old traditions.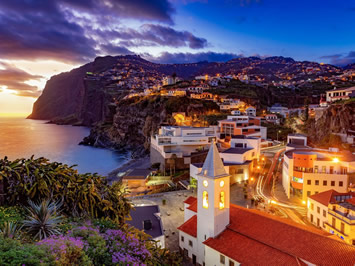 Day 1
Arrival in Funchal, Madeira
Hello and welcome to the majestic and tropical island of Madeira.
Upon your arrival at Funchal airport (FNC), you'l have a transfer waiting for you that will take you directly to the hotel in maximum comfort. Here we will be waiting for you and it will be the meeting point for the group. Depending on your arrival time, you can still enjoy some free time until dinner time arrives.
On our first night we will have our first group dinner in a typical restaurant, to introduce ourselves/get to know each other and socialize.
Included: • Transfer from Funchal airport • Welcome Gift • Group dinner • Hotel in Funchal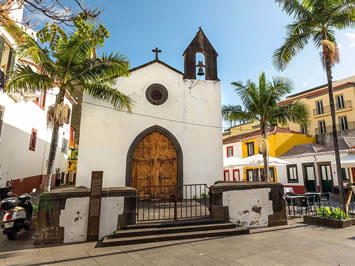 Day 2
Funchal, Madeira
We start the day with breakfast and around 10am, we will meet our local guide and start our adventure exploring the streets of Funchal. Here we receive an introduction to the history of Funchal during a walking tour that offers a more intimate glimpse into the Old Town.
We will pass, among many other places, the Municipal Gardens, also known as Dona Amélia Garden in honor of the former queen of Portugal, the Teatro Municipal Baltazar Dias, The Mercado dos Lavradores ("farmers' market") is a fruit, vegetable, flower and fish market in Funchal, the Old Town, as the streets in the area have been transformed by the work of local and foreign artists, the Igreja do Colégio São João Evangelista and The old Jesuits College of Funchal, now the University of Madeira's rectory.
After our walk through the streets of Funchal, we'll have an optional group lunch and the rest of the afternoon and evening you'll be free to continue exploring the city on your own, in a group or take another optional tour such as Madeira dolphin and whale watching on an ecological catamaran, explore a vineyard with an expert and enjoy complimentary tapas and wine or walk trough a banana plantation with a local.
Included: • Breakfast • Walking tour Old Funchal • Hotel in Funchal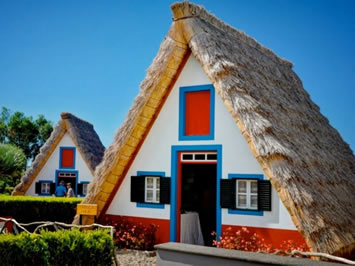 Day 3
East Madeira
Today we wake up a little earlier and after breakfast we are going to spend a day discovering the historic landmarks and natural sights of east Madeira. You'll go from mountain peaks like Pico de Arieiro to island attractions like a rum factory, visiting villages and viewpoints along the way.
We will visit Madeira island second highest peak at 1818 meters, providing breathtaking views.
Whe do a little stop to visit a fish farm and after you can contemplate the famous Laurissilva Forest which is Unesco Patrimony.
Visit the typical triangle houses (casas de Santana), and here we will have an optional group lunch.
After lunch, you'll visit the Rum Factory House, the Pico do Facho Viewpoint and the Miradouro do Guindaste, the fantastic View Point, the famous Sky Walk.
After a full day, in the late afternoon, we'll be back at the hotel and you'll have the rest of the time and dinner at leisure.
Join us at night and we'll drink a cocktail at one of the many lively bars in downtown Funchal.
Included: • Breakfast • Driver + local guide • Transport • East of Madeira day tour • Hotel in Funchal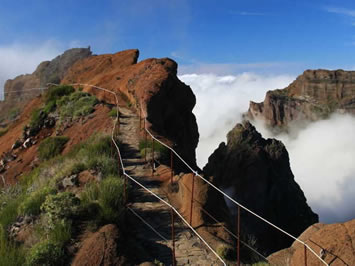 Day 4
Western Coast of Madeira
After breakfast, you'll have another highlight of this trip: another day tour, this time to the western coast of Madeira.
Madeira Island's western shores are home to natural sea pools, traditional fishing villages, soaring cliffs, and dense forests, but reaching the top sites requires local knowledge.
The first stop is a small fishing village, 'Câmara de Lobos', which is located west of Funchal where the port is a small creek. After visiting Câmara de Lobos, you will head for worlds second highest sea cliff and Europe's highest (580m) – (1775 ft). Ribeira Brava is the next stop on this journey and here you can enjoy a cup of coffee.
Then we go to Paul da Serra, which translated roughly is "mountain plain", Madeira's biggest and highest plateau. The trip continues to Porto Moniz natural swimming pools, where we can relax and taste many local dishes.
Afterwards, leaving Porto Moniz you will head to 'Bride's Veil' waterfall where you will travel the famous north coast route and you will continue your journey to São Vicente, a charming little town. The tour ends at Caminho Real da Encumeada passing through the Laurissilva forest.
At the end of the afternoon, we'll be back at the hotel once more and you'll have the rest of the time to go shopping, have a massage, whatever you want and in the evening we'll have another optional group dinner.
Included: • Breakfast • Driver + local guide • Transport • West day tour waterfalls and peaks • Hotel in Funchal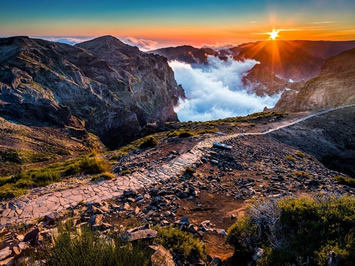 Day 5
Free Day to Explore Madeira Island
Today is completely free, it will be our last full day together, allowing you ample opportunity to explore Madeira Island. You will have an endless optional list of activities to participate in a group or on your own.
You can discover a "Fajã" with history, walk along the 'Levada das 25 Fontes', one of the most popular in Madeira island, walk with a local, take a surf lesson or simply explore once more the streets and waterfront of the city of Funchal. Enjoy the day!
With the arrival of the night and for us to start saying goodbye, remembering the last days we spent together, laughing and socializing, we will end on a high note with our last official group dinner.
After dinner, you'll have the rest of your free time to join us for a toast and, who knows, plan your next adventure!
Included: • Breakfast • Dinner • Hotel in Funchal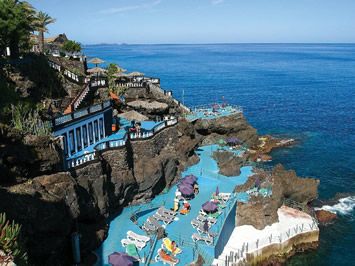 Day 6
Madeira Departure
Today is the day to say goodbye. After breakfast we leave our hotel and each one will leave for their next destination.
If you need any transfer to the airport, or another location, let us know that we can help. If you want to stay longer in Madeira and need help, let us know.
Included: • Breakfast