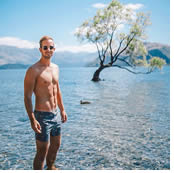 Join a group of like-minded gay men on a "sweet as" adventure through New Zealand's rugged landscape.It should come as no surprise Sir Edmund Hillary—one of the first two men to ever surmount Everest—was a proud Kiwi. On this all-gay South Island adventure we'll explore Hillary's very own backyard, hiking the same mountains, gorges and temperate rainforests the famous mountaineer did. We'll kayak both a glacier-fed lake and a stunning sound, keeping our eyes peeled for pods of bottlenose dolphins and sunbathing fur seals. And for the real adrenaline junkies, we'll have the opportunity to bungee jump and/or hang glide in Queenstown, aka The Adventure Capital of the World. Now what's the Maori word for "yeehaw"?
If you'd like to extend your time in Kiwi Country, consider joining our New Zealand North Island Cultural Gay Adventure Tour. The all-gay relaxed adventure directly proceeds this tour and the two are intended to be booked together. Alternatively, this tour is easily paired with our Australia Summer Down Under & Sydney Mardi Gras Gay Tour.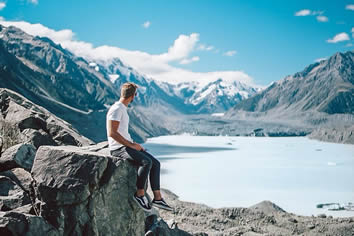 • Kayak through bright blue waters strewn with glaciers in the shadow of the mighty Aoraki/Mount Cook
• Journey into the immense surroundings of the Fiordland National Park on an overnight Milford Sound cruise
• Enjoy epic hikes through mountains, gorges and moss-covered temperate rainforests
• Discover vibrant Christchurch on a private walking tour
• Brave an optional bungee jumping experience in Queenstown, the city where the extreme sport was invented
• Wish upon a shooting star in the only dark sky reserve in the Southern Hemisphere
• Enjoy optional activities such as the steaming Tekapo Springs
• Harness up (tehe) for an optional waterfall climbing experience in quiet Wanaka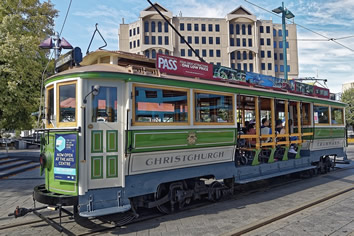 Day 1 - Arrive Christchurch, New Zealand
Kia Ora! Welcome to Christchurch, New Zealand. From the airport you will be transferred to our Joining Point Hotel.
Upon arrival you're welcome to unpack and relax after (likely) a very long journey.
Please join us this afternoon for a group meeting and get familiar with your fellow travellers and fabulous local Guide.
Then we'll enjoy a tour of vibrant Christchurch before our official Welcome Dinner.
Hotel: The Muse Christchurch Art Hotel
, Christchurch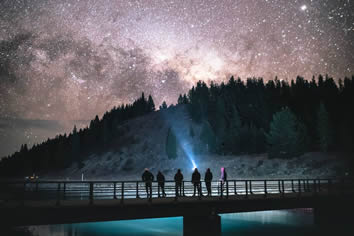 Day 2 - Tekapo
Get ready for some pretty epic views this morning as we head inland towards the Southern Alps mountain range and the Mackenzie Region.
The area is famous for its bright turquoise lakes and stunning snow-capped mountains. We'll be sure to swing by the Summit of Mount John for an unforgettable #nofilter view.
After arriving at our romantic hotel you'll have some free time to trek Lake Tekapo, visit the nearby village or even slip into the steaming pools of Tekapo Springs.
Tonight we'll enjoy dinner together before seeking out shooting stars in the only dark sky reserve in the Southern Hemisphere—if you spot one, may we suggest wishing for sunny skies to accompany tomorrow's photogenic hike?
Hotel: Peppers Bluewater Resort
, Lake Tekapo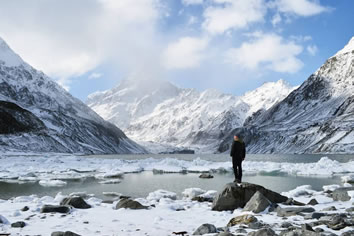 Day 3 - Mount Cook Village
Rise and shine, Gentlemen! This morning is our first truly active day as we hike (or "tramp", as the locals say) into the shadow of Aoraki/Mt Cook and discover the The Hooker Valley Track—if the weather is, um, less than favourable, we'll tackle this hike tomorrow.
The track leads up the Hooker Valley and along the Hooker River, ending at the ancient glacier lake where one of the most breathtaking views of Aoraki/Mount Cook awaits. This imposing mountain is actually the highest peak in New Zealand. Keep your camera handy as we'll cross three swing bridges, picturesque icebergs, glaciers and majestic mountains.
This afternoon we'll arrive at our well-located accommodation. After a little down time and lunch on your own, be sure to join us by the lake where we'll jump on kayaks and get up-close and personal with icebergs.
Tonight's included dinner will be served with a side of unforgettable New Zealand vantages. Bon appetit!
Ascent: 124m/400ft
Descent: 124m/400ft
Distance: 6mi/10km return
Approximate hiking time: Allow 3 hours
Approximate kayaking time: 4-6 hours
Hotel: The Hermitage Hotel
, Mount Cook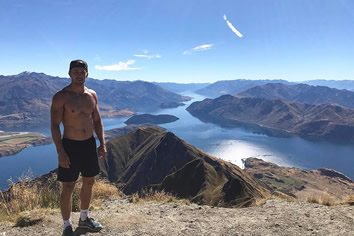 Day 4 - Wanaka
If the weather was less-than-favourable yesterday, we'll complete Hooker Valley this morning. Otherwise we'll bid Aoraki/Mt Cook farewell on the steep track to Sealey's Tarn.
Then it's off to quiet Wanaka through mountain passes and mind-boggling natural phenomena such as Omarama Clay Cliffs—the region's sharp pinnacles and ravines were cut out by ancient glaciers over a million years ago. Lindis Pass brings us through Otago before eventually ending in Wanaka, aka Queenstown's little sister.
After an included lunch en route and orientation walk with our guide you'll have plenty of free time to enjoy this adventure playground on your own.
Tonight you're free to enjoy a peaceful dinner on your own or join the group for an optional dinner in the village.
Ascent: 600m/1950ft
Descent: 600m/1950ft
Distance: 2.5+mi/4+km
Approximate hiking time: 3–4 hrs return
Hotel: Edgewater Hotel
, Lake Wanaka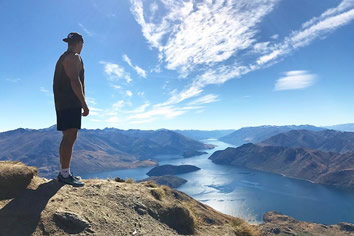 Day 5 - Wanaka
Today is our guide's official day off so we're on our own. But this government-mandated rest day is actually a blessing in disguise as you can pick and choose what activities appeal to you.
For example you can challenge yourself on the industrious Roys Peak hike, join a more subdued E-Bike tour, take a wildlife trip on the Mou Waho Island Cruise or even harness up for a climbing adventure with Wild Wire.
The only included activity we've got planned is our group lunch.
Ascent: 1228m/400ft
Descent: 1228m/400ft
Distance: 10+mi/16+km return
Approximate hiking time: 5–6hrs return
Hotel: Edgewater Hotel
, Lake Wanaka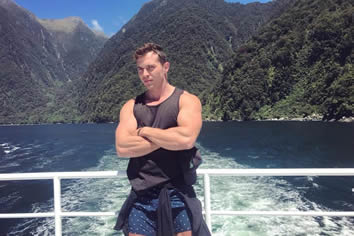 Day 6 - Te Anau
An early morning awaits us as we bound toward New Zealand's famous Fiordland National Park. Even if you haven't armed yourself with a good book or a podcast, the drive is extremely scenic and you'll be entertained by the many sights en route.
We'll make one short stop in the rustic gold mining town of Arrowtown for lunch (not included).
After settling into our hotel you have a few options: discover Te Anau Caves featuring a limestone grotto of glow worms and underground waterfall, visit the local bird sanctuary and get acquainted with the Fiordland fauna such as the rare flightless takahe, or stretch your hamstrings on a leisurely forest stroll.
We'll reconvene this evening for an included group dinner.
Hotel: Distinction Hotel & Villas
, Te Anau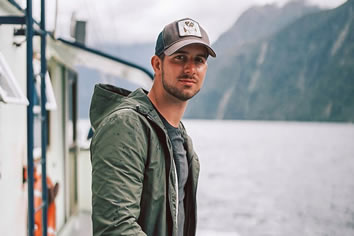 Day 7 - Milford Sound
Today we ask that you source your own lunch to-go before leaving Te Anau.
We'll drive approximately two hours through Fiordland's otherworldly landscape towards iconic Milford Sound.
It's here we'll board an overnight cruise that'll take us into secret coves, under majestic waterfalls and ultimately into the heart of the sound.
After anchoring, board a kayak or small boat to further explore. Be sure to keep your eyes peeled for pods of bottlenose and dusky dolphin, basking New Zealand fur seal, and flocks of little blue and Fiordland crested penguin. And while it's almost guaranteed you won't see it, the world's only flightless parrot, the kakapo, calls this region home.
Tonight we'll tuck into an included three course buffet dinner on board.
Please Note: You'll have to unplug and disconnect today as our ship does not have Wi-Fi.
Accommodation: Milford Mariner Overnight Cruise, Milford Sound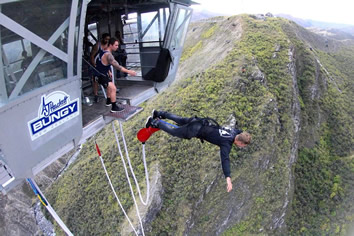 Day 8 - Queenstown
Cruise back to civilization and reality this morning after your wilderness adventure in Fiordland National Park.
En route to Queenstown—the adventure capital of the world and the birthplace of bungee jumping—we'll enjoy a short hike through the mossy forests surrounding Lake Gunn. We'll also grab lunch in the area before continuing on.
After checking into our central hotel, you're free to explore the city's MANY activities such as bungee jumping, the mountain luge track, or an exhilarating jet boat ride across Lake Wakatipu.
Finally, tonight you're free to join the group for an optional dinner or discover the city's spectacular restaurant options on your own—our guide has plenty of lesser-visited recommendations.
Ascent: 50+m/165+ft
Descent: 50+m/165+ft
Distance: 0.8mi/1.4km
Approximate hiking time: Allow 45 minutes
Hotel: Ramada Queenstown Central Hotel
, Queenstown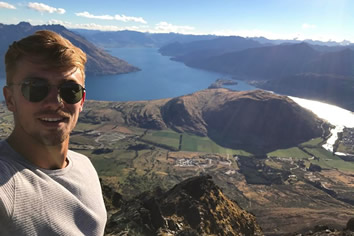 Day 9 - Queenstown
For our final full day in New Zealand, join us on a gondola ride up the Remarkables Mountain Range to Bob's Peak. This is hands down the best view of Queenstown.
After savouring the vantage together we'll enjoy the Queenstown Hill track.
Then you're welcome to enjoy the area's many activities and experiences. For example, if you're feeling particularly adventurous (and the weather permits), you can soar over Queenstown on an unforgettable in-tandem hang gliding experience.
Sadly, tonight is the final evening of our big gay New Zealand adventure. Please join us for one final hurrah at our delicious Farewell Dinner.
Ascent: 500m/1640ft
Descent: 500m/1640ft
Distance: 2.6mi/4.2km
Approximately hiking time: Allow 3 hrs
Hotel: Ramada Queenstown Central Hotel
, Queenstown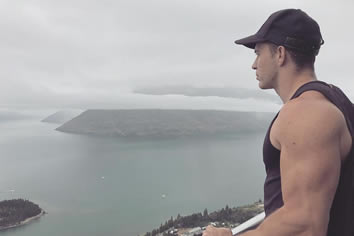 Day 10 - Queenstown Departure
As the final day of our tour, there are no activities planned—though, depending on your flight time you may be able to squeeze in a small trek or experience on your own.
A private transfer will take you to the airport. Safe travels!
Please note: As this tour concludes, our Australia Summer Down Under & Sydney Mardi Gras Gay Adventure is just getting started. The two tours can be easily booked together.