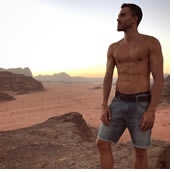 Follow in the footsteps of Lawrence of Arabia on this short Jordanian journey. After our tour of Egypt concludes, we welcome you to join this short Jordan extension. Our 5-day adventure begins in the capital of Amman where you'll find no shortage of mosques, souqs and coffeehouses—not to mention an ancient amphitheatre. From here we'll drive to the Dead Sea to float in its salt-dense waters and enjoy an exfoliating mud bath. We'll appreciate the region's deserts and dunes during a Jeep safari. And perhaps most importantly, we'll hike through rose-y, sandstone cliffs en route to UNESCO-listed Petra and its world-famous, stone-carved facade.
Throw in a few fragrant dinners, some Indiana Jones references, a splash of ancient history, a luxe desert campsite and it all adds up to a sun-soaked Middle Eastern escape.
This is our Egypt Gay Tour - Nile River Cruise & Cairo extension trip.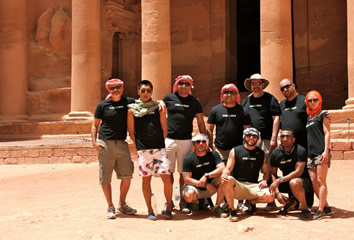 • Discover the desert landscape that inspired Lawrence of Arabia's writing as well as the author's cinematic biopic—often lauded as one of the greatest films ever made
• Appreciate the beauty and craftsmanship of Petra, aka the Nabatean 'Rose City'
• Float in the salty Dead Sea before enjoying a healing mud bath
• Drive through Wadi Rum's epic canyons, dunes, gorges and valleys on a 2-hour Jeep tour
• Enjoy the best of Middle Eastern cuisine during lavish included meals
• Learn about modern Jordanian life in Amman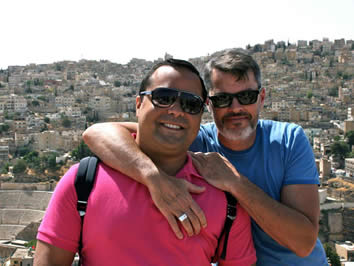 Day 1 - Arrive Amman, Jordan
Hello and welcome to Jordan, perhaps the most cinematically captured country in the Middle East.
As an extension to our Egypt tour, our day will begin with a short flight from Cairo to Amman.
Upon arrival we'll enjoy a private transfer to our perfectly situated hotel. Here you can unpack and take your time exploring this surprisingly stylish city - may we recommend a visit to the Roman amphitheatre?
At 6pm we'll reconvene to meet our local Group Leader before enjoying a lavish Welcome Dinner.
There's even the chance to visit an LGBTQ-friendly bar and book shop, popular with local queer people.
Please note: Today's flight is not included in the cost of the tour. Please see Important Information for a special note on purchasing airfare.
Hotel: Amman Marriott Hotel
, Amman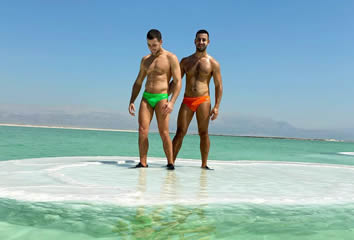 Day 2 - The Dead Sea
Good morning, Gentlemen! Today we'll enjoy a quick breakfast at the hotel before boarding a private transfer to the Dead Sea—so named for its salt-dense water.
Feel free to enjoy the morning here floating in the Dead Sea before enjoying the fresh-water pool. We also recommend an exfoliating mud bath which is said to have numerous healing properties.
After lunch in the area, buckle up for a three and a half hour drive to our ultra-luxe desert campsite in Wadi Rum.
After settling in, we'll enjoy dinner together in the dining tent.
Hotel: Memories Aicha Luxury Camp
, Wadi Rum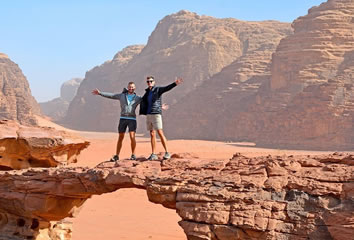 Day 3 - Wadi Rum
We'll rise with the sun today for a local breakfast before boarding an open-air Jeep safari.
On the tour we'll follow in the footsteps of Lawrence of Arabia, climbing sand dunes and rock bridges, visiting valleys, canyons, dunes and deserts. We'll discover rock inscriptions, take in arid panoramas, majestic mountains and narrow gorges.
In the afternoon we'll drive to the main entrance of Petra where we'll get our first real glimpse of the ancient site.
An optional 10km/6mi hike to the lesser-visited Ad Deir, simply known as "The Monastery" is available.
Tonight you have the option of dining with a local family that was born in Petra but had to relocate when the site became UNESCO-listed. In fact, the patriarch was born inside the cave!
Hotel: Petra Marriott Hotel
, Petra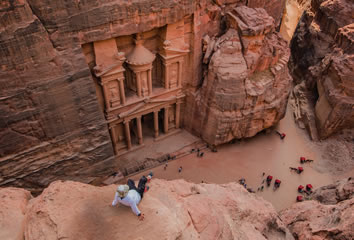 Day 4 - Petra
Today we'll dip in and out of the many caves, tombs, monuments and ancient sacrificial sites that make up the Rose City.
We'll definitely begin our tour via the Siq, exploring the ancient rock carved ruins of Facades Street before climbing the Nabataean steps and summitting Al Khubtha.
Depending on how the group feels we may tackle the High Place of Sacrifice where we'll be rewarded with a breathtaking vantage.
Finally, we'll end our day and the trip with an authentic dinner and music under a Bedouin tent.
Hotel: Petra Marriott Hotel
, Petra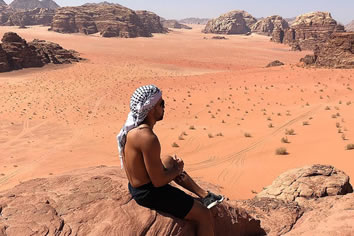 Day 5 - Departure
Today is the final day of our tour and we wish everyone safe travels home. From the whole Out Adventures team, thank you for joining our Jordan tour extension.
Please note: We'll be coordinating a group drop-off at the airport mid-afternoon. With that in mind, we ask that you schedule your departing flight to leave no earlier than 5 PM.