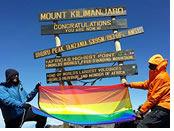 Kilimanjaro is the highest mountain on the African continent and one of the Seven Summits. The highest peaks on the seven continents of the World. It is situated in the Northern part of Tanzania on the border with Kenya. Moshi, our base for the trekking phase of the expedition is right at the base of the mountain and caters well to tourists with lively bars a comfortable hotel for us to use and restaurants.
The 7-day Machame route is a beautiful route that is highly recommended. Due to its ascent profile and longer duration it offers plenty of opportunity for acclimatisation. It has a high summit success rate and getís you off the well-trodden routes.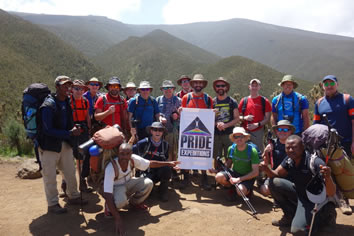 We will hike across the spectacular Shira Plateau and pass the dramatic gorges that characterize the Western side of the mountain. This route offers unparalleled views across the mountain and to the plains beyond. Itís versatility and gradual ascent gives teams the greatest chance of a comfortable and successful ascent of the greatest mountain on the African continent.
This is a route for experienced hikers who are used to camping. We will be fully catered in our camps by a team of chefs who will prepare all our food in a cook tent and serve us in a dining tent.
We will be camping for six nights and there will not be the opportunity for a shower during this time. You will be given two-person 4 season mountain tents for use on the mountain. All our equipment including your sleeping bag, mat and spare clothes is carried by a team of well-motivated porters.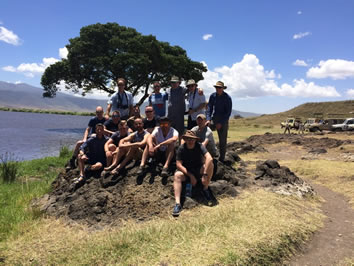 Safari - Ngorongoro Crater
The Ngorongoro Conservation Area is a World Heritage site in the crater highlands of Tanzania. At the centre of the park is a breathtaking natural wonder, the Ngorongoro crater the largest unbroken caldera in the World. This is home to the densest known population of lions, black rhinos, elephants and thousands of wildebeests, zebras, eland and Thompsonís gazelles.
We will be taken through this conservation area by guides from the wildlife authority and given chances to spot the spectacular animals of the caldera. We will visit this park and one other famous National Parks of Northern Tanzania on a classic tented safari package. This package includes food and transport in a purpose made safari jeep.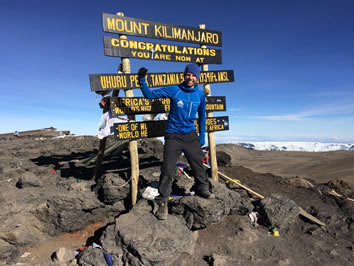 Day 1 - January 21, 2024
Arrive at Kilimanjaro Airport (JRO). Transfer to our hotel in Moshi. We will meet for a late evening meal.†
Day 2 - January 22, 2024
Rest day in Moshi to recover from flights. Time to explore the town and prepare for our trek. Overnight in hotel.
Day 3 - January 23, 2024
Transfer to Machame Gate then walk to Machame Camp 3,026m
• Distance: 11 km
• Hiking Time: 7 hours
Day 4 - January 24, 2024
Walk Machame Camp to Shira Camp 3,766m
• Distance: 5 km
• Hiking Time: 6 hours
Day 5 - January 25, 2024
Walk Shira Camp to Lava Tower where we will stop for lunch then to Barranco Camp 3,950m
• Distance: 10 km
• Hiking Time: 8 hours
Day 6 - January 26, 2024
Walk Barranco Camp to Karanga Camp 4,600m including the ascent of the Barranco wall
• Distance: 8 km
• Hiking Time: 5 hours
Day 7 - January 27, 2024
Walk Karanga Camp to Barafu Camp 4800m our highest altitude camp
• Distance: 5km
• Hiking Time: 5 hours
Day 8 - January 28, 2024, Summit Day!
We leave Barafu Camp very early in the morning to walk to the Summit then descend down to Mweka Hut 3,505m
• Distance: 5 km ascent / 12 km descent
• Hiking Time: 8 hours ascent / 4-6 hours descent
Day 9 - January 29, 2024
Mweka Camp to Mweka Gate. 2,895m. Overnight at hotel.
• 5 hr walk
Day 10 - January 30, 2024
Safari Lake Manyara National Park home to the tree climbing lions, overnight at hotel.
Day 11 - January 31, 2024
Safari Ngorongoro Crater World famous safari reserve, return to Moshi.
Day 12 - February 01, 2024
Return Home from Kilimanjaro Airport (JRO)†