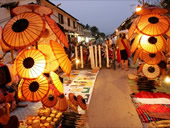 Laos Gay Tour

Still largely untouched by the modern world, Laos is one of the world's best kept secrets. It is an inherently peaceful place, free from much of the word's stresses, and containing effortless beauty, graceful people, and centuries-old traditions and culture. The pristine, lush landscape's beauty is matched only by beautiful smiles at every turn.
We suggest combining this with our tour to Vietnam and Cambodia, March 16-26, 2023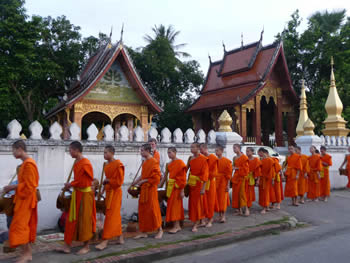 • Fully escorted with the services dedicated Zoom Vacations Concierge guides throughout the trip.
• Accommodations at the finest properties.
• Welcome cocktail party
• UNESCO World Heritage Vat Xieng Thong Temple.
• Participate in a sunrise Tagbat Ceremony.
• Afternoon cruise on and around the Mekong River.
• Architectural City tour of Luang Prabang.
• Expert guides throughout the trip.
• Participate in a unique Baci Ceremony.
• Explore Vientiane by night.
• Breakfasts Daily, 3 Lunches, 1 Dinner
• 3 Nights, in the glorious Belmond La Résidence Phou Vao Hotel, Luang Prabang.
• 2 Nights, in boutique Settha Palace Hotel
, Vientiane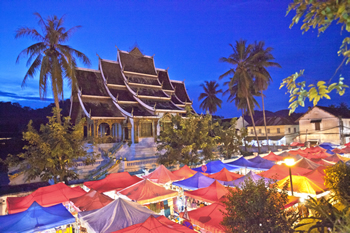 Luang Prabang, Vientiane
Day 1 - Saturday, March 11, 2023
Arrive in Luang Prabang
Arrival: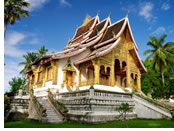 Upon arrival in Luang Prabang you will be met by your guide and transferred directly to the city.
Afternoon:
This afternoon, visit with Vat Xieng Thong at the top of the peninsula. The oldest and most beautiful temple of the UNESO World heritage town dates back from the 16th century. The roof sweep low to the ground and glass colored panels adorn the walls of the chapels. See the residential neighborhoods of the peninsula, before continuing to the Royal Palace Museum housing the most important treasures of Laos' recent past and climb up to Phousi Hill for sunset to enjoy the unique view over the city and its surroundings. If you wish you can stop at the ethnic night market to do some shopping.
Evening:
Welcome Dinner at the best restaurant in Luang Prabang.
Accommodations: Belmond La Résidence Phou Vao Hotel
– Junior Suite
Meals Included: Welcome Dinner
Day 2 - Sunday, March 12, 2023
Luang Prabang
6:30 AM to 7:30 AM:
Buffet Breakfast is served at the hotel.
Early Morning: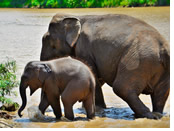 7:40 AM Meet in Lobby Prior to Departure
7:45 AM - Optional Activity: Elephant Sanctuary
Beginning in the morning, we will be met at our hotel by an Elephant Specialist Guide and transferred to a beautiful elephant oasis just 40 minutes outside of Luang Prabang. During the shuttle our guide will give us a brief introduction to himself and the recently opened sanctuary. On arrival, we will meet with one of the directors of the Elephant Sanctuary who will fill us in on more detail with some fascinating stories about the elephants and their refuge. Learn the challenges they've faced and how they are learning to improve the situation one elephant at a time. After being regaled we will cross the river by boat where we will be met by 2 adults and a baby Asian elephant! Our guide and the mahouts will help us feed and later bath these majestic creatures in the river. Next, follow the elephants on a 1-hour trek through rice paddies and meandering creeks during which we will witness the unique bond between the mahouts and their elephants while the guide explains more about the incredible history that Laos has with the elephant. After saying goodbye to our pachyderm friends, we'll head back to camp and return to Luang Prabang at 12:00 PM.
Afternoon: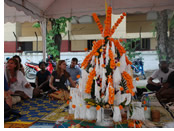 Baci Ceremony. This evening, you will participate in the traditional Lao Baci Ceremony. Baci is an important event such as weddings, births, or for welcoming guests and is a means of expressing good will and good luck to others. The ceremony is highlighted by the accompaniment of music and a traditional dance - both integral parts of the Baci ritual.
Evening:
Zoom Sunset Cruise on the Mekong. We then drive a short distance to the picturesque village of Ban Ou, where our private boat will be waiting to take us up the Mekong River for a sunset cruise back to Luang Prabang, while enjoying a glass of prosecco on board. This stretch of the river is very beautiful. Arrive back in Luang Prabang by early evening.
Accommodations: Belmond La Résidence Phou Vao Hotel
– Junior Suite
Meals Included: Breakfast and Dinner
Day 3 - Monday, March 13, 2023
Luang Prabang
6:30 AM to 10:30 AM:
Buffet Breakfast is served at the hotel.
Early Morning: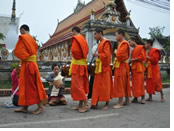 5:25 AM: Meet in Lobby Prior to Departure
5.30 AM: Takbat Ceremony. Early morning, when the sunrises, participate in a Tag Bat ceremony, the monks' alms offering. This ritual is an important part of Lao people's life and offers a memorable experience and great snapshots. Your guide will explain how to follow the strict customs and rules involved. After the ceremony you will visit a fresh food local market, and return to the hotel for breakfast.
Morning:
Luang Prabang Tour. We walk to the quaint Royal Palace Museum, which gives a good overview of the local history. We then stroll through the charming lanes, taking in the traditional atmosphere. We continue our walk to the exquisite Wat Xiengthong and visit this remarkable temple which is the best example of the classical Luang Prabang Style.
Lunch at Tangor, a French/Asian fusion restaurant with a contemporary twist. This casual restaurant offering great food is a favorite among Zoom Vacations travelers.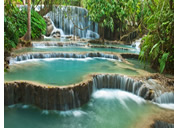 In the afternoon we drive out to the beautiful Kuang Si Waterfall where we can cool off with a refreshing swim in the turquoise pool or walk along the forest trails. Next to the falls is a Bear Rescue Center, that does a great job of protecting and rehabilitating the rare Asiatic Black Bear.
Just a few hundred meters from the Kuang Si Waterfall is a Butterfly Park, where we will find thousands of butterflies in a colorful flower garden. Meet the botanists who run this project and learn about the wide variety of Laos's butterflies, host-plants, and preservation because of environmental issues in Laos. Enjoy the 900 m2 netted paradise, which apart from the butterflies also holds hundreds of types of plants and even waterfalls.
Afternoon:
Optional Activity: Cooking Experience right at the hotel
Our Lao Chef and food guru will guide us through the whole preparation while roll up our sleeves and get involved! We will also be told what to use back home in case we are not able to find local ingredients. Start by collecting raw ingredients from the garden. We will work, have fun, and experience Lao lifestyle while cooking in our modern rustic cooking school. Finally we inhale the smell of our freshly prepared food and enjoy the dinner we have created.
Accommodations: Belmond La Résidence Phou Vao Hotel
– Junior Suite
Meals Included: Breakfast and Lunch
Day 4 - Tuesday, March 14, 2023
Luang Prabang / Vientiane
6:30 AM to 10:30 AM:
Breakfast is served at the hotel.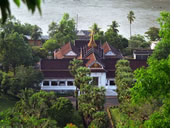 Morning:
This morning enjoy an architectural tour of the city with a French writer and historian, former UNESCO advisor and resident of Luang Prabang. Thanks to his studies and deep knowledge of Lao Culture and history Luang Prabang became a UNESCO World Heritage Site in 1995. Francis will explain what makes this city so special. With him, you will discover the unseen and places that are not mentioned in guide books!
Lunch at Tangor, a French/Asian fusion restaurant with a contemporary twist.
Afternoon:
Afternoon at leisure until your transfer to the airport from Luang Prabang to Vientiane.
Upon arrival you will be met by your guide in Vientiane, and transferred directly to the city.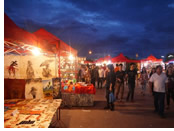 Evening:
This evening, explore Vientiane by night! Start by a walk along the Mekong, the area has a vibrant atmosphere, with the crowd of locals and visitors coming to shop, exercise, eat and drink. Then continue to the night street food market to discover the Laotian authentic everyday food. If you wish to, you can end the evening in one of the bars of the capital, your guide will advise you about the best spot to enjoy the nightlife.
Accommodations: Settha Palace Hotel
– Deluxe Room
Meals Included: Breakfast, Lunch
Day 5 - Wednesday, March 15, 2023
Vientiane
6:30 AM to 10:30 AM:
Breakfast is served at the hotel.
Morning: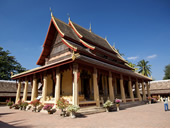 Discover Vientiane in a Jeep. The visit will start with Vat Sisaket, the oldest monastery in Vientiane, built in 1818. Continue to nearby Ho Phrakeo, the former Royal temple, now a Museum of Buddhist art and sculpture.
Lunch at a social enterprise restaurant who uses profits to address the needs of street children and young people in Laos.
After lunch proceeds to That Luang with its golden stupa in the characteristic banana flower shape – it is the most revered shrine in Laos. Stop at Patouxay (the Victory Monument) for a view of the city.
Afternoon: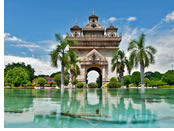 Late afternoon, you will be invited to a local house, for a unique immersion in Lao way of life. You will participate to a Baci Ceremony. The Baci is a leftover from the time before Buddhism and are celebrated for many occasions, births, marriages, deaths, but also the New Year, a journey, or sickness. During this ceremony, the shaman performing the ceremony chants a prayer and 32 good spirits are symbolically tied around the wrist of the attendants by means of white cotton. The three knots in the tread symbolize prosperity, health and good luck. After the ceremony, you will be invited to share the dinner with your host.
Return to your hotel.
Accommodations: Settha Palace Hotel
– Deluxe Room
Meals Included: Breakfast, Lunch
Day 6 - Thursday, March 16, 2023
Depart for home or to Vietnam and Cambodia Tour
6:30 AM to 10:30 AM:
Breakfast is served at the hotel.
Transfer to the airport for your flight. Depart for home or to Zoom Vacations' Vietnam and Cambodia Tour
Meals Included: Breakfast
Vietnam & Cambodia Gay Tour, March 16 - 26, 2023
Belmond La Résidence Phou Vao Hotel, Luang Prabang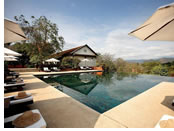 Positioned atop a hill, gazing across the sacred mountains, Belmond La Résidence Phou Vao Hotel
is an unforgettable place to stay. Its calm, tranquil ambience echoes that of the sleepy World Heritage town of Luang Prabang—former royal capital of Laos—spread out below. Designed in a traditional style, this intimate hotel is gemmed with teak, silk and fresh cotton accents. It is famed for its wonderful French-influenced local cuisine and an open-air spa beside a water lily pool. Relax, soak up the atmosphere and enjoy stepping back into a more gracious era.
La Résidence Phou Vao provides rooms with a private terrace, sofa, satellite TV and minibar. Each bathroom has a terrazzo bathtub.
Massages, facial and body treatments are available at The Mekong Spa. A steam room offers traditional herbal steam baths.
Settha Palace Hotel, Vientiane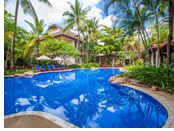 In the heart of bustling Vientiane stands a remarkable hotel. Built in the early part of the last century, circa 1932, and painstakingly restored to its former imperial glory, the Settha Palace Hotel
serves as a testament to the long lost era of classical elegance, gracious service and French colonial charm. Once more owned by the same passionate family that ran the hotel in its heyday before the change of regime in 1975, no stone has been left unturned and no expense spared in the quest to bring this Vientiane landmark back to life.
Rooms at Settha Palace boasts Italian marble floors and crafted rosewood furniture. Each room comes with a satellite LCD TV, minibar and safety deposit box. A separate shower and bathtub as well as free toiletries are included in the en suite bathroom.