Alpe d'Huez, French Alps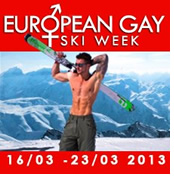 For European Gay Ski Week 5th Anniversary we are very proud to announce that this will become the first gay ski week in the world to present a two country event with in excess of 1200 km of pisted runs. You can lunch in Italy and dine in France!
Yep, it is five years since European Gay Ski Week first outing and we are thrilled to say – due to your support – that we are now the biggest, boldest, busiest, most trusted, fun week in Europe for LGBT Skiers & Boarders. We are privileged to welcome participants from over 40 countries and European Gay Ski Week 2013 will be our most stylish yet.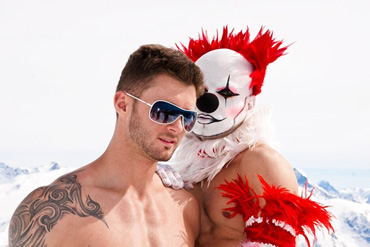 The European Gay Ski Week
You might be wondering why are we are returning to Alpe d'Huez?
Well, we enjoyed Tignes but grew out of its wonderful (though limited) facilities and wanted to offer our fantastic guests much more – more pistes, more town facilities, pools and gym access and, of course, a greater choice of accommodation, eating and venues for our cabarets and clubs.
And in 2013 (calm down, now) we will become THE FIRST GAY SKI WEEK anywhere in the world to offer its participants a two country event .
Encompassing the entire Grande Galaxie Ski Area. included in the Alpe d'Huez 2013 Lift Pass is free access to Serre Chevalier, Montegeneve, Sestrieres, Puy Saint Vincent, Les Deux Alpes and a discounted access to La Grave.
You will be able to lunch in Italy and dine in France!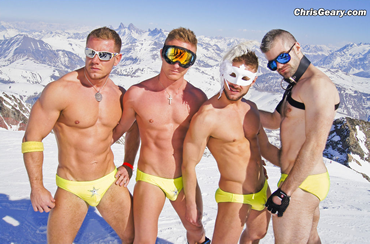 A total of over 1000km of the most varied and often challenging European ski terrain will be at your boots.
You'll never out-ski this ski week.
To accommodate the party players our transfer buses to the other ski domains within the Grandes Galaxie (free & exclusively for European Gay Ski Week passholders) will leave around 09.00 to allow for a gentle rising and a leisurely breakfast.
And because we're moving a week earlier for 2013 we hope that we'll make the snow even better too.
We know that you know you come to the EGSW not just for the bonhomie (and bonne girlie) fun to be had with so many old and new gay friends but because of our splendid parties.
We're pleased to brag that, over the years, our expertise in events and clubs has meant that we are in the most envied position of providing the best clubs with the best DJs for you to enjoy the best atmosphere.
Our Apres Ski has become legendary, the parties unique. Wait til you see what we have planned for 2013 (under wraps at the moment) – it will make you melt and shiver at the same time.
We look forward to seeing all our friends again between 16-23 March in Alpe d'Huez at our fantastic FIFTH European Gay Ski Week.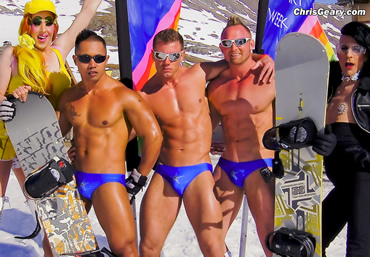 The resort itself is well laid out with all the facilities we need to make this seasons Europen Gay Ski Week the best ever. We will be creating some ingeniously unique and most memorable events in the great selection of clubs, bars and restaurants throughout the village and on the mountain. Our Fabulous Aprés Ski will be taking place at a different venue every day, with some days on the mountain, some days in the town and one steamy day in a hamman.
The great and grand Pic Blanc will be our exclusive hotel and the heart of this seasons event. It will be the venue for our Late Lounge, the Cabaret / Piano Bar and for meals for those of you who are staying elsewhere but taking either the breakfast or the half board options.
Should you wish to eat out, we will be hosting our own Fondue and Raclette evenings which have proved so popular in the past or if you prefer something more intimate, you can stroll around the narrow atmospheric streets of the old town browsing the numerous and varied restaurants until you find the cuisine of your choice for that evening.
Within the Village most places are no more than a 10 minutes walk, but we are also running our own exclusive passholder shuttle bus throughout the resort every fifteen minutes from 17.00 through til 05.30.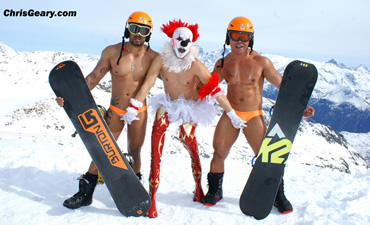 Whether you are serious skiers and boarders or fairly new to a blow in the snow this resort is for you.
• The beginners slopes just above the village are amoungst the most expansive and easily accessible nursery slopes we have come across. There is also a beginners snowpark.
• Some of Europes most beautiful wide open pistes and wonderous tree lined runs are here and offer great days for Intermediates.
• Then for the fearless and most competent snow huggers there is La Sarenne, at 17km, the longest black run in Europe and also the famously infamous 'Tunnel', in fact there are 4 major runs all with non stop vertical decents of over 2000 meters. In addition to this there are vast areas of fantasic off-piste and an 'experts' Snow park.
Of course we will be offering our exclusively gay ski and boarding school and our free guided ski and boarder groups for the more able skiers and boarders.
And as we are in a new resort we will be increasing the number of guides to ensure that everyone gets a chance to discover this vast ski area.
Those who've been with us before know that the European Gay Ski Week isn't just about skiing and boarding but is one of the year's best international Homosocial events and, whilst we never forget you come to make the most of the snow, we want to make your play time party time.
As ever, we'll be getting the best DJs from the best clubs - the likes of which you will not find anywhere else this winter. We are thrilled and delighted to welcome back some hot hits from last year - La Diva Live, Miss Kimberly, Heidilicious and the Crazyvore crew. In addition to this we will be bringing back the spectacle that is Salvation, the legendary Trade and our very own Snowball. More tip top entertainment will be announced just as soon as they are confirmed.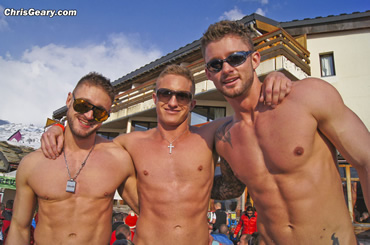 Alpe d'Huez - The European Gay Ski Week's host resort
Alpe d'Huez
is at the centre of the Oisans region of the French Alpes above the Gorges de Sarenne and is the main resort in the Massif des Grandes Rousses Ski Domain. It was built on an alpine pasture 1869 meters above sea level in a large sunny bowl and along with Courchevel
is one of the few Alpine resorts with its own airport.
The resort is aptly known as l'Isle au Soleil (the sunny island) due to the high percentage of sunny days it enjoys, most years it averages 300 days of sunshine. however due to its altitude it has an exceptionally long season running from the beginning of December through to the end of April every year.
Alpe d'Huez
is split into a number of sectors or 'quartiers' Alpe d'Huez and is a thriving year round resort with a steady community of 1700 permanent residents.
Quartier des Jeux is centred around the Avenue de Jeux and is the main 'centre ville', Quartiers des Viel Alpe is the atmospheric old town and Quartiers des Bergers is where our Principle Hotel Le Pic Blanc is located. These three Quartiers between them form the hub of Alpe d'Huez.
For 2013 all of the European Gay Ski Weeks accommodation is on or around the Avenue de Jeux or in Quartiers des Bergers.
For our 5th Anniversary we are anticipating a expecting EGSW 2013 to be our most popular week yet and can guarantee that for the third week of March in 2013 the ski resort of Alpe d'Huez will be the highest altitude gay village in the world.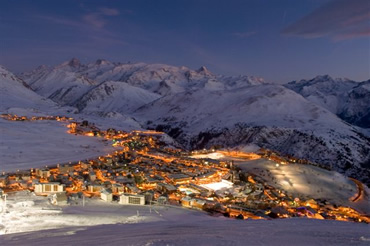 Quartiers des Jeux and Quartiers des Viel Alpe are a couple of minutes walk from each other, and Quartiers des Bergers is a 5 - 10 minute walk.
For those who prefer to slide down hills rather than walk, all day, the resort runs shuttle buses between the Quartiers. In addition EGSW will be supplimenting the resorts bus service every day between 18.00 and 06.00, this service is exclusivley for our EGSW passholders so no matter where you are in Alpe d'Huez, transport home will always be nearby.
Surrounding these central Quartiers are the Quartier du Cognet, Quartiers des Outaris, Quartiers L'eclose Quest and Quartiers L'eclose Est.
The Palais de Congress et Sport is at the bottom of the Avenue de Jeux, between Quartiers des Bergers and Quartiers des Jeux and housed within this complex is a Multiscreen Cinema, a very well equipped Gym, an indoor pool, a hamman and many other indoor sports opportunites.
On the Avenue de Jeux itself you will find the ice rink, the outdoor pool and the majority of the shops, banks, doctors etc. In addition, all the principal restaurants and bars of Alpe d'Huez are housed within the Quartiers des Jeux and Quartiers des Viel Aple as are the clubs and venues which will be hosting the EGSW parties through the week.
The Après Ski
The resort is full of bars, clubs and restaurants and has a reputation for attracting a lively crowd who are not afraid to party, so even without our specially tailored European Gay Ski Week nights and Après Ski parties, most of which will be within stumbling distance of each other and your accommodation, you would not have time to get round to them all in one day...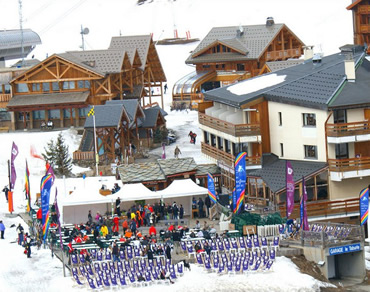 The Ski Area
Ski Area overview
Alpe d'Huez
is a snowsure resort and one of Europe's premier skiing venues ranking alongside giants like Val d'Isere
, Trois Vallees
and Les Arcs/La Plagne
.
In Where to Ski and Snowboard they write 'There are few places to rival Alpe d'Huez for extent and variety of Terrain, it is one of our favourites'.
There is terrain to suit everyone with 249kms of pisted runs and infinate off-piste possibilities within the 10,000 hectares of the Massif des Grandes Rousses Ski Domain.
Should this not be enough, with a 6 day or more Grandes Rousses ski pass you also have acces to the vast (500km of piste) Grande Galaxie ski domain that encompasses not only Alpe d'Huez, but Les Deux Alpes
, Oz, Vaujany, La Grave, Serre Chevalier
, Montegenevre
and Puy St Vincent.
The Ski Area
For beginners, just above the village there is a large network of green runs across a huge expanse of gentle slopes which provide the perfect terrain for beginners to build up thier confidence.
For Intermediates, ther are a wide selection of runs throughout the area and the variety is difficult to beat, with long gentle blues running down from the big Gondola and some great cruising runs above Vaaujany. The Adventurous will find that there are many challenging red runs throughout the domain, which increase in difficulty as the altitude increases, finishing with the long blacks down from the Pic Blanc which are strictly for those fearless intermediates amoungst you.
For Advanced Skiers, the possibilities are endless with plenty of long and testing blacks (and some reds which should be blacks) including the famously infamous 'Tunnel' and 'La Sarenne' which at 16km is the longest nonstop black run in Europe. There are in fact four runs with vertical drops of over 2000m. In addition to this, to be undertaken only with professional guides from the resort, is some exhilarating back mountain off piste areas including several remote areas where the only way back is by helicopter.
The Grand Galaxie Ski Domain
For Intermediates and above included with your lift pass as long as it is for 6 days or more is the opportunity to go further afield and explore the larger ski domain of Grandes Galaxie as included in your lift pass is 2 days in the following resorts, Les Deux Alpes
, Briancon, La Grave or 1 day in either Serre Chevalier
or one day in Puy St Vincent.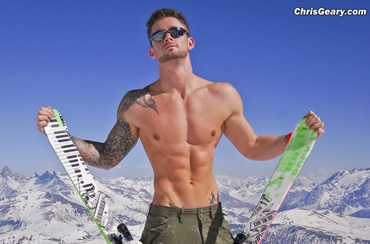 Traveling from the UK
Option 1:
You can book a package inclusive of your travel and transfers through our recommended suppliers, please go to the Directline Skiing Holidays
, Thomson Ski Holidays
& Pierre & Vacances webpages for further information.
Option 2:
Please find below information which may assist if you if you are traveling independently to the European Gay Ski week.
Flying:
The following carriers fly into at least one of the main airports serving Alpe d'Huez. The main airports are Grenoble, Chambery, Lyon and Geneva.
Train from the UK:
By Train there are three ways to book, you can book your entire journey via theRail Europe
or Eurostar
or book the legs separately using the Eurostar site to book to Paris or Lille then the SNCF
site to book your onward journey to Grenoble.
We have found that Rail Europe
has been the most cost effective way of booking the entire journey in one go and the prices work out to be the same or lower than booking the separate legs ofthe journey with Eurostar and SNCF. Also Rail Europe
does offer the possibility of changing in Lille rather than Paris which means changing platforms rather than having to cross Paris by metro from the Gare du Nord to the Gare du Lyon.
Driving from the UK:
Driving with the tunnel and the ferries it is remarkably easy to get across the channel. Fares on the ferries start at around £35.00 each way for a car or minibus with up to 9 passengers.
Once in France it takes around 9 hours to drive to Alpe d'Huez from Calais if you are using the autoroutes. The tolls are approximately 60€ each way.
If you want to avoid the toll roads, the journey time from Calais increases to around 13 hours, if you get an early crossing arriving in Calais by 7am and you should still be able to arrive in Alpe d'Huez by around 9pm.
Women's at European Gay Ski Week
This week is very much an international affair, with a diverse mix of nationalities and is a great way to meet like-minded women from across Europe, so far this year we have a mix of women booked onto the event from 9 different countries.
We are delighted to be welcoming for her second visit to the European Gay Ski Week DJ Slamma. Who for the first time time will be working with us hosting our womens events and ensuring that all everything is working well for our women participants.
DJ Slamma has been working with us to develop an ever increasing number of events within the programme that are specifically designed for the women who are participating in the European Gay Ski Week
To start the week off, on the Saturday evening after you have been to the welcome meeting, DJ Slamma will be hosting a meet & greet this will be taking place from 20.00 - 22.30. It is exclusivley for our women passholders.
And just to help everyone in getting to know each other, inspired by success of this feature at The Dinah Shore event in Palm Springs. we are going to be making this a wristband event, you choose what you say by what colour band you wear.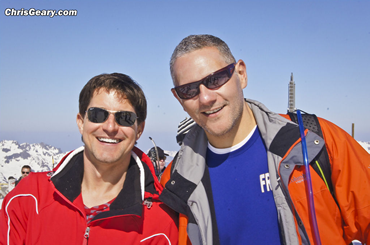 Ski and Snowboard School
In Alpe d'Huez, we are only working with 'gay friendly' instructors who work to the highest standards, and they will be creating, specifically for the passholders of the European Gay Ski Week, Europe's only gay ski & boarding courses. With a minimum of 14 classes available for you to join, there are, whatever your level, opportunities to improve your ability, technique and confidence.
Having listened to feedback from those of you who participated in last years ski & snowboard school we are continuing with the monday morning start nfor on beginners giving those of you joining the higher level classes a day to get back into your stride before being graded into your classes.
Tuition With European Gay Ski Week Ski School
• The ski school groups will be made up entirely of European Gay Ski Week Passholders. Non passholders are not allowed to join these classes.
• Maximum number of people in each group: 6 - 9 people. This optimises learning time and ensures close attention is paid to all group members. These classes are subject to a minimum of 5 people per class. If there are 4 or less people in a particular ability class you will be transfered to a general ski school class of the same ability or offered a full refund.
• Morning only lessons (excluding beginners) - allowing you time to socialise and enjoy a leisurely lunch on the mountain, prior to sloping off to play with your friends.
• 5 day courses allowing you to join the other European Gay Ski Week Guests for your last day
Beginners Course - 2 hours every morning and 2 hours every afternoons Sunday - Thursday
€168.00
Non-Beginners Lessons - 2 hours 45 minutes every morning from Monday to Friday
€126.00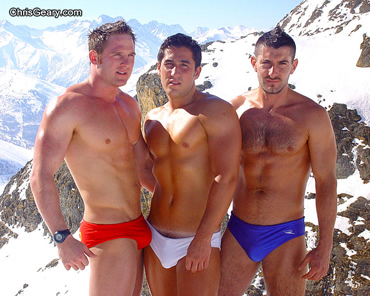 Ski and Snowboard Guiding
From Sunday through to Thursday our volunteer guides will be taking groups on tours of the Massif de Grandes Rousses. and for those of you who prefer to be out on powder weather permitting there will be an Off Piste day under the supervision of professional High Mountain Guides.
Our Guides' meeting point will be the tent with the rainbow flags at Rond Point des Pistes above Quartiers des Jeux. The Guides depart with thier groups at 10.00 promptly every morning except Friday. There will be 2 or 3 snowboarding groups depending on demand. If either all the ski groups or all the snowboard groups fill up in the morning there will be overflow guided groups in the afternoon. These places will be allocated in the morning at the Guides' meeting point. It will not be possible to join the afternoon groups unless you have registered in the morning.
Please Note:
• The Ski & Snowboard Guiding is for competent skiers and boarders only. By competent skiers we mean skiers who are above the level of the top class of ski school. You should have the ability to ski down a black run with ease. If you are not at this level and you wish to ski in company we recommend that you join one of our Gay Ski School classes. Please be aware that if you are unable to keep up with the pace of a group, you will be asked to leave.
• If you want to get into the group of your choice it is recommended that you arrive at the meeting point by 09.45 at the latest. The maximum size of a group is approximately 10 people and places in the various groups are allocated on a first come first served basis.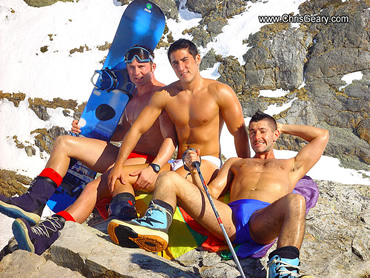 The Off Piste / Excursion Day
The Off Piste day will take place on either Tuesday, Wednesday, Thursday or Friday of our week depending on which day promises to have the best weather conditions. There are several possible itineraries either in Alpe d'Huez or one where the of the nearby resorts Massif de Grandes Rousses lift pass is valid. Details of this will be announced as early as possible in the week once the snow conditions have been assessed and the forecasts considered.
The actual itinerary to be followed will be decided on the day by our High Mountain Guides who will make thier decision based upon the weather and which itinerary is likely to have the best snow conditions.
In order for the Off Piste day to go ahead, it needs to be arranged in advance as the High Mountain Guides need to be booked, to ensure thier availability. The minimum number of participants is 5 and the maximum number in a group is 8. If you would like to participate, please confirm this within the booking options. The cost of this option will be between 60 & 100€ depending on the itineary, a non refunadable deposit of 50€ is payable via the booking options and the balance will be payable on the day. You will be informed before the week what you will need to bring with you and what you will be provided with for this day.
If the High Mountain Guide decides that no itinerary is possible during our week or if there are not enough participants you will be given a full refund.
The Ski Away day - This is open to any guest who is participating in the guided groups.
There are a restricted number of places for this excursion so you are advised to book your place in advance.
The Ski Awayday excursion will be to one of the other resorts within the Massif des Grandes Rousses or the Grandes Galaxie domain such as Serre Chevalier or Les Deux Alpes. It will be decided and announced at the beginning of the week which resort the groups will be visiting. To ensure you have a place within one of the groups you will need to book your place either with your groups guide or with the reception staff at the guided groups meeting point.
A deposit of 20€ will be charged when you book your place, this will be used to pay for the return journey to the chosen resort and the balance will be put into the 'lunch pot' of your group. The lunch pot will be used as follows, The guides from your group will have thier lunch paid for from the 'pot then the balance divided equally between the group members with each member then only having to pay the difference between the cost of thier lunch and their share of the balance. If you pay a deposit and do not turn up your deposit will not be refunded.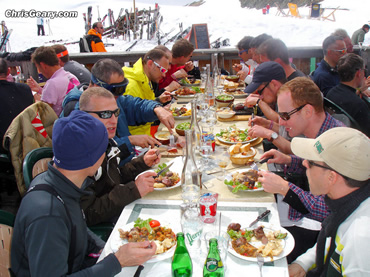 *NEW* Dinner option
Due to numerous requests we are introducing a dinner option. This option will give you dinner on four evenings of your choice during the week at three of our favourite restaurants in Alpe d'Huez. The Sporting, Lounge 21 & The Rendez-vous.
Generally speaking if you are eating out in a ski resort for dinner in a good standard restaurant you would expect to be paying 30 - 35€ per head for for three courses plus coffee. However we are now able to take advantage of the large number of people we have attending the European Gay Ski Week and as a result have negociated a very good deal with these three restaurants. At each restaurant there will be a special EGSW table d'hote which will have a choice of three starters, three mains & three deserts plus coffee or should you not fancy anything on the EGSW table d'hote all three restaurants will allow you to choose from thier a la carte and apply a credit to your bill to the value of your dinner option voucher.
This dinner option is available @ 25€ per dinner for four dinners. (only one voucher can be for an individual dinner however you can share the vouchers around with your friends, they are not for the purchaser only).
The Breakfast and Half Board Options
For those of you who decide to stay in self catering accommodation but would prefer not to cook for yourselves we have both a breakfast option and a half board option. These are both great value, you would not get either a breakfast of this standard or a dinner anywhere is in the resort for a similar cost. These will be served in one of our host hotels and the meals will be identical to the meals served to the hotel guests or in a restaurant which can offer similar standards of food & service.