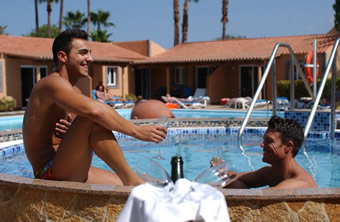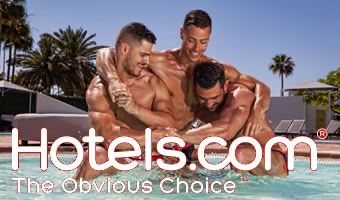 If you're a first-time gay visitor and want easy access to the gay beach and nightlife, you're probably best-advised to stay in either Playa del Ingles or Maspalomas.
Many travel agents offer packages to other resorts such as Puerto Rico (which is still very popular with British tourists, though much of its tourist facilities need refurbishing); but these don't have any real gay life and are very much aimed at families with children: we don't recommend that you stay there.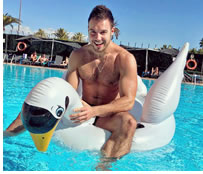 Many gay bars don't really come alive until around midnight, and the clubs get going even later. Drinks prices vary considerably from bar to bar, but all have one thing in common - measures of spirits are normally large, and it's easy to end up drinking more than you realise.
There are a number of gay bungalow complexes in both areas - some such as Rainbow Golf
, Artemisa
, Los Almendros are men-only and allow nude sunbathing - and these are good places to stay if you've never visited before.
Playa del Inglés
In Playa del Ingles, there's a wide range of accommodation ranging from self-catering apartments or bungalows to large four-star hotels. It's one of the largest purpose-built tourist resorts in Europe, so does not have a real centre or a quaint "old town"; much of it was built in the 1970s, and is not notable for its architecture or sophistication. Having said that, it's a pleasant place to spend a holiday.
As most gay life is centred around the Yumbo Centre, the Cita Centre and the Avenida de Tirajana, you may want to choose somewhere nearby. You will probably want to avoid staying near the Kasbah Centre, as this is the main area for young straight nightlife.
If you are choosing accommodation in San Agustin, be aware that you'll need a taxi to get to the Yumbo.
Maspalomas and Meloneras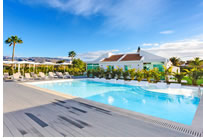 It's this area of the south coast, at the other end of the dunes from Playa del Ingles, that has seen the biggest changes in the past decade. It's here that you'll find the big new 4 & 5 star hotels. These won't be gay, but will be gay friendly and will offer the facilities you'd expect from any big international resort hotel.
Just inland from the beachfront you'll find Campo Internacional, an area made up largely of low-rise bungalow complexes; this is a good quiet place to stay, but you'll have to be prepared to walk or take a taxi to the beach or the Yumbo.
Bear in mind that if you book an all-inclusive deal, you'll be less likely to be eating out in the gay restaurants in Playa del Ingles, and you'll miss out on some of the atmosphere.
Las Palmas
The capital of Gran Canaria has a wide range of big hotels looking out over the Playa de Las Canteras, and Las Palmas is good place for a holiday, with everything that you'd expect from a large city in terms of restaurants, shopping and nightlife. There are popular gay bars and clubs, which you will find full mainly of locals rather than tourists, and you'll probably need your spanish! Bear in mind that it's about 45 minutes drive to the south if you want to enjoy the delights of Playa del Ingles etc.