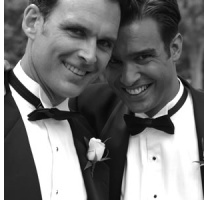 Together with Gran Canaria Gay Weddings and Ceremonies we take away all the stress of organizing a wedding so you can only remember the magic of your happy day.
Attention to detail, taste and commitment is what you can expect from us.
We design and manage weddings and offer a bespoke service to clients all over the World.
We are happy to listen to all your wishes and bring them together to make your dream of a special and unique Wedding come true.
Here in Gran Canaria, where the sun shines throughout the year you can now LEGALLY get married and the marriage is recognised as a Civil Partnership in the UK.
With the average cost of a wedding ceremony or partnership in the UK costing £23,000 , Gay Weddings in Gran Canaria can reduce this cost by more that 50%!
Allow us to create the most special day ever at a price that you can afford.
Spanish and Canarian Law now legally recognises same sex couples who wish to enter a civil partnership.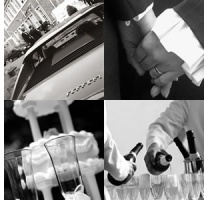 With this in mind Happy Gay Travel in association with Gran Canaria Gay Weddings & Gran Canaria Weddings and Celebrations SL offer the highest calibre of bespoke Civil Partnership, Committment Ceremonies or blessing of a relationship ceremonies throughout Gran Canaria.
Your commitment to each other is one of the most important days of your life, a day to remember, a day of joy and celebration, a day to love and to be loved.
We will tailor your wedding according to individual preferences and desires and offer a host of exciting and memorable venues as well
Our partners local knowledge and contacts will enable you to achieve a stunning wedding within a realistic budget.
Legal Issues
In Gran Canaria, the Country has fully recognised same-sex couples as on a par with married couples.
We can recommend and introduce you both to specialist lawyers who can advise on legal issues to ensure you both truly understand the implications and get the best from this new legislation.
We can , working with our Legal Team now arrange Same Sex Weddings for you in Gran Canaria which are recognised throughout Europe as well.
LEGAL REQUIREMENTS ARE:
Copies of Birth Certificates
Certificate of No Impediment
Copies of Passports for the Couple
Copies of Passports for two witnesses
Proof of where you have lived for the past two years
We will have these translated for you and Apostiled as a correct copy
We will also ensure that all the paperwork is submitted for you at the correct times to ensure everything is in order
Marriage for gay men and women is Legal in Spain and many couples are now at last able to show their love and commitment to each other. Under Schedule 20 of the UK Civil Partnership Act 2004, any ceremony you have in Gran Canaria which is recognised as a legally binding civil partnership ceremony will be recognised as such in the UK and also other European Countries as well where Civil Partnerships are recognised.
Our Service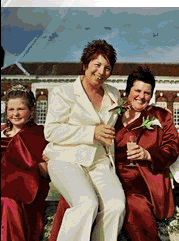 Gran Canaria Gay Weddings offers a complete gay wedding planning and design service to its clients with the flexibility of creating a bespoke service which reflects the unique personality and style of each couple.
Just one of the benefits of using our planning and design service are that we have built relationships with spectacular venues and extraordinary suppliers for a range of budgets.
In the run up to your dream ceremony we will ensure that you experience all the fun and pleasure of creating your unique day with all the worries, risk and mundane aspects of planning and organizing a gay wedding or ceremony left to our committed professional team.
Happy Gay Travel Gran Canaria Weddings and Celebrations offers a bespoke wedding service which will cater to your specific needs and wishes. We do not offer set wedding packages as we customize our services entirely for you. We can help plan all aspects of your wedding or simply assist you on the day. By discussing your needs we can help evaluate what services will be benefical for your special event within a budget which is right for you.
Services & Prices
Wedding magazines will tell you that the average cost of a wedding or ceremony that celebrates love is now £25000 which means some people spend much more that that and some spend much less. Nobody wants to waste money however large or small the budget; working within your budget and saving you from costly mistakes is a speciality of our partners.
Your special day is unique to you, therefore we work to your requirements; there are no set packages, flexibility to your needs is our prime objective. Because of this it is impossible to give an exact quotation until we have discussed what you would like us to do for you. With a full co-ordination service we would expect to save you more than our fee.
Flowers


From bridal bouquets, bridesmaids posies to car decorations, we can arrange whatever you like. The actual type of flower will depend on the time of the year. For this reason, they are not ordered until you arrive in Gran Canaria for your wedding. At this time you can pick which flowers you prefer. We will pick the flowers up from the florist and bring them to you.
Transport


We can arrange all forms of transport, including transfers from the airport, transport on the day of the wedding for you and your guests. We have a wide range of options including Rolls Royce, Bentleys, Limosines, Mercedes, and now have a 36ft White Stretch Limosine as well.
Photographs/DVD


Whatever the Celebration, have a permanent memory of the event, professionally recorded either as photographs or as a video for you to keep forever. We also can arrange for a DVD of the day for you so you can re-live the moment time after time.
Cakes


Celebration cakes are made to your specific design where possibler. Generally, they are sponge cakes, and can be decorated to your own design. The cakes will be delivered to your venue on the day of the celebration.
Hair and Make Up
Have your hair and make up done in your hotel room. You can relax on the morning of your wedding in Spain whilst our team of professionals enhance your natural beauty.
Wedding Dresses and Suits
Take the stress out of transporting your wedding dress from the UK by having your dress specifically made to your designs . She will make a design encompassing your ideas and provide material samples and then make the dress for you and when you arrive here she will make the last minute alterations for you as well. This means that you do not have to be concerned with whether your special dress will arrive in one piece - or even if it will arrive at all. They also have bridesmaids' dresses, suits for the grooms and a wide range of accessories.
Stationery


Place names, invitations, thank you letters can all be arranged out here to save you having to bring it all with you. On the day we will help put the names on the table, so you can relax before the event. We can also send the invitations out for you and keep a track of replies.
Anything else
From beautifully decorated wine glasses to jewellery and gifts for parents we can help with the other extras that make the day that bit extra special. We can arrange balloons to decorate your room, and music for the ceremony, during the meal and for the dancing/partying later. We will help you source anything you feel will enhance your celebration.
Legal Paperwork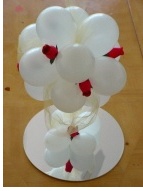 Our Legal team will take care of all the paperwork this end to save you the stress and time having submitted and translated. They will arrange for all the licences to be applied for and also collect the licence to marry as well. When you visit the Island for your ceremony they will also act as translators for the Civil Ceremony.
Flights and Accomodation
Whether you require flights and accomodation for a short break or for you and your wedding party, we can help to ensure that you get the best prices throughout the year. We will help you design the accomodation requirements to suit your needs and budgets.
Can I spend, spend, spend??
You will know the total cost of our co-ordination service for you after the initial enquiry. If you wish to proceed after receiving a quotation, a 50% deposit of the organisation secures your date and we begin working for you immediately.
Send us Your Initial Enquiries - happy@happygaytravel.com