Mykonos Town - Chora

Number of rooms: 42 rooms / 3 suites
Rate range: From 150 EUR (per room per night)
Owned/Managed by: Semeli Hotel
Clientele: Gay Friendly







Originally a huge, stately villa, the 45 room gay friendly Hotel Semeli is an elegant complex of unique aesthetics, situated right in Mykonos Town in the area of Rohari, surrounded by traditional neighborhood houses and walkways. This is a quiet part of Mykonos Town, away from music bars and dense crowds, and the hotel has created an oasis of relaxation and comfort, while just steps away from all of the famed Mykonos nightlife..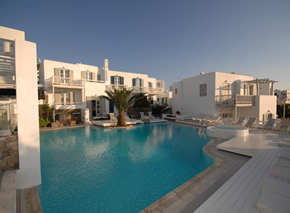 In Mykonos, the name Semeli reminds us of beauty and harmony. These two words combined together give us an aura of what Semeli Hotel in Mykonos, Greece is all about.
Thoughtfully decorated in the Myconian tradition, yet combining the building's original features with all those modern touches you'd expect from a top quality property, the Semeli occupies an enviable location in the heart of the capital, just 400 metres from the port. The views, as is so often the case in Mykonos, are absolutely glorious, while the hotel's extensive facilities ensure that you'll want for nothing during your stay.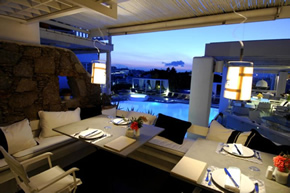 While sipping away an exotic drink at the bar, one can relax and view the changing colors of the sea from dawn to dusk. At night time as the ships travel far away into the night, one can sit under the moonlight and enjoy the spectacular view of the swimming pool glistening away.
The old stately house that already existed was renovated without losing any of its personality. Its old pieces of furniture were used along with the new ones that were carefully selected forming the wonderful rooms where our visitors can enjoy our unique breakfast-buffet, and taste our exquisite cuisine served here at our hotel.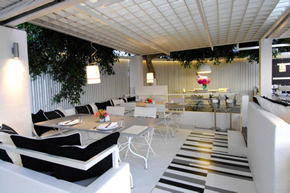 These facilities include a full buffet restaurant, a wonderful pool with a bar handily located alongside, an á la carte restaurant, a fitness centre, Jacuzzi and, naturally, full air conditioning. The staff are welcoming, efficient and totally dedicated to ensuring your comfort, and this includes providing room service if you can't be bothered to move.
The hotel's rooms, all of which have their own ensuite bathroom, are beautifully decorated with satellite TV, a mini bar and double glazing. Maid service takes place every day and everyone gets either a balcony or a verandah. There's a safety deposit box for hire in every room, a laundry service to ensure that you always look as slick as poss., and those of you who've hired a car can benefit from the hotel's private garage.
Creating our own space and giving it a personal touch and colour is something that requires love and enthusiasm. Although the decorative style is uniformed throughout the Semeli hotel, every single part of it has its own identity thus creating a cosy and homely atmosphere.
The minute you walk into our hotel rooms, your breath will be taken away. They combine the traditional architectural structure of modern facilities and fine taste. It is therefore the best choice of relaxation and an unforgettable getaway.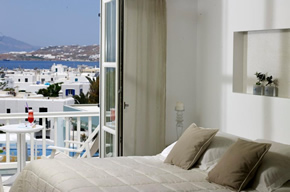 At the hotel's area there is a small chapel. When you visit St. George's chapel, one is given the chance to sense the serenity and the sacredness of the place by lighting a candle and bowing down before the saint's icon. As you walk down the narrow streets of the hotel, you can sense the stonewashed walls, the stone benches, and the small of basil, geraniums and bougainvilleas. The gentle breeze blowing into our faces keeps us alert and makes us fall in love with Mykonos and the Semeli Hotel all over again.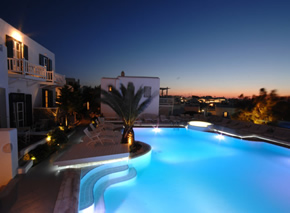 Location: The Semeli Hotel is an elegant complex of unique aesthetics, situated right in Mykonos Town in the area of Rohari, surrounded by traditional neighborhood houses and walkways.
Hotel facilities: Reception and cozy lounge with fireplace, with comfy sofas. Gourmet restaurant (Thioni), bar, snack bar, generous American buffet breakfast served until late afternoon and includes a number of Mykonian specialties. Swimming pool, pool bar surrounded by plenty of comfortable seating and view of the town. small SPA for facials & body treatments, sauna, Jacuzzi, Gym, A/C in common areas, TV room, 2 terraces overlooking Mykonos town and the sea, surrounded by a nice garden, underground garage. Open all year.
Room facilities: Elegantly furnished & decorated in beautiful pastel colors with private facilities with bathtub, hairdryer, A/C, heating, direct dial telephone, color satellite TV, video upon request, high speed internet connection, 3-channel music, mini bar, safe box, small lounge, double glass windows, balcony or veranda