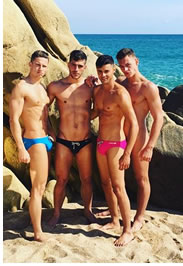 Mykonos has a large selection of beaches (27) and beach types which are all gay friendly and some which are predominately gay with lots of cruisy rocks like Super Paradise. The general rule here is that the more rocky a beach, the more likely to be studs cruising it!
Mykonos attracts thousand of gay tourists each summer for its superb sandy beaches. There's a beach for every taste in Mykonos, from cosmopolitan and nude beaches to secluded beaches for the shy.
You can reach them either by bus or by boat, both departing from Mykonos town. There are also many hotels located close to (or in some cases on) the beaches but do not decide to stay there because you'll have a hard time finding transportation to the town center at night for barhopping, clubbing, cruising or simply getting laid.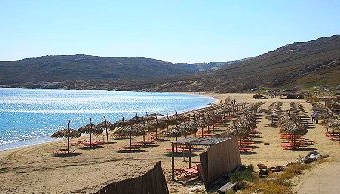 Get your sunscreen (and condoms) from the town, before you go, because in some of the beaches you do not have a choice of sunscreens while you do have a variety of hard tools available! For both cases you need to have handy a sunscreen and a condom. Besides, the are usually overpriced (sunscreens; not d--ks!)
Another great place for you to explore is Watermania in Elia beach. A club quite similar to the ones in Orlando - Florida. Lots of waterslides, artificial waves, pools, a restaurant, bars loud music and fun!
There are three main gay beaches, each with gay and nude sections: Paradise, Super Paradise and Elia. Tucked into small coves and protected by rocky headlands, these crescent-shaped strips of sand are lined with trees and dotted with thatched sunshades. Small bars and restaurants overlook the turquoise-coloured sea. From early evening onwards, the bars turn up the volume and become open-air dance clubs, packed with partygoers nearly all night long.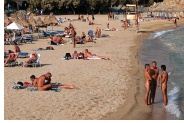 The Gay Beach - Super Paradise (locally called Plintri)
You may be lucky enough to find yourself a secluded stretch, but the main gay beach is Super Paradise, which lives up to its name with its cruisey atmosphere and nude sunbathing that appeals to both gay boys and girls alike. By the way, going 'full monty' is not obligatory!
Among gay tourists, Super Paradise remains the most popular beach. The beach has a bar and a restaurant that serve food and drinks. The gay section of Super Paradise lies to the right (facing the sea). The single boys tend to stay more to a wind-sheltered area to the far left, where they can enjoy the sun in the nude. Lesbians, gay couples and straights tend to stay more to the right side of the beach. And where gay guys sun and swim, there's plenty of cruising and action further op the rocks.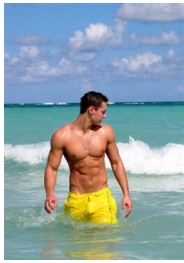 You'll probably hear of Super Paradise Beach, the gayest on Mykonos, long before you arrive. The second stop on the caïque from Platis Yialos, it's a secluded stretch reachable only by boat or four-wheel-drive vehicle (and scooter, if you're into potential suicide and permanent back damage). If you arrive on the small boat, you'll notice that on the right side of the beach the scene is a hetero and partly nude meat market and the left side almost exclusively gay and mostly nude. You can just imagine what goes on at all hours among the rocks and cliffs and trails behind the beach (of course, you're not interested in that, are you?). The music blares, it gets real crowded by early afternoon, and the boys like to stare. Don't expect any seclusion, just lots of cruising action. The Super Paradise Restaurant and Bar (open daily 11 a.m.–9 p.m.) is right above the beach on the rocky cliff and has a small freshwater pool. In addition to all kinds of cocktails, the bar serves fresh fruit juices. The restaurant is a bit overpriced for its mediocre food; expect to pay 8€ for drinks and 19€ for a meal.
To get there: Regular caiques / boat service from Platis Yialos Beach.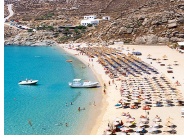 Paradise Beach (Kalamopodi)
Beautiful beach, mostly a younger crowd. Famous from the hippy years.
The beach is small, secluded, covered in pebbles, and comes complete with a strategically placed rock that you can swim out to, and adorn with your golden-brown, sun-kissed body. If you can't swim, you're stuffed.
This is the hetero version of Super Paradise. Here music blares, and the young and the seemingly straight party day and night. You'll find mostly northern European tourists and American college students, beer in hand. It's a fun, boisterous crowd if you're into the Mazatlan-meets-Mykonos spring-break scene. A large complex with a beach bar, pool, and restaurant, Cavo Paradiso (open daily 10–2 a.m.) is on the hill above the beach. There's also a gym where you can pump it up with the college boys. On midsummer nights, parties are held here, and the whole beach resembles one huge disco, with people dancing on the rocks, on the sand, around the pool, and on the cliffs around the beach. The dancing and drinking continues until way past sunrise.
To get there: Between Paranga and Super Paradise, Paradise Beach is the second stop (sometimes the first) on the caíque (or buses run several times a day from the south bus stop).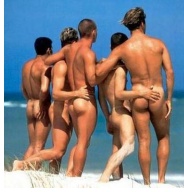 Elia Beach
Large fine sandy beach with a nice crowd mix of hetero and gay sun worshippers. The organized part has sunbeds, umbrellas, waterbeds & various watersports (ski & jet-ski). 3 restaurants and taverns. Some nudity at far end. Not too crowded.
Watermania, on a hillside behind Elia, is a huge aqua park where a party atmosphere reigns daily 10 a.m. to 9 p.m. There are two huge pools, a variety of slides, and boat rides. Admission is 12€ for the day.
To get there: Side-by-side Agrari and Elia beaches, the third and fourth stops on the caíque (or take the bus to Elia during high season from the north bus station).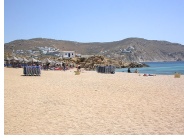 Agarari Beach
One of more secluded, cute smaller sandy beach only a 5 min. walk away than from Elia. Not so crowded.
To get there: Side-by-side Agrari and Elia beaches, the third and fourth stops on the caíque (or take the bus to Elia during high season from the north bus station). You can get here also by caique from Platis Yialos.

Panormos Beach
A more isolated un-crowded large sandy beach situated at the northern part of the island, with a mix of people. Not an organized beach, nudism still allowed but more popular since opening of a trendy beach club. Own transportation recommended.

Agios Sostis Beach
The more chic sandy beach in this part of the island: not an organized beacg but with 2 well catered restaurants. A difficult road 2km further from Panormos.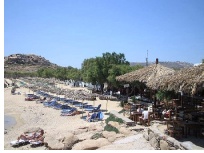 Paraga Beach
Only a 15-min. walk from central Platis Yialos Beach; small, beautiful beach : younger crowd & new age trend: a more alternative crowd/ nude bathing and gay section. Some nice bars/coffee-shops, and fish taverns nearby.
Beautiful stretch of sand big enough for you to choose the spot you want according to your mood. The south side is calm and sedate, with many people reading and lounging in the nude. Here you'll find many returning visitors and local gays who don't want to deal with the crowds at Super Paradise. You can rent a chaise lounge for 3€ and an umbrella for the same price. It's a very mixed beach, with equal numbers of gays and straights. On the north side, the tavernas play music and serve drinks. The Barbra & Yannis Restaurant and Bar (open daily 11 a.m.–9 p.m.) serves excellent homemade Greek food at amazingly reasonable prices. Have lunch at one of its tables in the shade of the grapevine before venturing back to your chaise for an afternoon of swimming and sunbathing.

Lia Beach
The beach, almost furthest away (14 km away from the town, car recommended). Perfect for more solitary, peace-loving types. Coarse sand, relaxed atmosphere, some umbrellas & sunbeds. Has a fish tavern and large coffee-shop.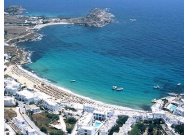 Platis Yialos Beach
One of the most popular and "touristy" beaches in the Mediterranean sea with very regular bus service to town about 4 km away. This large sandy beach is excellently organized and provides a variety of facilities, especially for families with children with beach & sea sports such as water-skiing, pedal boats and more.
Platis Yialos, to which buses run every 20 minutes from the south bus station, is the hub of beach life in Mykonos. This is where the buses bring hordes of people every half an hour to catch the caiques to the outlying beaches. The sandy beach is jammed with taverna after taverna and hotel after hotel. Only visitors staying in hotels seem to swim at this beach, for it's just too busy most of the time. If you're staying here and have asked for a seafront or sea-view room from any of the hotels, be prepared for noise. Many visitors hoping to hear the waves from their beach hotels end up with screeching scooter noise and clanging dishes instead.
Daily small boat transport from the Platis Yialos pier to all other south coast beaches of Paranga, Agrari, Elia, Paradise and Super Paradise.

Psarou Beach
One of the most famous beaches on Mykonos, about 5 km away from town. The clean sea, sandy beach and beauty of the Psarou location are a combination that attract thousands of tourists and - well known & famous Greek high society. The beach is excellently organized offering a variety of sea-sports facilities, like scuba-diving, plus the excellent N' Ammos restaurant.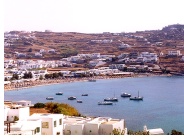 Ornos Beach
One of the most "touristy" beaches: gathers many for its umbrellas, sun-beds & numerous bars & restaurants. Lies at the innermost part of Ornos Bay, south-west of Mykonos and about 3 km from town. The sandy beach slopes gently into the sea; setting is perfect for families with (small) children. There are schools for sea-skiing & surfing, plus safe anchoring for yachts & motorboats.

Agios Ioannis Beach
This area is considered one of the most beautiful in south-west Mykonos; clean sea and a narrow band of soft sandy beach, popular with clients of the 2 nearby deluxe hotels: umbrellas, sun-beds. Two restaurants. Further away: secluded rocks and small coves. Ag. Ioannis is well known due to the filming there of "Shirley Valentine". Superb view of Delos Island too.