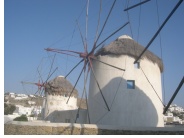 Mykonos is a small island mostly made of grey rock. But it is a beautiful island, and one of the best world resorts for gays and lesbians. The city of Mykonos is a wonderful place to spend an enjoyable carefree vacation in international ambience. The city is post card beautiful with white Mediterranean houses, lovely windmills, stucco Greek Orthodox churches, and a busy port around which most of the town's life revolves.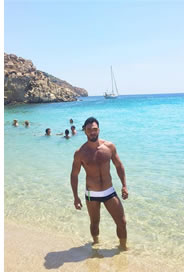 Mykonos has condensed everything that's great about the 227 inhabited Greek islands into a space just nine miles long and six miles wide, so most accommodation is within easy reach of the town. Quieter resorts are available; San Stefanos, for example, offers a few cafés and a regular bus service into town. If you're a movie buff, you may want to stay in Ahios Ioannis, for the chance of spotting an extra from Shirley Valentine.
When eating out, most people gravitate towards Little Venice, a clutch of charming restaurants perched on the seafront of Mykonos town. Here you'll also find a selection of romantic bars where candlelight flickers and live music floats along the sea air. But it's not just the couples who head here; Little Venice is a great place to start the evening's talent spotting as guys pass by on their way to and from town.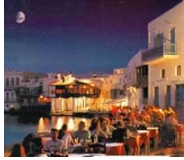 A short walk and you'll find the gay venues concentrated in three locations near the old harbour front. Don't expect Gran Canaria though; the venues here are more suited to unwinding; small, stylish but still sassy. Pierro's, Manto and Icaros are the most popular and they're easy to find - just squeeze through the immaculately dressed guys who spill out on to the streets near taxi square.
There are around ten gay bars and clubs on the island but they still create a varied scene. Cocktails can be quaffed at Kastro's at sun-set before dancing the night away at Pierro's. You can take in some show tunes at Montparnasse, steal a starlight kiss on the roof terrace at Icaros or try your luck in the testosterone-fuelled Porta Bar (located in a small alley at the opposite end of the harbour). Late night pursuits of a sexual nature can be found, rather ironically, next to aforementioned Greek Orthodox Paraportiani Church but cruising here is a bit more discreet than at other gay resorts.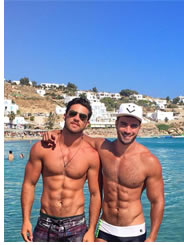 While the pink pound funds much of the island's upkeep, Mykonos also attracts a chic crowd of straights. Everyone is here to enjoy themselves, regardless of sexuality and as very few bring along their ankle-biters, Mykonos remains child free most of the time. The mixed venues are welcoming and friendly and you'll feel as at home in these bars as you will on the vibrant scene.
When it comes to beaches, Mykonos has hit the button - well all of our buttons at least. Not content with infamous but now straight Paradise they've taken things one step further (literally) and the aptly named Super Paradise is a sheer delight. There are three main beaches, Paradise, Super Paradise and Elia and while they may not be right on your doorstep, they are easily accessible.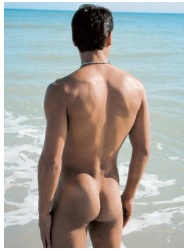 All of these beaches are kitted out with all you'd expect and more. Protected by rocky headlands and thatched sunshades, the gay sections are strewn with naked bodies basking in the sun and small bars and restaurants catering to your every need. The crystal clear waters lap delicately on the shore and this gentle sound shifts up a gear at evening time as the bars become packed with revellers partying well into the early hours. Travelling round the island, there are a number of small secluded beaches which can often be found empty, so if you've always dreamt of a beach all to yourself, Mykonos is for you.
While hiring transport is possible, it takes away the fun of travelling to the beach by public transport. Mykonos has some of the gayest busses in the world, ferrying hotties from the bus station in the town centre to all the main beaches. Travelling aboard can be a very pleasurable experience. There's also the boat from nearby Plati Yialos with frequent services allowing scantily clad guys and gals to stop off at their next port of call. Hiring a bike is also an option, as are taxis, although these can be few and far between.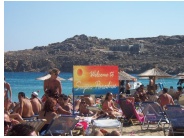 Paradise Beach is more mixed than its Super counterpart (again with clothed or naked options but a more traditional feel with water-skiing, jet-skiing and the like) and Elia tends to be quieter, although its popularity is clearly on the rise.
If you do manage to find yourself with a spare few hours (as unlikely as this is) there's plenty to keep you occupied, from an outdoor cinema during the summer evenings to helicopter flights around the islands. There's also a magical side to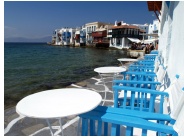 Mykonos that's steeped in history. Mykonos is chock full of tiny churches crammed with mosaics, frescoes and extravagant chandeliers, which are well worth a look. A short boat ride to Greece's spiritual centre, Delos, is sure to capture your imagination; the entire island has been declared a national museum under Mykonos' jurisdiction. This birthplace of Apollo is littered with statues and monuments that serve as shrines to gods of old. The marble amphitheatre is a jaw dropper too, if not for its size then for its ostentatious architecture.
If you are travelling to Mykonos, it's worth booking early. With very few direct flights from the UK, places fill up fast.
More...