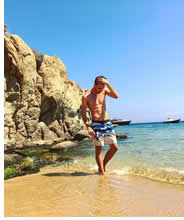 The narrow lanes of Hora have witnessed hilarious and dramatic situations featuring gays, both celebrities and unknown, from all over the globe.
Mykonos is generally a vary open minded place. In fact, there is no beach where the presence of a homosexual couple will cause heads to turn, except perhaps for socialite-and family oriented Psarou. But it is at night when Mykonos' gay-friendly attitude really comes into its own.
On your way back to your hotel room don't forget a walk to Parapotiani church, yes church, one of the biggest gay cruising areas.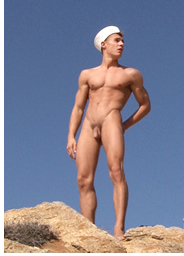 For those inclined to racier pursuits, there is late-night cruising along the old sea wall near the waterfront public toilets, and by the 600-year old Paraportiani Church. It is, indeed, sweet justice that gay men have colonised the most sacred symbol of the homophobic Greek Orthodox Church as a place of queer desire and carnality.
You never know who you might meet on Mykonos. It's a queer melting pot. The gay jet-set rub shoulders with scene queens and older, quieter professionals - an engaging mix of all ages, backgrounds and nationalities – with a predominance of Germans, English, Italians, French and, of course, Greeks. If you are lucky, an American gay cruise ship might be in town (they dock frequently during the summer months).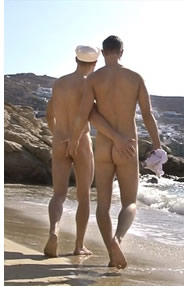 Gay cruising spots:
• Town Hall: The public toilets and the surrounding areas are used as a gay cruising place at night hours.
• Paraportiani: Around 800 year old church and the nearby rocks during early hours.
Beaches
• Elia: The perfect beach for nudists, also used as a gay cruising place, mainly the right rocky side of the beach.
• Kapari: Not a cruising place, but a nudist beach with many natives.
• Paraga: The south rocky side of the beach is used as a gay cruising place.
• Platis Gialos: Not a gay beach, but is the closest to town nudist beach.
• Super Paradise: The most famous beach in the island for nudism. The western side is exclusively gay.