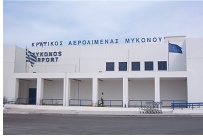 Mykonos is part of Greece's Cyclades island group in the Aegean Sea, approximately 100 miles from Athens. So, how do I get there, you ask? There are a number of options for getting to Mykonos islandů it's up to you to decide how quickly you want to get the party started!
Mykonos lies between Tinos and Naxos. An island with very little vegetation, it has an area of 85 sq. km., a shoreline of 80 km and a population of 5,500. The island can be reached by air from Athens (daily service from Athens airport and more than ten flights a day during peak periods), Rhodes, Santorini and Herakleion (Crete) or by ferry from Piraeus (94 nautical miles), Rafina (71 nautical miles), the Dodecanese, Crete, and Thessaloniki. The trip by ferry from Piraeus takes about 6 hours. In summer there is 'flying doplhin' service from Piraues or Rafina. A local boat service takes visitors from Mykonos to nearby Delos.

By air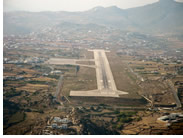 The small airport of Mykonos has been operating since 1968. In recent years it has handled thousands of passengers. The Airport of Mykonos (JMK)
is situated 4 km from the Town (Hora) so the transfer is taken care by Olympic Airways busses, local bus service and taxis.
There are two main domestic carriers, Olympic Airlines and Aegean Airlinesoperate daily up to 10 flights a day during peak season to the island from Athens International Airport at Spata. It is essential to book well ahead. There are also flights from Mykonos to Rhodes, Kos, Crete (Iraklio), and Santorini.
The flying time from Athens to Mykonos island is about 30 - 45 minutes. Most of the international flights that arrive in Athens effectuate the connection with Mykonos.
In summer time, there are many direct charter flights to Mykonos Greece from different countries of Europe, without transfer in Athens.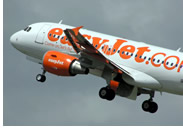 There are a number of charter airlines, providing flights from the UK & Europe to Mykonos, which you can book through Happy Gay Travel when making your reservation.
Happy Gay Travel main flights are on easyJet from Gatwick, Manchester, and Luton, and also Thomson
from London Gatwick. These flights operate from the April until October. Flying time is about three and a half hours.
If you wish to book a trip in April, then please write us for further information.
Daily options are available on Olympic Airlines from Heathrow, and Aegean Airlines from London Stansted, and Heathrow. These flights operate with a change of aircraft at Athens. If you prefer top use this option, then please write us for further information.
From Italy direct flights available on easyJet from Milan, on Blu-Express from Rome, AirOne from Milan,
Volotea from Venice, Bari, Naples.
From Germany direct flights available on German Wings from Berlin and Cologne, on Air Berlin
from Munich, Berlin, Nuremburg, Hamburg, Dusseldorf and Hannover, and on Condor Airlines from Frankfurt.
From Austria direct flights available on Austrian myHoliday from Vienna.
From Switzerland direct flights available on Swiss Edelweiss Air from Zurich.
From France direct flights available on Transaviafrom Paris.

Transportation from Mykonos airport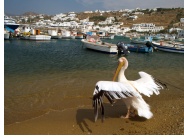 The airport of Mykonos is located 4 kilometres away from the town of Mykonos. The transfer time to Mykonos airport is about 10 minutes. There is a public bus service operating regular services from the town to the airport. Taxi rank is situated in front of the terminal. Many hotels also propose a transfer to the airport by private mini buses.More...

Car hire.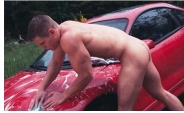 Depending on where you are staying in Mykonos, on the popular beaches or in town, there is a great bus system and enough taxis to take you around. You can also rent cars, 4-wheelers and motoscooters. The roads in Mykonos wind around the rocky terrain and are narrow to many foreigners. Travel time from Paradise Beach to Hora is about 20-25 minutes, so driving a motoscooter into town after the beach day partying and drinking has brought tourist vehicle accident fatalities to unfortunate high numbers. The best way to get around the Hora is by foot. Get lost in the cubic white maze and narrow walkways of town adorned with beautiful balconies and flowers hanging from the top.
Or you can book your car online before arrival. More...
Mykonos has daily ferry connections with Piraeus, Rafina, Tinos, Syros, Paros, Naxos, Ios, Santorini and Andros. It is also frequently connected with Crete (Heraklion), Amorgos, Astypalaia, Kos, Rhodes and Samos. Less frequently is also connected with Ikaria, Serifos, Sifnos, Thessaloniki, Kalymnos, Nissyros, Tilos. Catamarans connect Mykonos to Piraeus, Tinos, Syros, Naxos, Ios. Excursion boats to Delos daily. More...
By car

It is possible to take your car on a ferry from Athens to Mykonos, and this is popular with Greek visitors to the island. If you intend to hire a car, it's easy to hire on the island itself, with reputable international rental agencies represented on the island. Driving in Mykonos is laid-back, although visitors should be aware of the different road rules and etiquette. More...