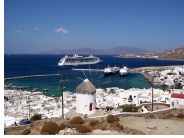 Mykonos fulfils everyone's idea of what a Greek island should look like. All the clichés are here: the white-washed cubicle houses, gorgeous blue-green water, three gay beaches and beautiful people from all over the world. There's more to Mykonos than sun, sand, sea and sex.
Why go?
The Greek island of Mykonos has been a favourite, and ever so chic, gay holiday destination for the best part of 30 years. You get a slightly better class of queer here. None of your trashy club e-heads and suburban queens. Well, not too many.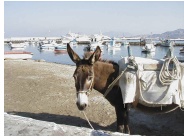 There are no mega gay clubs or decent darkrooms. Compared to Ibiza, drugs are not as freely available. So that puts off three-quarters of gay Brits – and most of the rest of gay Europe.
This may be a good thing. Unlike the frenetic party atmosphere of many other gay vacation hot spots, the Mykonos queer scene is laid-back. That's part of the attraction. It's a bit different.
In contrast to the Spanish Costas, the island remains largely unspoilt. Development is carefully controlled, with no building higher than three storeys. Motorways and traffic lights don't exist. There are no big supermarkets or department stores. With its intimate, village-like ambience, Mykonos town retains much of the character of the small, sleepy fishing village that it was only 40 years ago.
When's the best time to go?
May, June and September are the best months as it's less crowded, less expensive and more gay people show up!
History & Culture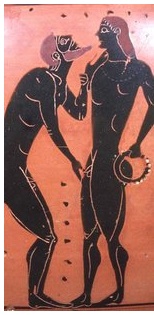 While the early Greeks may not have invented homosexuality, they certainly venerated it in ways unrivalled before or since. Exploring the history of the world's first and only homo-celebrating society is a must-do.
A short boat ride from Mykonos is the archaeological wonderland of the sacred island of Delos - the political and spiritual centre of ancient Greece. According to legend, it was the birthplace of Apollo and Artemis.
All over the island lie the ruins of shrines, temples and sanctuaries honouring the gods and goddesses of Greek mythology. The Temple of Dionysos was built to celebrate the festival of Bacchus. This festival was a riot of music, dance, wine and sex. Sadly, all that remains of the Temple are two large sculptured erect phalluses. Although decapitated by sex-hating philistines, these half-cocks still stand bold and defiant on their plinths. Elsewhere, avenues of weather-beaten statues, faded mosaic tile floors, and crumbling colonnaded courtyards testify to the nobility of ancient Greek civilisation.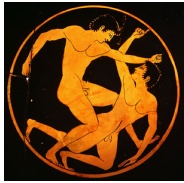 What is truly remarkable is that here, in 400 BC, was a highly sophisticated town of 25,000 people. Towns of such size rarely existed in Europe until nearly 1,500 years later! Moreover, the fine street planning, sewage system, bathing pools and public buildings of Delos were superior to anything that existed in cities like London prior to the 1800s. Wandering through the solid marble amphitheatre that once seated 5,500 people, it was sobering to think that even today few countries boast a theatre of comparable size and extravagance.
But before we get too dewy-eyed and sentimental, let's not forget that this cultured civilisation also had its dark downside. The city-state of Delos prefigured the body fascism of the modern gay scene by nearly 2,500 years! In its pursuit of perfection, the rulers of Delos decreed that all imperfection must be eradicated – including people who were deemed to be 'blemished'. Accordingly, the disfigured, ill, disabled, old, dying and pregnant were banished to a neighbouring island. Scary!
Mykonos Town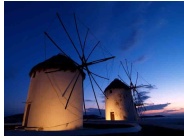 Mykonos is a less pretentious gay version of St Tropez: glamorous and a bit exclusive, but without attitude or snobbery. Queers are everywhere, and straights are tolerated. You can feel totally relaxed about being openly gay. No one gives a second glance at two men - or two women - holding hands in the street. Well, not unless they are stunningly attractive!
The postcards don't lie. Mykonos is almost too gorgeous to be true. The houses, shops, churches, restaurants and windmills are immaculately whitewashed, with door frames and window shutters highlighted with splashes of sky blue and jade green.
The streets are a maze of narrow, winding alleyways - some only two to four feet wide, overhung with dazzling pink and purple blossoms. On every second doorstep sits a cat, gazing down serenely at passers by.
Most gay tourists choose to stay in the town itself, a winding maze of impeccably whitewashed churches and buildings crammed full with small boutiques, tiny bars and stylish restaurants where you can dine alfresco under pergolas dripping with grapes on the vine or cascades of brilliant pink bougainvillea.
Gay Scene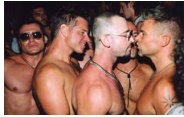 While this remains a destination for gay tourists from all over the world, the gay scene still remains small for the amount of tourists who come here.
Having said that, there is almost nowhere on the island that can't be described as 'gay friendly' and any venue really will extend a warm welcome to any tourist. But there are definitely some bars where you'll want to be seen and luckily they're all located close to the harbour, which is easy to find as all of the lanes seem to lead you there - eventually.
What To Do?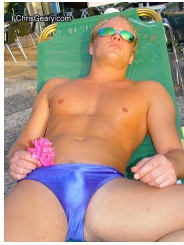 Mykonos is a very small island. The main town can be traversed in about 15 minutes, so you need only ask the where a particular venue is; besides, most of the streets don't have names and the natives are very friendly.
Let's start at the beach, or rather beaches. You can get to all of the beaches by taking a bus to Platis Yalos and then hopping on a fishing Caique.
Super Paradise, Paranga and Elias are the beaches where you can strip off and go cruising in the rocks above the beach – just make sure you stay on the far right hand side (as you face the water). You'll find bars and tavernas serving wonderful salads and you can rent a lounge chair and an umbrella for £5.
Before heading home for your shower, make sure you stop at one of the bars in 'Little Venice' for a 'sun-downer' and watch the dramatic sunset reflected in the water. It's very romantic.
Saunter back to your digs and pass out for a couple of hours. Nothing happens early in Mykonos, unless it's really early morning!
Things to remember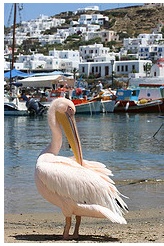 • Stay in Mykonos Town if you want to frequent the bars and clubs every night. Saves waiting in the 2 hour queue for the island's two late night taxis to take everyone home.
• Try to avoid August as the locals double their prices and turn into nasty unhappy people. The rest of the year they're fabulous.
• Keep and eye out for the resident Pelican that walks around the restaurants like he owns the place. Not only a fascinating island mascot but also makes great pictures.
• Do travel on the local bus to Plati Yalos then on the local boats with everyone else to get to Super Paradise beach. The buses are packed to the seams so you make intimate friends early on and save time later.
• Do watch the sunset at least once, preferably with a romantic beau, in the quite Castro bar.
• Do check out the cruising area around the little white church – it's fascinating, though maybe not for you girls. Girls, check out the owner of Pedro's bar.
• Unless you have an open relationship with your partner you may want to think twice about going here. This place will make you frisky.
• If you like to socialise AND party this is THE place for you. Highly recommended.
More...