Sitges

Number of rooms:
Rate range: From 48 EUR (per room per night)
Owned/Managed by: Sunway Hotels & Apartments
Clientele: Gay Friendly

The gay friendly Sunway Atlanta Apartments offer a choice of three different accommodation types. Located about ten minutes' walk from the centre of town and five minutes from the beach, the Atlanta has a lovely pool surrounded by lawns with a poolside café/bar on site.
These fairly modern apartments are located about 350 metres from the beach and 750 metres from the centre of town.
They are ideal if you are looking for reasonably priced, self-catering accommodation in an excellent part of town. There are no restrictions, so guests can come and go as they please.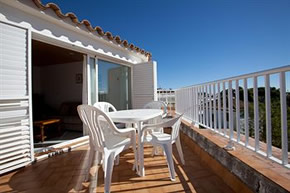 The reception area for the Sunway Group is located about 5 minutes' walk from the main cluster of apartments.
Located in well-kept gardens, the Sunway Atlanta shares a swimming pool with two other Sunway blocks.
All apartments are open plan, offering twin beds, private bathroom with bath, shower & WC, living area and kitchenette. Safes are now a standard feature of all Sunway units.
Most of the studios have a balcony/terrace.
Cleaning and linen changes take place once a week but remember to bring your own bath towels as none is supplied.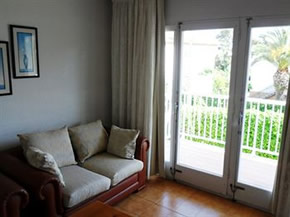 Studios sleeping 1-2
Significantly larger than some one bedroom apartments, the Atlanta studios have been recently refurbished and, because you can fold away your beds during the day, offer quite a lot of living space in the combined sleeping/living area when compared with similarly prices studios elsewhere. These pull-out beds are of different heights, and you don't need us to tell you that this may have implications for nocturnal cuddle activities.
All studios have their own kitchenette (fine for basic self catering) with a microwave rather than a conventional oven plus a handy washing machine.
Standard one bedroom apartments sleeping 1-3
These basic one bedroom apartments feature a bedroom with a couple of single beds and a living room with a sofabed, bringing the maximum occupancy level up to three. Now - we reckon that three adults sharing a one bedroom apartment can work out to be a bit of a squeeze, especially when it comes to storing all your frocks and hatboxes, but if you reckon you can rub along OK at such close quarters threesomes are able to holiday at some fantastically low prices. Nonetheless, in our opinion they're best suited to couples who appreciate the little bit of extra space which a studio can't offer.
Unlike the studios described above, the kitchenette in these one bedroom apartments has a proper oven rather than a microwave, and - of course - all apartments are equipped with their own private bathroom.
Superior one bedroom apartments sleeping 1-3
First up, don't go expecting any late availability with this particular category. Superior apartments are in very short supply indeed and therefore demand that you're quick off the mark if you decide to make one of them your holiday homestead.
Well furnished, attractively decorated and pleasingly spacious, each superior apartment has a double bedroom, an absolutely huge balcony, a private bathroom and a kitchenette with four cooking rings and a microwave oven. Substantially larger than their standard counterparts, maximum occupancy is four adults - two in the bedroom and two on the double sofabed in the living room.