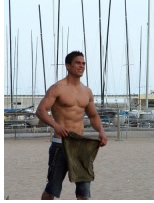 Sitges is one big cruise! Everywhere you go, everywhere you look you'll make constant eye contact but if you're looking for some instant gratification without the flirt, this is where to get it....
The men are amazing and sometimes its hard not to stop and stare at the beauty that surrounds you. (lots of puns intended).
Although cruising takes place just about anywhere and at anytime in Sitges, in particular in and around Carrer 1er de Maig and Carrer Marqués de Montroig (locally known as Sin Street), there are one or two specific places which are associated with this traditional activity. The most well-known are: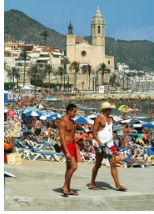 The cruising area after dark is on the 'de l'Estanyol' beach.
Late at night. AYOR. Risk of attack and some police activity.

To get there: Turn right when you get to the sea front. Walk past the gay beach and the restaurants on the sea front. Walk down the first set of stairs once you've passed all of the restaurants, turn right on the beach and you're there. It's only a 10 minute walk from the town center. It starts getting busy around 1am and keeps going until daylight. You'll have no problem getting gratification here.
Mixed/Gay Nudist Beach - De las Balmins
In the early hours of the morning as the sun's rising, you'll find some raunchy action at the Mixed/Gay Nudist Beach. (De las Balmins) There's also some cruising on the street up above all daylight hours. (Look into the parked cars!)
Playa del Muerto - Dead Man's Beach
Playa del Muerto (Dead Man's Beach, beyond the Terramar Hotel and L'Atlántida Disco): daytime.
Gets busy in the woods at the back. AYOR
Playa de la Bassa Rodona - central gay beach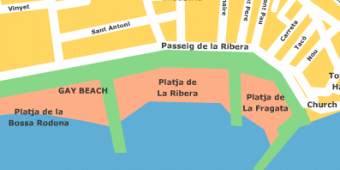 Playa de la Bassa Rodona (central gay beach): daytime.

See the Beaches page for the best daytime cruising area.

Bear in mind, however, that although Sitges is generally known as a tolerant place for gay men to relax and be themselves, some locals and visitors do not approve of overt cruising. As elsewhere, cruising is a risky business, so be careful out there and please, try to show some respect and consideration for the locals and fellow holidaymakers.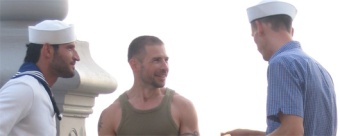 Warning! - If you go cruising at night, drop all of your stuff off at your hotel first and think twice if someone insists you take them back to your room. There are some Moroccan guys working the de l'Estanyol beach at night, coming onto guys then emptying their pockets for them. There's no danger but don't take your wallet, mobile phone or cash with you. They are usually cute and very convincing and in some cases will even go down on you and then empty your trouser pockets while they're down there. Please heed our advise!