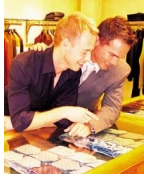 Sitges is a great place to indulge in a little retail therapy. As you walk through the small winding streets you will find something new to peek your interest around each corner.
A shoppers heaven!
It would take you a week just to browse through all the designer clothes shops selling the latest offerings from top designer names from around the world, such as Dolce and Gabanna, Versace and Calvin Klein to name but a few. Well know popular-fasion brands are also represented, most notably G-Star, Puma and Bickembergs.
A new pair of trunks?


Men are particularly well catered for when it comes to fashion inSitges. You can often find acomplete line of clothing from each major designer here, rather than the one or two hot sellers that the bigger stores stock, with most stores having plenty of stock and a wide selection of sizes. A good pair of swim trunks are a must (unless you prefer the nudist beach) and there are plenty of stores which cater for all tates and sizes. It should be the first item on your shopping list.
A gift for those at home.


So after you have purchased that must have outfit (and shoes to mach), maybe its time to look for that little something for the loved ones at home or something to remind you of your stay in beautiful Sitges. The choice of Gifts is overwhelming. Everything from hand made pottery and glass, water colours of Sitges, Spanish antiques and much more for the discerning eye, to key rings emblazoned with "I love Sitges".
Donít forget to get something for your pet.(no not the boyfriend you left at home!). There is a nice little pet shop on Santiago Rusinol that can help you let you furry friends know that you where thinking of them.
Looking Good... feeling good!


Now if all this shopping has given you a headache then one of the pharmacies can help. Spain is a self-medicating country which means that you donít have to see a doctor to get persecription antibiotics or even Viagra. Most pharmacists speak English as well as other languages so donít be afraid to ask for help. Most things a kept behind the counter.
If you are looking for general toiletries such as Shower Gels or Deodorants, you should visit Schlecker, also on Santiago Rusinol. Looking to lure that man later on? Then you should try one of the many shops dedicated to making you smell good! Staff are happy to help you find that perfect sent to mach your skin chemistry. The price is about the same as you would pay in duty free, just less hurried and a lot more fun.
Fancy a tipple?


Now that you look and smell fab, its time to head back and drop off all your designer bags...but on the way donít forget to stop at one of the wine shops and get a bottle of Spanish wine. Nothing nicer then a glass of wine on the balcony as you show your partner or friends what spent all your money on! wine in Spain is amazing value with prices staring at 1.50 EUR a bottle (1.50 Euro a bottle I hear you say....must be rubbish) Not at all! Spanish wine is quality tested and even the cheapest wine will surprise you .The Spanish simply can not comprehend why tourists pay so much for wine at home. A bottle of Spanish Cava is always a good chose.
Food and more...


If you are staying in Sitges on a self-catering basis then there are several supermarkets the International Supermarket which boasts awider choice of products, some of which you may recognise from home. Spanish people live a healthy lifestyle, buying the ingredients for each meal, fresh each day. There are numerous small stores specialising in high quality food. Butchers backers greengrocers, fishmongers and delicatessenís are plentiful and offer a superb range of choice. Shopping in theses stores is an unhurried affair so you will need patience, but the end-result is worth the wait. There is also an indoor food-market next to the train station that is worth a visit.
A home in Sitges.


Now that you have fallen in love with the way of life in Sitges you may want to look for a little place all of your own. To this end there are over 100 property agents in Sitges ready to help you on your quest for that perfect holiday home or apartment. Sitges is one of the most popular places for tourists to purchase so prices are high. Be prepared to search for a while to find just what you are looking for. San Pere de Ribes (10 mins by car) and Vilanova (20 mins by car) also offer many possibilities for home-hunters.
General Advice


Most stores in Sitges open at 10am and close for Siesta at between 1.30 and 2pm. They re-open at 5pm and stay open until 8.30pm. During the Summer months many of the more tourist-focusssed shops will stay open until 10pm.
Credit cards are widely accepted. Cash machines are plentiful, but remember many charge you a transaction-fee. This fee is made know to you beforehand. We have seen people charged everything from 60cents to EUR 7.00 to withdraw EUR 100, so make sure you check that you aren't being overcharged.
Finally remember in most shops where there are large queues, such as Pharmacies and Supermarket butcher counters, you have to take a ticket and wait until your number is called.
Although small in size, Sitges offers a wide variety of shops to choose from. After partying... shopping in Sitges is the next most popular religion!
Thank You for information: