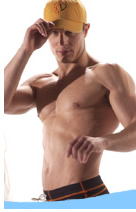 300 days of Sunshine, every year!
The Weather in Sitges is quite unique. Even though it is 20 mins from Barcelona, the fact that it is surrounded by mountains gives Sitges its very own micro-climate. So on days when it is pouring rain in Barcelona, clear blue skies and temperatures of 30 degrees (July/Aug) are the norm for Sitges.
With a micro-climate all of its own, Sitges is reputed to have almost 300 days a year on which the sun shines for lengthy periods, and even in the Winter months it's not unusual to get the occasional day on which it's warm enough to lie on the beach or sit out at a café.
Probably the best times to come to Sitges if you want to avoid baking temperatures are late Spring and early Autumn when the heat is more bearable and there is a greater chance of a cooling shower. High Summer, in particular August, can be stiflingly hot and humid, and this is the time when many locals head for the hills in search of blessed relief.
The graph below shows the average temperature in °C throughout the year.
As for rainfall, Sitges can have the odd few days when it drizzles, usually in late Autumn and early Spring, and late Summer months can bring torrential downpours accompanied by spectacular storms, but thankfully these are few and far between.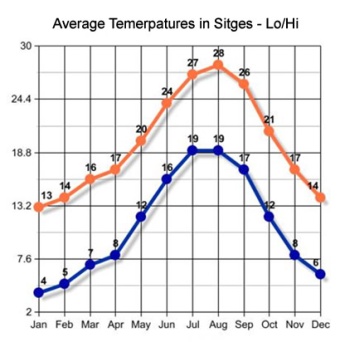 However, do a search for the weather in Sitges on any of the large sites, such as Weather.com and you will come up with nothing... or nada! Better to try the local tourism site, who have a great 3 day forecast which is amazingly accurate.