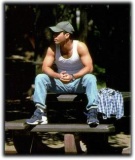 Although most gay visitors to Sitges are more than happy to while away their time on the many beaches the town has to offer, what can you do and where can you go if you tire of the beach life and need a culture fix?
Fortunately, Sitges itself has a number of attractions that may divert your attention, at least for a short while, and there are plenty of other destinations in Catalunya that are worth exploring on a day trip, or which even merit an overnight stay. The places below are all within a couple of hours of Sitges by road or rail.
Sitges
Unlike many other Catalan coastal resorts, Sitges has managed to retain a sense of history and charm, and the legacy of the artists who 'discovered' the town in the mid-19th Century is all-pervasive.
If you have a couple of hours to spare you could do worse than explore Sitges' architectural heritage - the parish church, the Maricel Palace, the many 'American' houses (named after their owners who made their fortunes in Cuba in the 19th Century), and the town's museums. Below are just three Sitges gems.
Parish Church of Sant Bartomeu and Santa Tecla


The parish church, known locally as 'La Punta', is Sitges' most emblematic building and is represented in postcards, posters and artists' daubs all over town. This 300 year old building is the focus of many of the town's religious festivals and a backdrop to the frequent spectacular fireworks displays. Take a peek inside at the marvellous baroque organ (oo, er, missus!)
Maricel Palace
Just beyond the church the Palau Mar i Cel was commissioned by an American millionaire who fell in love with Sitges and wanted somewhere to recuperate following illness. Built by Miquel Utrillo, the palace is ornately decorated with capìtals created by the sculptor Pere Jou, magnificent tiles and beautiful terraces. It is now a venue for concerts and meetings.
Opening hours: Tues-Sun 10am-2pm & 5-9pm (Summer); Tues-Fri 10am-1.30pm & 3-6.30pm, Sat 10am-7pm, Sunday 10am-3pm (rest of the year)
Museu Cau Ferrat, C/Fonollar, s/n


Studio house bought by the artist Santiago Rusiñol as his headquarters in Sitges, bequeathed to the town as a ready-made museum. Objects on display include paintings (Rusiñol, El Greco, Picasso), archaeological finds and Modernista ironwork.
Opening hours: Tues-Sun 10am-2pm & 5-9pm (Summer); Tues-Fri 10am-1.30pm & 3-6.30pm, Sat 10am-7pm, Sunday 10am-3pm (rest of the year)
Barcelona
Although it's only half an hour away by train or car, many visitors to Sitges never set foot out of town to visit the Catalan capital, which is by far the most exciting and culturally vibrant city in Spain.
There are far too many highlights to mention on these pages, but below are a few suggestions for a day out in Barcelona.
Gaudí Tour


Antoni Gaudí, probably one of the most famous sons of Catalunya, is seen as the genius of the Modernista movement with his own unique perception of the world. His legacy can be seen in the ten buildings he left in Barcelona, amongst them the Sagrada Familia, La Pedrera, Casa Batlló and Parc Güell
La Rambla, Barri Gótic and the Raval
If you can't stomach living statues, buskers and puppeteers, it's probably best to avoid La Rambla - the mile-long walkway that bisects the old city from Plaça Catalunya to the port - and explore the infinitely more interesting areas to either side instead. If you don't mind the street theatre, however, you should enjoy this emblematic street, taking in La Boqueria - Barcelona's largest market - and the Liceu opera house, before ending up at the statue to Columbus and the port.

On your right as you walk down towards the port, the Raval, which refers to the part of the city outside the wall, is an interesting place to explore, albeit a potentially dangerous one. Formerly a refuge for the dangerous classes of society, including anarchist and other radical groups, the neighbourhood can still exude menace in some areas, although with a bit of commonsense you should be able to spot any trouble in advance.
Sights to visit include Gaudí's Palau Güell on C/Nou de la Rambla and the MACBA (Museum of Contemporary Art).
On your left as you progress down La Rambla is the Barri Gòtic (Gothic Quarter), with its narrow streets and some interesting squares. Main sights to visit in what is arguably Barcelona's most atmospheric quarter are the Cathedral, the Plaça del Rei, the church of Santa Maria del Mar and the still fashionable Born district.
The Port and Beaches


The Port Vell (Old Port) was, until relatively recently, the main harbour for Barcelona where cargo ships would load and unload. Since the Olympics in 1992, however, this area, and the neighbourhood of Barceloneta with its beaches and fish restaurants, have undergone an amazing transformation.
From Barceloneta it's possible to take a spectacular cable-car ride to Montjuïc, a hill which towers over the rest of the city providing panoramic views, in particular by the Palau Nacional and at Miramar overlooking the harbour. While you're there you can visit the 17th Century Castell de Montjuïc, the Fundació Miró, and the Anella Olímpica (Olympic Ring), with the main Olympic buildings from Barcelona's 1992 Games.
Tibidabo


More panoramic views of the city can be seen from Tibidabo, the giant peak that towers up behind Barcelona, with its funfair, a church, and the giant Collserola Tower.
Getting to Barcelona:
Trains from Sitges to Barcelona are frequent, leaving at 20 and 26 minutes past the hour and 10 and 5 minutes to the hour approximately. The earlier of each pair of trains is slightly slower and all trains stop at Barcelona Sants station and Passeig de Gracia station (which is closer to Plaça Catalunya, the Ramblas and most other sites of interest). Ask at Sitges railway station for a full and up-to-date timetable of trains to and from Barcelona.
Tarragona

Tarragona, just over an hour from Sitges by train or road, is an ancient place, chosen by the Romans as their base for the conquest of the Iberian peninsula, which began in the 3rd Century BC. As such, there are some interesting Roman remains to be seen, including the Amphitheatre built into the slopes of a hill overlooking the Mediterranean, the Roman Forum, the Necropolis, containing both pagan and Christian tombs and, outside the city walls, an impressive Roman Aqueduct.
The city also has an attractive medieval quarter, with steep and narrow streets leading up to the magnificent 12th Century Romanesque/Gothic Cathedral, built on the site of a Roman temple to Jupiter and a subsequent Arab mosque.
Getting to Tarragona:
Although there is a train that goes directly from Sitges to Tarragona, it's probably easier to catch a train to Sant Vicenç de Calders then change on to a Tarragona train. Journey time will be about 1 hour 30 minutes in total.
Port Aventura

Just 20km south of Tarragona, Port Aventura is Europe's biggest and best theme park. Each area of the park is based on a different culture, from Wild West to tropical Polynesian, each with their own thrilling rides. Check Port Aventura website for more details.
Extremely busy in the Summer months, it's advisable to arrive early to avoid the huge queues.
Getting to Port Aventura:
Port Aventura has its own railway station with regular trains from Tarragona (for details on getting to Tarragona see above)
Montserrat

Literally translated, Montserrat means saw-toothed mountain, which is an accurate description for this emblematic landmark, visible from Barcelona. A cool place to visit on a hot day, Montserrat is home to a Benedictine monastery and the so-called 'Black Virgin', a small wooden figure of the Madonna and child housed in a shrine inside the 16th Century Basilica. Check their official website for more details.
Getting to Montserrat:
By bus from Sants station (approx. 80 minutes); by rail from Plaça d'Espanya (every 2 hours) to Aeri de Montserrat (journey time approx. 60 mins), then cable car (every 15 mins)
Girona & Figueres

Girona, about an hour or so north of Barcelona by train, is worth visiting for its impressive Cathedral alone, built between the 11th and 15th Centuries. Also worth seeing are the Banys Arabs (Arab Baths), a thirteenth-century Moslem/Jewish bathhouse.
Figueres is an attractive town approximately 2 hours from Barcelona by train. It has a lively rambla, a good local museum, and the Teatre-Museu Dalí, designed by the artist himself and complete with music, optical illusions and some extremely bizarre installations.
Getting to Girona:
By rail from Sants or Passeig de Gràcia approx every hour. Journey time: 1 hr 15 min
Getting to Figueres:
By rail from Sants or Passeig de Gràcia approx every hour. Journey time: 1 hr 45 min
L'Eecala & Empúries

Although more difficult to get to, involving a train journey to Figueres then taking a bus, it's well worth making the effort if you want some peace and quiet amid some very atmospheric surroundings.
L'Escala is an attractive fishing village with some beautiful beaches, a small port and cool woodland, and is just a half hour walk away from Empùries, with its Phoenician, Greek and Roman ruins.
Getting to L'Escala and Empúries:
By rail from Sants or Passeig de Gràcia to Figueres (approx every hour. Journey time: 1 hr 45 min) then bus from Figueres (bus station next to rail station) to L'Escala