In Sitges, bar life and club life often merge together, and although there are comparatively few dance clubs, the sheer numbers of people coming to the resort during the Summer mean that they're always lively well into the early hours. Sitges is a town that likes to party – hard & late! You will need your Siesta… the clubs get busy from 3am and dancing does not stop until 6am!
Remember...everything in Sitges starts that little bit later. Dinner is between 8 and 10, Bars usually start to fill up at midnight, and the bigger clubs open at 2 or 3am!
There is a circuit...a club can be empty one moment and full the next. You will catch up.
The bars finish up and you will find lots of boys and girls out on the streets looking for the next club to dance the night away!
The bars and discos are mostly centred around Calle de San Bonaventura, humorously translated as the street of good adventure!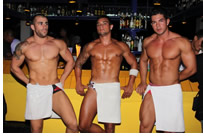 There is a place for everyone, cocktail, drag and bear bars galore.. and all day there are cafes open onto the street where the whole gay community seem to sit and watch each other walk on by checking everyone out for the night ahead. As yet there is no lesbian club, however with the growing number of clubs hosting lesbian nights there is no doubt that there will be one soon.
Generally speaking, DJs play garage, house and disco, although individual clubs may have specially- themed music nights (eg. Organic's once-a-week 70's, 80's and 90's night). Watch out too for Singles Nights, Beach Parties and the notorious Foam Parties held at New Organic and L'Atlántida.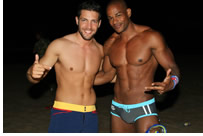 Unless you pick up one of the many flyers available from bars and other outlets, you will be charged an entrance fee, but this often includes a complimentary first drink.
There is one Gay Club in Sitges, which is Organic. The other clubs host weekly parties such as the Foam Party and the Gay Beach Party during the Summer Season. Bukkake, which opened in 2013 has become one of the most popular late-night bars to party. It is a cruising club and is also open until 6am. Numbers on the right refer to a club's location on the Club Map.
Gay Clubs in Sitges

Club Name

Club Address

Map Location

Description

Joan Tarrida 17

Port Aiguadolc

Bonaire, 12

Sant Pau, 25

Bonaire, 12

San Didac, Vallpineda