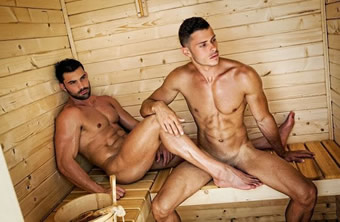 There are two gay Saunas in Sitges.
Sitges boasts two gay saunas, the established Sauna Sitges, which celebrating its 21st anniversary in 2015, and the newly opened Parrots Sauna, which is located within the Parrots hotel complex.
Sauna Sitges it is very popular, especailly during the Summer Months. Their Foam Parties during peak season on Fridays and Sunday afteroons are legendary.
Gay saunas are extemely popular in Barcelona and as its a less than 30 minutes train drive from Sitges, its definitely worth the trip. Saunas get busy in the afternoons and late at night during the Summer months and are busy most of the time during the winter months.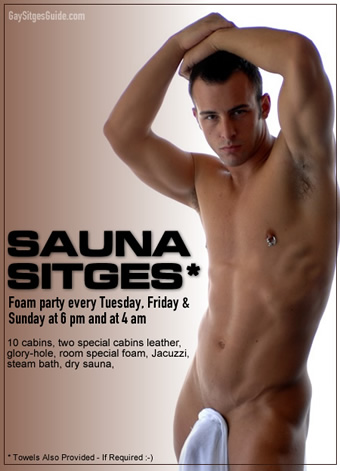 Sauna Sitges.
Sauna Sitges is first and most popular exclusively gay sauna in Sitges.
Sauna Sitges totally reformed in 2009.
To discover or rediscover!
Open every day !
C/ Espalter, 11 - 08870 Sitges
T. 93 894 28 63
Sauna Map
Web Site
Sauna Sitges has recently put the finishing touches on the renovations. They have a new foam room with laser lighting and their famous foam parties now take place every Tuesday, Friday and Sunday at 6pm and at 4am in the morning!
The sauna offers Massage, 10 cabins, two special leather cabins, jacuzzi, steam bath and of course a dry sauna.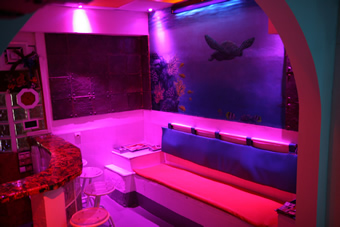 Fully equipped with air conditioning :
•Dry Sauna
•Spa
•Steam sauna (Hammam)
•2 Bars
•TV room
•Showers
•X Video room
•Cabins
•2 Leathers rooms with sling
•Glory-holes
•...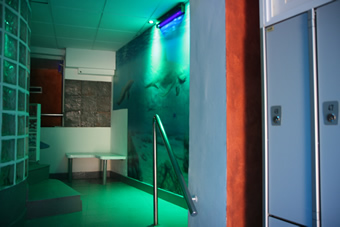 •2 Condoms and 2 lubricants free,
•shoes, body towel and Shower towel.
•Bar with alcohol, cafeteria, Snack, massage service.
ENTRANCE: 15.00 €
Winter ( October to April ) : 04 pm till 10 pm. Saturdays - 02 pm till 08 am.
Summer ( May to September ) : 04 pm till 10 am.
Carnival and day before fete : 04 pm till 10 am .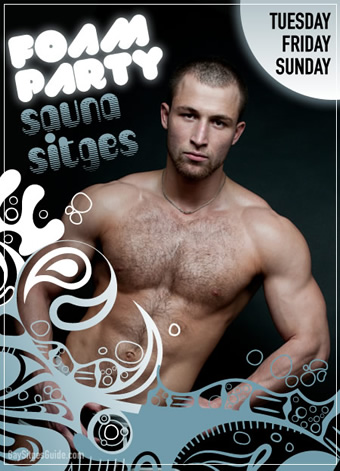 Foam Party.
Sauna Sitges Foam Parties during peak season on Fridays and Sunday afteroons are legendary.
Summer : Every Tuesday, Friday and Sunday.
Winter : Every Sunday.
- 6 PM -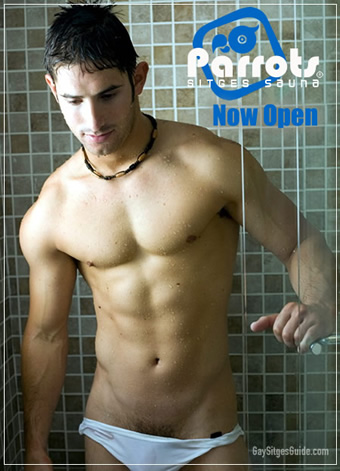 Parrots Sauna, Sitges.
Parrots sauna is Sitges newest gay sauna and is located within the Parrots hotel complex. It is open to all like-minded men looking for the hottest experience in town.
Located inside the central Parrots hotel, with cubicles, a large dark cinema area, a steam room and a sauna, the Parrots Sauna offers you the chance to have some hot fun with guys from around the world!
Parrots Sauna opened in 2008 and welcomes hotel residents and non-residents alike.
Jacuzzi. Sauna. Steam Room. Cabins. Dark Zone. Fully equipped changing facilities.
Opening Times:
1st of April to 30th September
Monday to Thursday - 14.00 to 21.00 Friday, Saturday, Sunday 14.00 to 21.00 and then 2.30 - 6.30
(Rainy Days - Open earlier at 12.00)
Monday - Crazy Day - 13 EUR
Tuesday - Gay Beach Party Pre Party - 13 EUR
Wednesday - Client Day - EUR 9
Thursday - Chill Out and Relax - EUR 11
Friday - 2x1 EUR 13
Saturday - Dark Day - EUR 11
Sunday - 3x2 EUR 13.