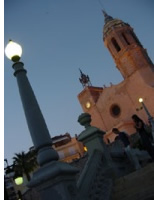 Just 35 kilometres south of Spain's trendiest city, Barcelona, sits the perfectly formed resort of Sitges. From its humble beginnings as a bohemian hangout for the affluent Barcelonans and Cuban cigar importers, Sitges has fast become one of the most popular gay European destinations there is.
More 'fashion parade' than 'bucket and spade' it's one of the few Spanish resorts that escaped the tourist boom of the 60's and 70's unscathed. As a result, there's not a concrete tower block in sight and much of the original architecture remains. As you stroll through Sitges, your eyes are graced with a selection of winding streets, quaint restaurants, beautiful buildings and golden beaches - not to mention some top European tottie.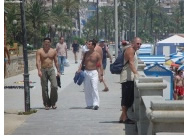 The popularity of Sitges never stops growing and its meagre population of 25,000 inhabitants now increases ten fold during the summer months. With its own microclimate of over 300 sunny days per year and summer temperatures in the range of 26 to 32 degrees, it's easy to see why. There are few destinations of this calibre and you're sure to want to visit again and again. While its sophisticated charm used to appeal to an older crowd, recent years have seen gays of all ages taking advantage of its unique offerings.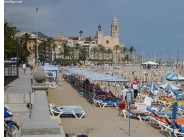 The convenience Sitges offers is second to none and there are few places in the world where you will find everything you need concentrated in one small area. Bars, restaurants, shops, a sauna and beaches are all within a five minute radius so it really is a chocolate box of gay delights. That's not to say it's in your face; what's great about Sitges is its relaxed attitude to sexuality. Diversity is the norm here and the resort has somehow managed to achieve the kind of harmony that's usually reserved for Disney films. The varied gay scene is mingled in with everyone else and the only 'ghetto' that exists is the über straight Calle Marqués de Montroig or, as the locals call it, "Sin street" (probably something to do with the lap dancing). Even here, there are two gay bars and you can walk hand in hand without anyone raising so much as an eyebrow. This extraordinary culture has allowed Sitges to become one big, yet tasteful, cruising ground and whether you're sipping coffee on a terrace or strolling half naked across the beach, you're bound to catch the eye of a tanned admirer.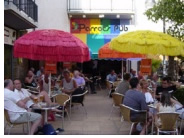 If that's not got you salivating, why not try one of the 80 restaurants in town. The standard of food is very high (particularly the seafood) so you're bound to find something to suit your tastes. Outdoor lunching is de rigueur here and it's easy to find a seat with plenty of opportunity for people-watching. Al Fresco Café or Granja Elsa are good places to start and they offer some superb specials. In the evening, restaurants serve Catalan and regional Spanish dishes as well as international cuisines for the less adventurous (the words 'live a little' spring to mind because you're missing a treat). The restaurant at Hotel El Xalet shows Sitges at its best and the beautiful waiters at The Beach House make it a must. Also worth a visit is Monroe's, tres tres chic, proving to be a bit of a smash hit. If you do want to make the night special, make sure you reserve a table; at the height of summer the streets of Sitges can become busy with people looking for the best table.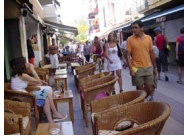 Later on, there are around 30 or so gay bars to tickle your fancy. Scattered around town there's a good cross-section, with bars, night clubs, and after-hours parties to suit all types. The nightlife doesn't really kick off until 11pm though, apart from one or two exceptions (El Horno, for example) open their doors to those fresh off the beach.
Highlighting a handful of bars would be an injustice as there are so many good ones to choose from. If you're stuck for somewhere to go, head down the main street of Calle Dos de Mayo or the triangle formed by Calle Espalter, Calle San Francisco and pedestrianised Parellades; in either area you'll easily find somewhere to enjoy.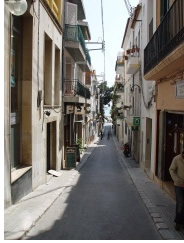 Still need help? Head towards the super camp Bar 7 to start your evening on the right foot followed by a bit of live cabaret at El Piano or drag at Comodine. Bourbon's is a good place to follow with its high-tech lighting and an interesting darkroom. If you're feeling mucho macho, Casablanca's bear bar might be more your cup of tea. One thing to be aware of is the varied methods of paying for drinks. In some bars it is customary to pay as you drink, whereas others will start up a tab - it's easiest just to ask. If you're tipping, rounding up to the nearest Euro is customary.
Partying the night away can be done with ease and El Candil's crowd are very pleasing to the eye. If you fancy a spot of clubbing after the bars close, Organic is a bustling venue and Trailer offers a Sunday night foam party, for which it's famous. You can turn up the sleazeometer by visiting man bar or XXL and if you feel like partying in your Calvin's, Le Male Bar can cater to your desires.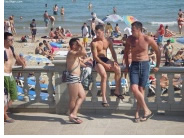 And what better to way to recover from a night out than spending the day on the beach? Typical of the resort's relaxed, accepting attitude, the main gay beach can be found slap bang in the middle of the resort. But if you want some slap banging of another kind, there's also a far cruiser beach just up the road. In total, you'll find 17 sandy and well-kept beaches stretching along Sitges' 4 kilometres of coastline, most of which offer sun loungers, showers and refreshments. The aforementioned gay beach is known as 'La Platja de la Bossa Rodona' and finding it is simple - head towards the sea, look for gay men. The close proximity of the family beaches means this is a place to admire, rather than grope, the hordes of sculpted bodies. The bars and restaurants are all within easy reach on the promenade if you're feeling peckish.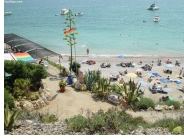 If tan lines aren't your thing then the gay nudist beach is well worth a visit, although it's a good 45 minute walk from the town centre. Our rep can tell you how to get there but it's worth noting that the train line you follow is not disused, so keep off the tracks! The beach has a place to buy refreshments and snacks (although they can be expensive) and you can also rent sun loungers. In the unlikely event that you still aren't gratified following your night out, this beach also has a vast and very busy cruising ground directly behind it.
Like many gay men, part of Sitges' attraction is its versatility. The beaches and nightlife are only a small part of what's on offer and you can make of your trip whatever you want. Sitges has a great artistic history and the town boasts three museums housing a variety of collections, primarily focussing on Catalan Modernisme. The Museo Cau Ferrat includes work by Rusinol, El Greco and some early Picassos. The shopping in Sitges is also very good and while they clearly recognise the value of the pink pound, the quality leaves some British shopping much to be desired.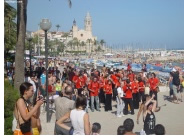 Whenever you visit Spain, there always seems to be a festival of some kind under way. If you're visiting Sitges at the end of August, the spectacle of the main festival is something truly special as fireworks bounce across the sea to the rhythm of Spanish music. The Roman ruins at Tarragona or the Universal Studios' theme park at Port Aventura provide two very different attractions that give just a taster of the outings that the surrounding area of Catalonia can provide.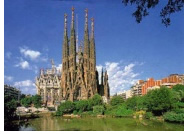 It's a crime not to travel the 30 minutes to visit Barcelona. The train service is fast and effective and provides an easy option for a day trip. For adventurous clubbers, Barcelona also offers options known internationally for the crowds they attract. Friday evening brings Salvation and arriving before 1am is frowned upon. When you've finished there, grab a flier and either take the free bus or get a taxi to your next destination, Souvenir. If the taxi driver takes you out of the city, towards an old industrial estate, you're not about to be murdered, you're in the right place. After dancing through the morning, the rising sun will let you know the nearby train station has now opened and can take you safely back to your bed in Sitges.
Sitges has something to suit even the pickiest traveller's taste and you're guaranteed to leave with a smile. We have packages to suit your needs too, as well as accommodation only deals. Why not find out more? More...