From Barcelona airport [BCN]

With the introduction of low-cost air travel from the UK and other European countries to Barcelona, it's not surprising that by far the majority of visitors to Sitges arrive via Barcelona's Aeroport del Prat
some 20 km from Sitges. To get to Sitges from the airport there are three options if you don't have your own transport:

Getting to Sitges By train: 3.80€
1. Take the long moving walkway that runs from between terminals 1 & 2 to the train station. (Tip: Its faster to walk under it to the station)
2. Get on the train.
3. Get back off the train at the first stop. El Pratt de Llobregat station, which at the moment is a temporary station and you never know which platform the train is going to pull in on. To make matters worse, its very poorly signed, but if you walk down the underpass, at the end ot it, there's a sign saying which platform is for Sitges.
4. Get on a train that says VILANOVA G on the front. (Don't get on a train that says anything else)
5. Get off at Sitges. Watch the sign in the carriage, and listen for the chica to say "Propera parada, Sitges". (A 25 minute journey) More...

Getting to Sitges By bus: about 6€
Currently, this is the easiest way to get to Sitges. (Unless you want to pay for a taxi)
Take the 'Mon Bus' from between terminals B & C.
Journey time 30 to 45 minutes.
Monday to Friday: Hourly from 07:40 to 22:40.
Saturdays: Every 2 hours. 08:40, 10:40, 13:40, 15:40, 18:40, 20:40, 22:40.
Sundays and Holidays: Every 4 hours. 9:40h, 13:40h, 17:40h, 21:40h.
For details of the times of the MonBus check the MonBus Website. Go to the 'Timetable Searcher' and key in 'Aeroport' to 'Sitges'. The times provided will be either for Monday – Friday, Saturdays, Sundays or Nighttime. It is important to check this as it may be subject to change.

Getting to Sitges By taxi: 70.00€
There are taxis lined up outside the terminals no matter what time your flight arrives. Ask for Sitges. A taxi from the airport to Sitges costs just under EUR 70 depending on the time of day, number of passengers etc.
Or you can book your transfer online before arrival. More...
From Reus Airport (REU)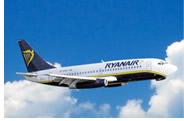 By train:
From Reus airport, you have to first take a bus or taxi to the Tarragona train station. The bus is about 6€, taxi about 18€.
You then get on a train for Barcelona, which will say St Vincenc or St Vincenc de Calders on it.
Get off at Barcelona Sants station, then take a train to Sitges.
The journey time can be anything from 2½ to 4 hours, depending on how lucky you are connecting.

By bus
There are buses from Reus airport to Barcelona, but they are infrequent and take about 3 hours.

By taxi: 100€
Its a 70km journey, which will take about 40 minutes.

By car
When you reach the exit from the airport, do a right at the intersection. (Follow the 'Salida' signs to get to the exit)
Then follow signs for Tarragona until you see a sign for Barcelona, then follow that. That will take you onto the AP7 autopista.
Stay on that until after about 30kms the road splits into the AP7 for Barcelona or the C-32 for Barcelona. Take the C-32.
Do not take the AP7 or you'll go the long way round.
The C-32 is also an autopista.
Eventually you'll see a sign for Sitges oest (Sitges west). Don't exit there.
Stay on the C-32 until the next exit, which will take you almost into the centre of Sitges.
Follow signs to Sitges centro (Sitges centre). Tolls (Peaje) approximately 8€.
Note: It is not an easy or cheap trip from Reus airport to Sitges. If at all possible, take a flight to Barcelona (El Prat) airport.
From Barcelona City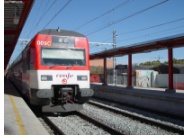 By train: 4.10€
From Sants or Passeig de Gracia station. Take only a train that says VILANOVA G on the front. They are always red & white, and most of the time, they're the double decker trains, like the photo. Do not get on an orange, white & blue, white & purple, or any other coloured train.
The journey from Barcelona to Sitges is normally taking 35 minutes to an hour.
Train times are subject to change – it is therefore best to check the Renfe website

By bus
Bus N° N30, N31 or N32. From Ronda Universitat near Plaza Catalunya and from Gran Via next to Plaza España. Leaves on the hour every hour up to 4am. (Yes, they have added more late night buses to Sitges this year)

By taxi: 80€ - 85€
From just about anywhere in the city. Hail one or Tel: 933033033
Sitges is located approximately 42 km south of Barcelona. A taxi journey will take about 40 minutes and cost about €85.00

By car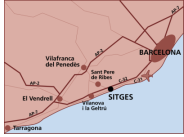 Take the C-32. It's a toll road. If you want to avoid the toll, transfer to the C-31 when you see the signs. The blue sign takes you onto the toll road. The white sign is for the C-31. It's a very bendy road but with some spectacular views. It's not for the feint of heart though, as there's some sheer drops to the sea along it.

If you come to Sitges by car, read the street signs carefully wherever you park. They are very hot on ticketing and towing here. On many streets you have to move your car from one side to the other before 9:00am on the 1st. and 15th. of the month. If you don't, by 9:15am it will have been towed away. Watch out for blue zones on the sea front. The traffic wardens are around all the time and will ticket you if you haven't paid. Don't think that because you've come from another country that they won't catch up with you - they will!
From the south & west of Spain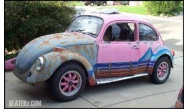 From the south by car:
(Peaje = Toll) Motorway toll fees in Spain are expensive, so where possible we've suggested the alternative. Take the N340 up to Granada, then Murcia, then Valencia. Save yourself the fees on the toll roads. The N340 is just as fast. From Valencia to Tarragona take the AP7 toll road. The N340 for most of that trip is very slow. It passes through many town centers. From Tarragona to Sitges during daylight take the AP7, at night the N340 although slower is ok to take.
You can do the entire trip on the A7/AP7 from the south of Spain but expect to pay in excess of 50€ in toll fees. Double that if you are in a van or motor home.

Alternatively. Although longer, it's much easier to avoid paying any tolls if you take the route from Malaga to Seville to Madrid to Zaragoza to Barcelona to Sitges. The only part of that route that has a toll road is the section from Zaragoza to Barcelona but there is a free highway as well which is a perfectly good alternatve. In the end, it may even be just as fast since you don't have to constantly stop at toll booths! Watch your timing though. Don't hit Madrid at rush hour. (7am to 10am and 5pm to 8pm)

Night driving. If you travel at night, don't let your petrol tank drop below half full. You can literally go hundreds of kilometers without finding a petrol station that's open. Also make sure you have water and a mobile phone with you. I would recommend not to travel at night, especially if it's raining. Many motorways are very poorly marked and not easy to follow in the dark.
Parking in Sitges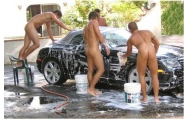 Where to park once you arrive:
Parking Jornet - Sant Francesc, 58-60 - Tel: 938110019
Parking Plaça de Espanya - Plaça de Espanya - Tel: 938942439 - 24/7
Parking Retiro - Angel Vidal, 17 - Tel: 938948861 - 24/7

There'a also a large outdoor car park just as you are coming into Sitges, on the right, just before you go under the old bridge. You have to continue down to the roundabout, then come back up to it.

If you park in a blue zone on the streets near the beach, make sure you get a ticket. They are very hot on ticketing in Sitges. Be careful wherever you park on the streets. There is often no parking at certain times of day, and on other streets, on the 1st & 15th of the month, you must move your car from one side of the street to the other before 9:15am or it'll be towed away. If you do get towed, you need to go to the town hall beside the church, pay the bill, and they'll tell you where to pick up your car.