Sitges

Number of rooms: 23
Rate range: From 50 EUR (per room per night)
Owned/Managed by: Hotel El Xalet
Clientele: Exclusively Gay, Straight Friendly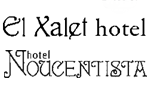 If ever a pair of hotels summed up the spirit of Sitges, it would have to be the Hotel El Xalet and its younger sister, the Hotel Noucentista. Owned and run Raul, his lovely mum Pilar and other select members of their family, both properties manage to ooze twenty-first century style while still retaining the refinement and elegance of a gentler, more leisurely age.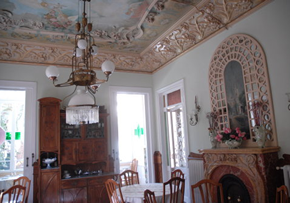 This pleasing juxtaposition of the traditional and the modern is apparent throughout both hotels: as you approach El Xalet, you'll be immediately struck by the building's impressive Gothic spires, ornate carvings and elaborate stonework. This theme continues inside, where you'll be greeted by a delightful mosaic and marble reception area, only serving to reinforce your decision to reside in an establishment with a great deal more character than a Soviet-style 1960s concrete eyesore! Good choice...well done!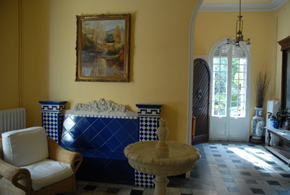 Please don't think that, just because El Xalet pays homage to Sitges' rich heritage, that somewhere along the line you'll be missing out on the mod cons you've come to expect from your holiday. Your El Xalet bedroom is fully air conditioned, is equipped with satellite TV, a mini-bar, a phone and an ensuite bathroom. There's a comfortable roof terrace and a small swimming pool nestling among the hotel's exquisite gardens. And it's here among the gardens where you'll find the Xalet's internationally-renowned outdoor restaurant: great food, truly idyllic surroundings and efficient, friendly service with a choice between the very reasonable set menu and the lavish gastronomy of the à la carte option.
Just along the road from the Xalet, you'll find the Hotel Noucentista. The name means '1900' the year of its original construction, and Raul and his brothers spent three years painstakingly restoring the building to its former glory…and all just for your comfort. What lovely boys!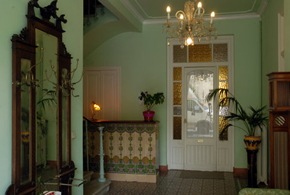 The Noucentista's stunning architecture is matched only by its genuinely awe-inspiring interior. Just like the Xalet, there's a perfect fusion of the trad and the mod but, given that the Noucentista is all newly decorated, the quality here is probably a little bit higher.
Every air conditioned room reflects its thoughtful interior design, with high quality fixtures and fittings, ample wardrobe space and opulent ensuite bathrooms. Most of the rooms here are doubles (you've a choice of twins and doubles down the road in the Xalet) which is marvellous news if you fancy having a lot of sex, and some (but not all) have balconies.
Breakfast at the Noucentista is served in the pretty dining area, or you may prefer to imbibe your caffeine in the small, attractive courtyard.
Both hotels are located less than ten minutes' walk from the beach and just three or four minutes' walk from the centre of town. Maid service takes place daily, while your towels and bedlinen will be changed twice a week.