Sitges

Number of rooms: 47
Rate range: From 46 EUR (per room per night)
Owned/Managed by: Hotel Galeon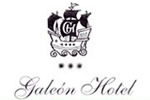 Clientele: Gay Friendly
These gay friendly Sitges sister hotels provide a much needed three star, halfboard option close to the centre of town and just five minutes' walk from the beach.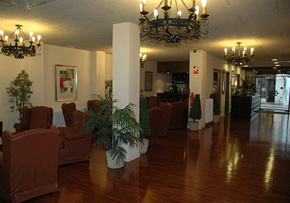 The Hotel Galeon and the annexe, Hotel Pavillion, are traditional-style hotels situated within the centre of the resort. They offer comfortable accommodation with the restaurants, shops and bars only a short stroll away. Guests will be allocated in either hotel. The annexe, Hotel Pavillion, is reached by a small street via the garden terrace and pool area at the Galeon.
OK...both hotels can be a bit on the straight side in high season but this is more than compensated for by good value, a terrific location and a more than friendly welcome from the hotel's staff.
Both hotels' main facilities (reception, dining room, lounge, bar, swimming pool) are located in the Galeon, meaning that accommodation at the Pavillon (accessible via the garden terrace and pool area of the Galeon) is more private. Worth noting if you're into nocturnal entertainment with new friends (and we're not talking late night scrabble).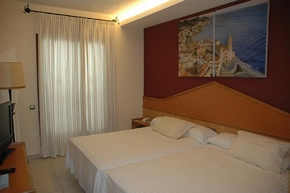 Whichever you choose, however, you'll find that every room is air conditioned, with a fully equipped ensuite bathroom, a balcony and satellite TV. Singles can opt to receive a twin for sole use if they're clever enough to book sufficiently early; latecomers travelling on their own might have no choice other than to be saddled with a smaller single room, so do try to book as early as you can.
Now - a word about your catering arrangements. Breakfast is excellent; you can take your pick between standard continental breakfast or the good old full English (or a bit of both) so there's no excuse for not starting the day with a nice full tummy! And, although our published rates are for bed and breakfast only, we're happy to quote on a half board basis if you ask us nicely.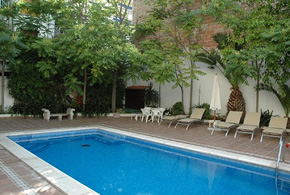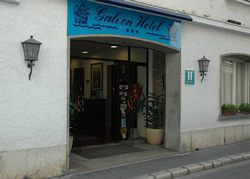 Location: Hotel Galeon located right in the center of town, and no more than a five-minute walk from the beach.
Hotel facilities: Amenities available to guests include a restaurant, bar/cafe, garden/terrace, lift, money exchange, and swimming pool. Car park is available at the hotel.
Room facilities: Rooms equipped with air conditioning, heating, bathroom, balcony, telephone, and satellite TV.