Sitges

Number of rooms: 48
Rate range: From 59 EUR (per room per night)
Owned/Managed by: Port Sitges Resort
Clientele: Gay Friendly

The gay friendly Port Sitges is a high quality resorthotel, which means that you get all the benefits of staying in a top-notch hotel combined with the extra resort hotel facilities.
The Port Sitges Hotel situated in the exclusive Port of Aiguadolc is a paradise if you love the sea and sports or if you are simply looking to unwind and relax on holiday.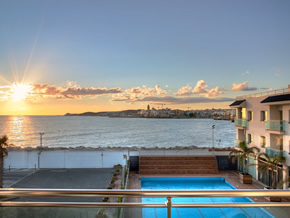 The Port Sitges Hotel is nestled in the beautiful marina of Sitges, just 50 metres from the beach and a 15-minute walk away from the centre of Sitges.
Breakfast is included in your holiday price and is really quite impressive: an extensive buffet of hot and cold food, fresh fruit juices and loads more to suit your delicate palate. Service kicks off at 7am which is fab for early risers or very late homecomers, and last orders isn't until 11am so most of you should manage to stir yourselves by then.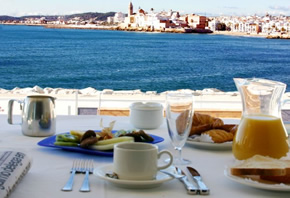 The Port Sitges' high standards are sure to push all the right buttons, and this quality is reflected in the hotel's general facilities. These include a 24 hour reception, a superb 25 metre pool (crikey, that's nearly 100 feet!), a beautifully decorated bar and restaurant, plus a Jacuzzi and fitness centre with free use for all guests.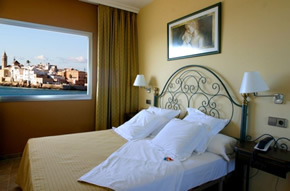 All Port Sitges rooms are junior suites, with separate bedroom and sitting room, outward-facing and with private balcony, offering you views of our outstanding surroundings: the Port of Aiguadolç and Sitges. Just imagine having breakfast overlooking the sea.
The clue to the Port Sitges' location is in the name. That's right, punters, it's bang on the port, just a few minutes' walk from the gay nudey beach (yum yum) and the same sort of distance from another small, mixed beach. The walk into town takes about 15 minutes.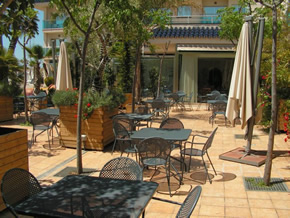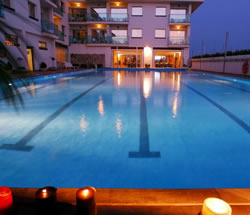 Location: This hotel is located right in the heart of the exclusive area of Aiguadolc port by the sea and surrounded by a beautiful atmosphere.
Hotel facilities: This is a perfect hotel where to spend a nice holiday time near the sea. The restaurant serves traditional Mediterranean cuisine together with a large variety of exquisite dishes. Some nights during the week the restaurant provides a large buffet with reagional specialities and live music.
Room facilities: The hotel has 48 spacious and comfortable rooms equipped with all facilities such as hairdryer, TV, mini bar, central heating, air-conditioning, safe deposit box, balcony overlooking the port or the beautiful town church.